Fed Under Pressure Amid Confusion Over New Easing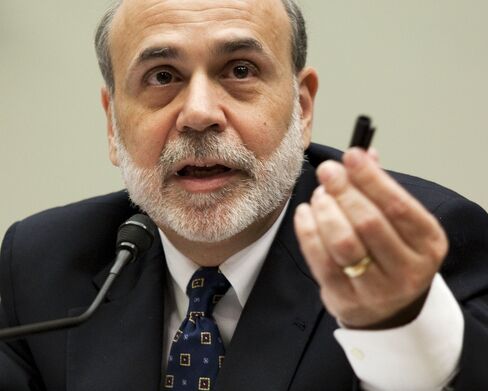 Sept. 21 (Bloomberg) -- Federal Reserve officials are under pressure to avoid creating confusion among investors about any new effort to spur the U.S. recovery.
The Federal Open Market Committee, which meets today, triggered a stock selloff with its last statement on Aug. 10 as investors took it as a signal the economy will falter. The Standard & Poor's 500 Index tumbled 7.1 percent during the two weeks following the statement after reaching a three-month high on Aug. 9. The MSCI World Index fell 7.3 percent.
With consumer confidence falling and joblessness persisting at more than 9.5 percent, Chairman Ben S. Bernanke must identify the changes in the economy that would prompt more asset purchases or some other stimulus, said Timothy Duy, a former U.S. Treasury Department economist. Central bank officials may appear to be divided over their next policy move unless they provide such guidance, he said.
"They have to do a better job of centering expectations of what ultimately the policy intention is and how will they reach that," said Duy, an economist at the University of Oregon. "Given that we are in uncharted waters for policy, the risks of getting it wrong will be magnified."
The FOMC started its one-day meeting around 8 a.m. today in Washington and is scheduled to release a policy statement at about 2:15 p.m. The meeting takes place one day after the National Bureau of Economic Research announced that the longest and deepest U.S. recession since the Great Depression ended in June 2009, lasting 18 months.
Dollar Declines
The dollar declined to $1.3117 per euro as of 8:17 a.m. in New York from $1.3061 late yesterday, after falling to $1.3159 on Sept. 17, the weakest since Aug. 11.
The Fed will probably affirm its pledge to keep interest rates low for an "extended period" and maintain a $2.05 trillion floor on its holdings of securities, said economists surveyed by Bloomberg News Sept. 16-17.
Fifty-four of 63 economists in the survey said the central bank will leave unchanged a sentence saying high unemployment and low inflation warrant "exceptionally low" rates. The Fed has kept its benchmark interest rate in a range of zero to 0.25 percent since December 2008.
Investors anticipate the Fed will move to boost the economy by the end of the year, though not necessarily in today's meeting, according to the Bloomberg Global Poll, a quarterly survey of 1,408 investors and analysts who are Bloomberg subscribers. Sixty-seven percent said policy makers are very likely or fairly likely to ease monetary policy by buying bonds in 2010.
Signs of Weakening
"If you listen about what they've said, they said they're going to ease further if the economy shows signs of further weakening," said Jerry Webman, chief economist and senior investment officer at OppenheimerFunds in New York, which manages more than $155 billion. The economy has appeared to stabilize over the past month, and the threshold for additional purchases of securities hasn't yet been crossed, he said.
Investors don't believe Fed purchases of long-term securities would boost the economy, according to the Bloomberg Global Poll. Sixty-five percent of respondents hold that view, with only 30 percent indicating the move would be effective.
Central bank policy makers voted 9-1 on Aug. 10 to keep the Fed's holdings of securities at $2.05 trillion, rather than allow an estimated $400 billion of housing debt to roll off as mortgages were repaid. The Fed began purchasing Treasuries to keep the floor on holdings.
Treasury Yields
Treasuries rallied in the weeks following the Fed announcement. The yield on the 10-year note fell to a 19-month low of 2.42 percent on Aug. 25 from 2.82 percent the day before the FOMC meeting. The yield fell 3 basis points yesterday to 2.70 percent in New York trading.
"There is little reason for the Fed to change the statement this time," said Lyle Gramley, a former Fed governor who's now a senior economic adviser for the Potomac Research Group in Washington.
A decision today to expand the balance sheet would be a mistake, said John Ryding, co-founder and chief economist at RDQ Economics LLC in New York and a former Fed researcher.
"I'd consider it a massive policy error because not only have they failed to communicate it, they'd be signaling that things are so bad that the negative expectation consequences from that would easily swamp any positive effect that comes from creating more money this way," Ryding said.
Doubts Expressed
Some Fed presidents have expressed doubt that monetary policy can buoy the economy. The unemployment rate is stuck close to a 26-year-high because murky tax and regulatory policies complicate planning by businesses, Dallas Fed President Richard Fisher said.
The skills and location of unemployed workers aren't aligned with job openings, Minneapolis Fed President Narayana Kocherlakota said last month. The problem may not be "readily amenable to monetary policy," he said.
"I just don't think what ails the economy is at all related to monetary policy so from that point of view, what do you communicate" as a policy maker? Ryding said.
"You can't say, 'We're done, we're out of bullets.' You have to maintain the position that there's always more you can do and you can react powerfully," he said. "To say otherwise is to potentially undermine confidence."
Economic growth eased to a 1.6 percent pace in the second quarter following a 3.7 percent gain in the first quarter, according to revised data released Aug. 27. FedEx Corp., the second-largest U.S. package-shipping company, said last week it will eliminate 1,700 jobs, less than 1 percent of its global workforce, because of flagging growth.
"We expect a phase of somewhat slower economic growth going forward," Chief Executive Officer Fred Smith said on a conference call with analysts. "Slower growth is consistent with historical business cycles."
To contact the reporter on this story: Joshua Zumbrun in Washington at jzumbrun@bloomberg.net; Steve Matthews in Atlanta at smatthews@bloomberg.net
To contact the editor responsible for this story: Christopher Wellisz at cwellisz@bloomberg.net