Telus Looks to Shaw Review to Avoid 'Worst Nightmare'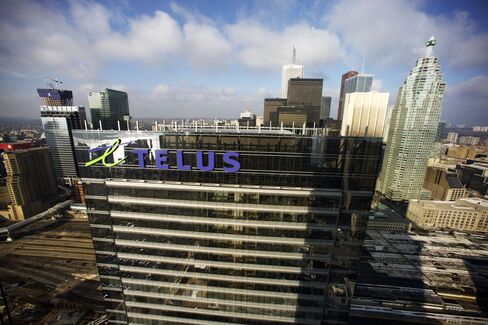 Telus Corp., Canada's third-largest wireless phone company, is asking the country's broadcast regulator to ensure rivals including Shaw Communications Inc. can't distribute television content exclusively to their mobile subscribers.
Telus is using public hearings that began today into Shaw's C$2 billion ($1.9 billion) purchase of Canwest Global Communications Corp.'s television assets to argue against so-called content exclusivity.
Telus, which competes with Shaw and BCE Inc., said it wants the Canadian Radio-television and Telecommunications Commission to impose "unequivocal and enforceable rules" to stop Shaw from engaging in "abuse of market power," according to a filing with the regulator. The request may prod the CRTC to impose rules for the first time on how television content is delivered to cell phones.
"Shaw is Telus's worst nightmare," said Iain Grant, managing director at Montreal-based Seaboard Research consulting firm. If the CRTC doesn't block content exclusivity, Vancouver- based Telus may lose market share as customers "move to some carrier that offers what they're looking for."
With BCE's proposed C$1.3 billion acquisition this month of CTV, Canada's largest private broadcaster, all of Canada's large telecommunications firms will soon own television assets, except for Telus.
Exclusive Content
George Cope, BCE's chief executive officer, said Sept. 14 he plans to "leverage" exclusive CTV content to win customers. Shaw plans "in and out-of-home" offerings for its clients when its next-generation wireless network launches next year.
Telus may be left behind by its rivals if the CRTC doesn't regulate the distribution of television content to wireless phones, analysts say.
Failing to regulate would undermine the Canadian broadcasting system, said Michael Hennessy, senior vice president for regulatory affairs for Telus. The current rules are "not clear and never been tested," Hennessy said by telephone, adding the CRTC should "indicate that those rules are going to apply to any distributor."
Aside from Telus, wireless entrants such as Globalive Communications Corp. or Public Mobile may also pressure the CRTC to prevent the spread of content exclusivity, said Michael Geist, a law professor at the University of Ottawa who specializes in technology.
'Clear Guidelines'
"They're going to be urged by a number of parties to try to establish some pretty clear guidelines," Geist said.
Ken Stein, Shaw's chief of regulatory affairs, told the hearings today that the company would sell and trade its content with competitors, the National Post reported.
Telus is at a disadvantage to rivals like Montreal-based BCE and Rogers Communications Inc., which own content providers. If Telus opts to buy content it will have to pay more, said Jeffrey Fan, an analyst with Scotia Capital.
Fan, who boosted his one-year target price for BCE shares by C$1.50 to C$31.50 after its agreement to buy CTV, said the "content gap" will eventually be reflected in Telus's valuation.
"It all comes down to content cost -- if you don't have it, your cost is going to go up," he said. Fan doesn't expect the CRTC will impose the rules Telus is seeking.
'Interesting Question'
While the CRTC typically issues its rulings within 35 days of completing the review process, the regulator may hold off imposing new rules on Calgary-based Shaw. It may wait to see how far the distributors push the concept of content exclusivity as well as consumer reaction, said Michel Arpin, who was the CRTC's broadcasting vice chairman until last month.
"It's an interesting question and sooner or later it will be posed," Arpin said. "It's not unthinkable that the CRTC will conclude it agrees that distributors should have exclusive content," he said, pointing to countries such as France and the U.K. where exclusive content is accepted.
Richard French, a public policy professor at the University of Ottawa who was one of two CRTC vice chairmen until 2007, said the regulator would be "stupid" if they opt to set rules for wireless distribution of TV signals. Still, the CRTC "would really like certain kind of broadcasting distribution rules to apply to the mobile business," he said.
BCE, which said last week its Business News Network will be available to wireless clients, has seen a significant increase in mobile video demand since the 2010 Winter Olympics in Vancouver.
World Cup
Toronto-based Rogers, Canada's largest cable operator, offered matches from the FIFA World Cup exclusively to its wireless clients this summer. Still, Rob Bruce, president of Rogers's Communications unit, said on an investor's conference call Sept. 14 he expects the regulator may eventually step in.
"It's difficult for me to believe that either economically or from a regulatory perspective that it will ever make complete sense to sell media properties only to your own customer base," Bruce said.
Those comments were echoed by Jean-Francois Pruneau of Montreal-based Quebecor Inc., which launched its own mobile-phone service this year.
"Regulators will tell us what has to be done," Pruneau, vice president of finance at Quebec's largest private television network, cable and Internet operator, said in a Sept. 14 analyst call.