Cable Slams Finance Industry, Pledges Takeover Probe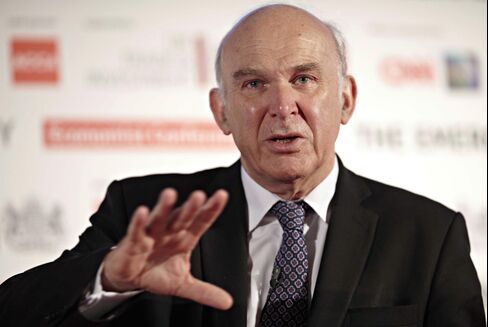 U.K. Business Secretary Vince Cable stepped up his Liberal Democrat party's attacks on the finance industry, announcing an inquiry into corporate-governance rules, with takeovers and pay both in the spotlight.
In a speech to the party conference today in Liverpool, northwest England, Cable stuck by his criticism of bankers. "I make no apology for attacking spivs and gamblers," he said, promising to "shine a harsh light into the murky world of corporate behavior," and accusing company directors of forgetting their duty "when a fat check is waved before them."
The five-day convention of Britain's junior governing party, which ends today, has been dominated by criticism of financial services and the rich. Liberal Democrat leader Nick Clegg, the deputy prime minister, spearheaded calls for banks to show restraint over bonus payments and lend more to business and showcased a plan to clamp down on tax avoidance and evasion.
Cable denied a rift with the Conservative Party, the senior partner in the coalition, saying there was a "crystal clear" agreement on banks to "make them safe and make them lend." He also cited Bank of England Governor Mervyn King in support of his argument that "we just can't risk having banks that are too big to fail." Aides said yesterday the speech had been seen by Prime Minister David Cameron's office.
Royal Mail
The business secretary also announced plans to allow employees of Royal Mail Group Plc to buy at least 10 percent of shares in the company when the government legislates to allow private investment. The U.K.'s 360-year-old mail service is struggling to compete with TNT NV of the Netherlands, Deutsche Post AG's DHL Worldwide Express unit and Business Post Group Plc as European Union rules phase in competition for deliveries between 2011 and 2013.
Cable's department will begin looking next month at what he called "short-termism and shareholder disengagement," trying to find ways to "put responsible shareholders back in the driving seat of our economy." Areas under examination will include whether investors have enough chances to vote on takeovers and whether directors' pay encourages mergers.
"Why should good companies be destroyed by short-term investors looking for a speculative killing, while their accomplices in the City make fat fees?" Cable said. "Capitalism takes no prisoners and kills competition where it can." To that line, released to media last night, he added: "as Adam Smith explained over 200 years ago."
'Fruity Stuff'
"There was some pretty hard language in there," Richard Lambert, director-general of the Confederation of British Industry, which speaks for 240,000 private-sector businesses, told BBC Television after Cable's speech.
"He toned it down a little bit. He's not now suggesting all company directors are crooks but it's still fairly fruity stuff," Lambert said. "People in the business community don't quite know what the next step is."
Labor unions called in March for a change to takeover laws following Kraft Foods Inc.'s bid for Cadbury Plc. Cadbury, based in Uxbridge, near London, agreed to be sold to Kraft for 11.7 billion pounds ($18.2 billion), creating the world's largest confectionery company.
Before the deal, Kraft, based in Northfield, Illinois, said it would keep open a factory in Keynsham, southwest England. After the takeover was completed, Kraft announced it had decided to close the plant by 2011. The independent Takeover Panel has launched its own investigation into the rules about such combinations.
'Classic Example'
Cable told BBC Radio 4's "Today" program that the Kraft takeover of Cadbury "was a classic example where short-term speculative activity is causing real economic damage."
"We would like to have rules that stop very damaging behavior," he said.
Cable's comments contrast with those of Financial Services Authority Chairman Adair Turner, who yesterday told bankers in London that too much legislation to clamp down on banks would be counterproductive.
"Ill-designed policy is a more powerful force for harm than individual greed or error," Turner said.
Earlier during the conference, Clegg attacked people who pay "an army of lawyers" to help them avoid tax, while Cable warned of a "train crash" and the imposition of further taxes if lenders pay large bonuses next year.
The Liberal Democrats' senior lawmakers have been seeking to defend their decision to go into coalition with Cameron's Conservatives in May and to support a package of spending cuts to narrow the record budget deficit.
A ComRes Ltd. poll for the Independent on Sunday newspaper last week found half of those who voted for Clegg's party in the May 6 election said it had "sold out." Liberal Democrat ministers have responded by blaming the previous Labour government for letting spending get out of control and failing to rein in the banks.
Before it's here, it's on the Bloomberg Terminal.
LEARN MORE