Record Heat Spawns Stronger Hurricanes Over Atlantic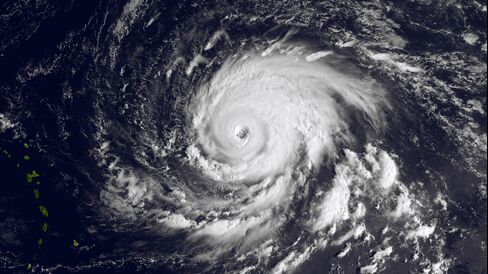 The four major Atlantic hurricanes that spun toward the Caribbean in the past month were fueled by record warm seas and formed in an unprecedented 20 days. With 10 weeks left in the hurricane season, more may be coming.
The storms that were born off west Africa gathered strength by absorbing the ocean's heat and swelled into Category 4-level hurricanes on the 5-step Saffir-Simpson scale. While none hit land at full speed, each packed winds of at least 131 miles (210 kilometers) an hour, stronger than Katrina's Category 3 winds when it devastated New Orleans at the end of August in 2005.
After Igor churned past Bermuda yesterday and cut power to two-thirds of the colony's residents, Tropical Storm Lisa formed today in the east Atlantic. While the six-month season is past its statistical peak, forecasters and insurers said warmer seas can lengthen the danger period to property, from beach homes in Florida and the Hamptons to rigs and refineries owned by Royal Dutch Shell Plc and ConocoPhillips in the oil-rich Gulf.
"The hotter the water, the higher the octane level, and there is going to be far more Category 4 and 5 hurricanes," said Jim Rouiller, a U.S. Air Force meteorologist for 20 years who works for Planalytics Inc. in Berwyn, Pennsylvania.
The season may be busy for another month, said Simon Young, chief executive officer of the insurer Caribbean Risk Managers Ltd. "All the ingredients" were in place for major hurricanes to form this year, he said.
'Nightmare Scenario'
"The nightmare scenario for industry losses is a Miami hit, closely followed by a New York hurricane," Young said in a telephone interview from Washington. "Gulf oil is a huge issue for the insurance industry. There's a feeling that if something big happens, there's going to be some hard times."
The National Hurricane Center predicts 2010 will have as many as 20 storms of at least 39 mile-an-hour winds, meaning they'll be named, compared with 11 in a typical year. Lisa's formation today brought this year's tally to 12. The Miami-based center has identified five major hurricanes in 2010 compared with two in an average season when waters are cooler.
The season runs June through November, peaking around Sept. 10. After that, major storms can and do still form. In 2005, Hurricane Rita's winds peaked at 178 miles per hour on Sept. 22.
The Atlantic has had record temperatures since March and by the end of August a swath of the ocean was 3 degrees Fahrenheit (1.7 degrees Celsius) above average, Gerry Bell, lead hurricane forecaster at the National Oceanic and Atmospheric Administration in Camp Springs, Maryland, said in an interview. The records date to 1854.
Fomenting Hurricanes
Hurricanes gather energy from the warmth of the sea, one of several factors that increase their punch such as having similar wind speeds at various altitudes. This year's record warmth may help prolong the season as will conditions associated with La Nina, a weather pattern that reduces high-altitude winds that impede Atlantic storm development.
Petroleum assets owned by companies including Shell and Exxon Mobil Corp., the biggest oil producers in Europe and the U.S. respectively, pump 31 percent of U.S. crude, 10 percent of its natural gas and account for 43 percent of refining. Rigs typically evacuate workers when a hurricane comes within striking distance, temporarily halting production.
"Preparedness for hurricanes and hurricane seasons is built into all our plans," David Nicholas, a London-based spokesman for BP Plc, said yesterday in a telephone interview. "It's part of operating in the Gulf."
The Weather Research Center in Houston has created a model that shows a storm with the strength of Katrina or Rita would damage or destroy about 10 percent of all the oil platforms it passed over, center President Jill Hasling said. Both of those hurricanes peaked at Category 5, the top level, over the Gulf.
'Might Not Survive'
"You still have a lot of platforms out here, older platforms that might not survive a direct hit by a hurricane," Hasling said. "It's the waves that cause most of the damage so you want to keep the waves out of your decks."
Eight of the 10 most expensive U.S. catastrophes were hurricanes, including Katrina, the most costly at $41 billion, according to the New York-based Insurance Information Institute.
Hurricanes "account for the majority of top catastrophes in dollar terms," said Robert Hartwig, president and economist at the Insurance Information Institute, a New York-based trade group.
Category 5 storms, the most destructive, have winds greater than 155 mph. The four Category 4 storms so far this year were Danielle, Earl, Igor and Julia.
'Heat Effect'
Swiss Reinsurance Co., the world's second-largest reinsurer, is among the insurance companies gearing up their research into the heat effect, one of several natural phenomena that intensify hurricanes in light of scientific reports that forecast a warming of oceans this century.
Climate change may add 50 percent to the storm damage costs incurred by some Caribbean nations over the next two decades, Swiss Re said last month.
The concern of insurers and forecasters is supported by the intensity and frequency of hurricanes catalogued this year by the hurricane center.
Prior to this year, 1958, 1969 and 2005 were among the warmest for the Atlantic. While the average season produces two major hurricanes, 1958 and 1969 had five and 2005 spawned seven.
"Warmer than normal water temperatures, with all other factors being equal, do provide the opportunity for hurricanes to reach higher intensities," said Chris Landsea, science and operations officer for the National Hurricane Center.
Sahara, Wind Shear
Still, even when seas are warm, dry air from the Sahara and high wind shear -- meaning wind speed changes more with altitude -- both can hinder hurricane formation, said Julian Heming, tropical prediction meteorologist at the U.K. Met Office in Exeter, southwest England.
In the Gulf of Mexico, the consequences of major hurricanes can be devastating. In 2005, Katrina and Rita were blamed with damaging or destroying 167 platforms as well as 535 pipeline segments, according to the Bureau of Ocean Energy Management, Regulation and Enforcement.
Nine months after the storms passed, 22 percent of oil and 13 percent of gas was still shut in, resulting in a loss of 150 million barrels of oil and 730 billion cubic feet of gas, according to the agency.
By contrast, Hurricane Ike, a Category 2 storm in the Gulf, destroyed 49 of the 3,800 oil and gas platforms it passed in 2008, according to the federal Minerals Management Service.
The Atlantic's heat and uptick in intense hurricanes are fueling the debate on the role played by global warming.
'Global-Warming Signal'
"There are always natural fluctuations going on but the long-term upward trend seems to be a global-warming signal," said Kerry Emanuel, professor of tropical meteorology at the Massachusetts Institute of Technology in Cambridge.
Greg Holland, head of the National Center for Atmospheric Research's Earth Systems Laboratory, and Tom Knutson, a National Oceanic and Atmospheric Administration climate modeler, say the strongest hurricanes will be more frequent as the world heats.
If temperatures rise by 2 degrees Celsius by 2100, it will stoke the formation of Category 4 and 5 hurricanes though the number of weaker systems will drop, according to Knutson, who in January co-wrote a paper on the topic in the journal Science.
"Building up over the course of a century, we basically saw a doubling" in the frequency of Category 4 and 5 hurricanes, Knutson said. That "translates into a 30 percent increase in damage potential, not taking into account any sea-level rise."
Before it's here, it's on the Bloomberg Terminal.
LEARN MORE