Hurricane Lashes Bermuda, Cuts Power for Thousands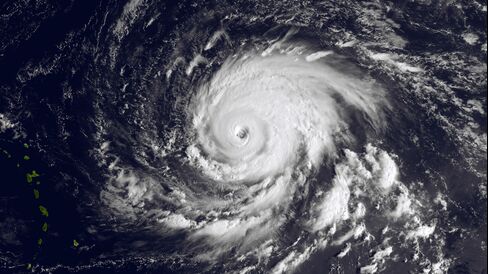 Sept. 20 (Bloomberg) -- Hurricane Igor lashed Bermuda with winds gusting up to 93 miles an hour, cutting power to two-thirds of the Atlantic island colony, before moving off into the Atlantic to threaten Newfoundland with a close call.
Bermuda dropped its tropical storm warnings while a warning was posted in Newfoundland, where moisture from Igor is forecast to mix with other systems to produce as much as 6 inches (15 centimeters) of rain tomorrow, according to the Canadian Hurricane Centre in Dartmouth, Nova Scotia.
Igor passed within 40 miles (64 kilometers) of Bermuda early today and was 350 miles north of the British territory with 75-mph winds at 2 p.m. East Coast time, the U.S. National Hurricane Center said in an advisory. It was moving northeast at 26 mph.
"Hurricane Igor wasn't catastrophic -- it's more branches and leaves down so now we've got some tidying up to do," Tom Lamb, owner of the Pompano Beach Club in southwest Bermuda, said today in a telephone interview. "The biggest thing here is a lot of beach erosion and most of the island is without power."
About 21,500 customers were still without power as of 1 p.m., according to Bermuda Electric Light Co.'s website. Bermuda's sole supplier of electricity says it has 35,558 metered connections on the island, which has 68,000 residents and is a financial services and tourism center. The airport causeway, closed by the storm, reopened at 3 p.m. local time, the Bermuda Emergency Measures Organization said.
Canadian Alerts
In advance of Igor's arrival, Canada issued a tropical storm warning for Newfoundland from Stones Cove to Charlottetown.
The U.S. center forecasts Igor will bypass Newfoundland tomorrow, then veer northward toward Greenland while still at tropical-storm strength on Sept. 24. The system is predicted to lose its cyclone characteristics tomorrow, an indication the ocean is no longer its main source of energy.
For now, the storm remains "large" with hurricane-force winds of at least 74 mph stretching 90 miles from its center and tropical-storm-force winds of at least 39 mph extending out about 380 miles, the Miami-based center said. Igor is a Category 1 storm, the lowest on the five-step Saffir-Simpson scale.
East of Igor, a low-pressure system 450 miles west of the Cape Verde Islands has an 80 percent chance of becoming a tropical cyclone during the next two days, the center said. A cyclone is a rotating storm ranging from a depression to a hurricane.
The hurricane center ceased issuing advisories on storm Julia today when the former Category 4 hurricane lost its cyclonic features.
Five hurricanes with Category 3 winds of 111 miles per hour (178 kilometers per hour) or more have formed in the Atlantic this year, part of a total of 11 named storms with winds of 39 mph or more. The average Atlantic season produces 11 named storms from June through November, two of them major hurricanes, the center said.
To contact the reporters on this story: Alex Morales in London at amorales2@bloomberg.net; Brian K. Sullivan in Boston at bsullivan10@bloomberg.net.
To contact the editor responsible for this story: Dan Stets at dstets@bloomberg.net.