IBM's $1.7 Billion Netezza Deal May Prompt Rival Bids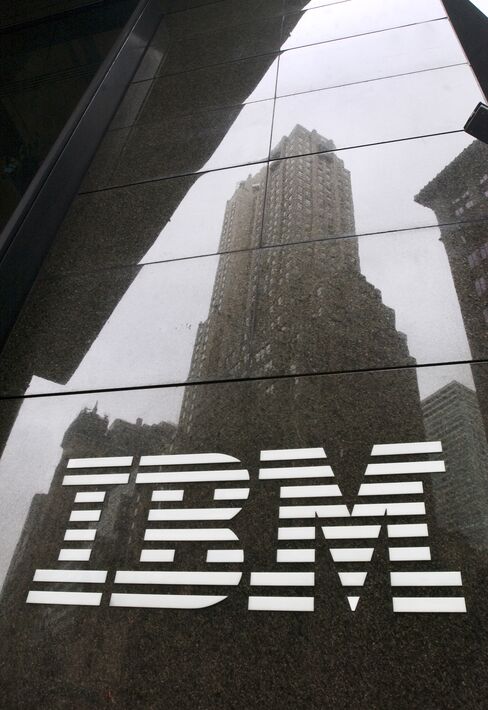 International Business Machines Corp.'s $27-a-share deal to acquire Netezza Corp. pushed the stock above that level, suggesting investors may expect a competing bid for the analytics-technology provider.
IBM, the world's largest computer-services provider, struck a cash deal worth about $1.7 billion, according to a statement from the company today. Marlborough, Massachusetts-based Netezza's stock topped the per-share offer by $1.27.
Netezza, whose clients include NYSE Euronext and Estee Lauder Cos., integrates hardware with programs that store and analyze data. It's one of the few data-warehousing companies that's gained customers, making it an attractive buy for large technology corporations looking to increase sales, said Keith Bachman, an analyst at BMO Capital Markets.
"Larger companies are finding it harder to grow so when they see an interesting technology, they're willing to pay up for it," said New York-based Bachman, who rates IBM "outperform." Possible counter-bidders could include Hewlett- Packard Co., Dell Inc. and Cisco Systems Inc., he said.
Netezza rose $3.67, or 15 percent, to $28.27 at 4 p.m. in New York Stock Exchange composite trading. IBM, based in Armonk, New York, gained $1.60 to $131.79. Teradata Corp., which also provides analytics and storage technology, climbed 7.5 percent after analysts cited it as a potential target.
Last month, competition over data-storage maker 3Par Inc. sparked a bidding war between HP and Dell, resulting in six public bids for the company. HP ended up offering 3Par investors about triple its share price.
HP Criticisms
Netezza Chief Executive Officer Jim Baum and Arvind Krishna, a general manager in IBM's software group, declined to comment on the possibility of a counterbid. Kristin Carvell, a Cisco spokeswoman, and David Frink, a spokesman for Dell, also declined to comment. HP spokesman Hani Durzy didn't immediately respond to requests for comment.
IBM CEO Sam Palmisano last week criticized HP for the 3Par acquisition, saying his rival has to pay high premiums for acquisitions because it had reduced spending on research and development.
The Netezza purchase is about 85 times earnings before interest, taxes, depreciation and amortization during the past year, compared with 325 times Ebitda for HP's 3Par deal, according to Bloomberg data.
The per-share price is 9.8 percent more than Netezza's Sept. 17 closing price and a 33 percent premium to its average price over the past 20 days, according to Bloomberg data. In the past five years, IBM has made 75 acquisitions with an average premium of 30 percent.
Netezza has to pay IBM $56 million if it terminates the deal, according to regulatory filings. The acquisition is set to close next quarter. UBS AG advised IBM, while Qatalyst Partners assisted Netezza.
Analytics Acquisitions
Palmisano said in May he is planning to spend about $20 billion on acquisitions in the next five years, investing in markets such as analytics software, which helps companies predict trends.
By packaging hardware with analytics software, Netezza helps clients analyze data more quickly, Krishna said in a phone interview. The deal was finalized this morning, he said, declining to comment further on the timeline of negotiations.
IBM has spent more than $20 billion on 100 purchases since Palmisano took over in 2002, as he shifts IBM's focus to software and services from hardware. His largest purchase was business-management software maker Cognos Inc. at $5 billion. The Netezza deal will be his sixth purchase of more than $1 billion.
Before it's here, it's on the Bloomberg Terminal.
LEARN MORE