Gold Rises to Record for Third Session on Bets Dollar to Slump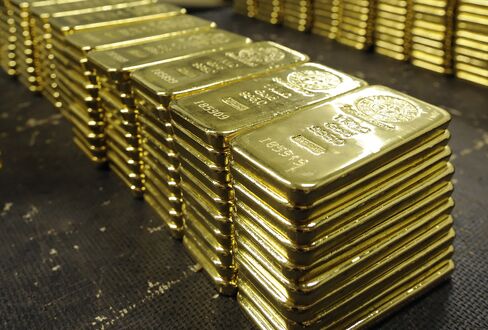 Gold rose to a record for the third straight session on speculation that government programs to stimulate the economy will erode the value of the dollar, boosting demand for the metal as an alternative investment.
The dollar approached a five-week low against the euro. The Federal Reserve may say at a meeting tomorrow that it's considering more measures to keep borrowing costs low. Confidence among homebuilders in September held at the weakest level in more than a year, indicating the housing market remains depressed.
"The longer we continue with no real change in the U.S. economic situation, the more likely we'll get another round of quantitative easing," said Frank McGhee, the head dealer at Integrated Brokerage Services in Chicago. "The underlying loose monetary policies will erode the value of the currency against gold."
Gold futures for December delivery rose $3.30, or 0.3 percent, to settle at $1,280.80 an ounce at 1:42 p.m. on the Comex in New York. Earlier, the price reached a record $1,285.20.
Gold for immediate delivery climbed to an all-time high of $1,283.80. Holdings in exchange-traded products backed by gold advanced to a record on Sept. 17.
The Fed has kept the benchmark interest rate at zero percent to 0.25 percent since December 2008 and bought back Treasuries to revive the economy.
10-Year Rally
Gold on the Comex has climbed 17 percent this year, outperforming global equities, Treasuries and most industrial metals. Futures headed for the 10th straight annual gain.
The Fed is likely to affirm its pledge to keep interest rates low for an "extended period" and maintain the floor on its holdings of securities, according to economists surveyed by Bloomberg.
The Thomson Reuters/University of Michigan preliminary index of consumer sentiment dropped to a one-year low of 66.6, figures showed Sept. 17.
"The only thing that can bring gold down is a real improvement in the economy," said Matthew Zeman, a metal trader at LaSalle Futures Group in Chicago. "People will dump it for higher-risk assets."
Gold gained this year amid tame U.S. inflation. The metal is traditionally bought as a hedge against rising consumer prices. Inflation expectations, based on the 10-year U.S. Treasury breakeven rate, have fallen to 1.79 percent from 2.21 percent six months ago.
The 14-day relative-strength index for gold futures has been above 70 since Sept. 16, a signal to some traders that the price is poised to fall.
'Susceptible to Correction'
"I'm a weak long at these levels," McGhee of Integrated Brokerage said. "Gold is at the top of a very long run and susceptible to a correction."
Silver futures for December delivery fell 1.3 cents, or 0.1 percent, to $20.803 an ounce. On Sept. 17, the metal settled at $20.816, the highest closing price for a most-active contract since 1980.
Platinum futures for October delivery gained $10.10, or 0.6 percent, to $1,632 an ounce on the New York Mercantile Exchange. The price was up for the sixth straight session, the longest rally in six months.
Palladium futures for December delivery fell $3.85, or 0.7 percent, to $541.85 an ounce.