U.K. Doubles Aid for Pakistan's Flood Victims to $209 Million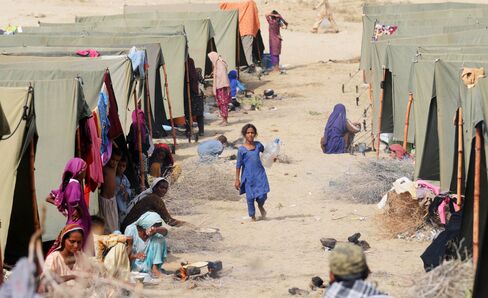 The U.K. more than doubled its aid to Pakistan's flood victims, taking the government's commitment to 134 million pounds ($209 million).
A 60 million-pound fund will be used to replace lost livestock and seeds to help people restart farms, provide education for displaced children and give short-term employment to people on rebuilding projects, the Department for International Development said in a statement late yesterday. A further 10 million pounds will be used for life-saving aid in southern Pakistan.
"It's a catastrophe the scale of which we have barely ever encountered before," Deputy Prime Minister Nick Clegg told delegates at his Liberal Democrat Party's annual conference in Liverpool, northwest England. "We will dramatically be increasing the government aid we're providing."
The announcement, which adds to 64 million pounds already committed by the British government, is in response to a revised appeal by the United Nations for aid for the next year for 14 million people, the department said. The money will be allocated to non-governmental organizations and other partner agencies, the department said.