Two Foreigners Hurt in Firing Near Delhi Jama Masjid, NDTV Says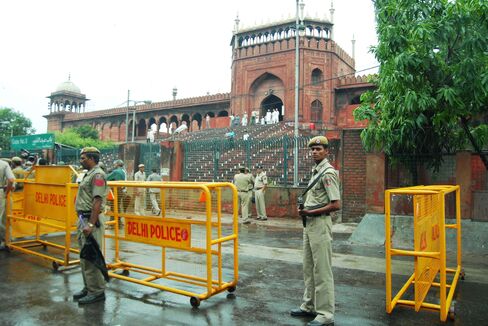 Two foreigners were injured in a shooting incident near the Jama Masjid in India's capital New Delhi, NDTV network reported, without saying where it got the information.
The victims were Taiwanese nationals, Delhi Chief Minister Sheila Dikshit told the television channel in an interview. She didn't identify them.
Two motorcyclists fired eight to 10 rounds at a tourist bus parked outside the mosque near gate number three, NDTV said.
The incident occurred two weeks before the Oct. 3 start of the 71-nation Commonwealth Games in New Delhi. The Indian government issued a nationwide terror alert on intelligence that militants may strike during festivals in August and September, the Press Trust of India reported Aug. 19, citing a Home Ministry official it did not identify.
"Please do not panic," Dikshit told NDTV. "An incident like this is worrying but nothing to panic about. Only an inquiry will reveal what happened."
On Sept. 13, 2008, five bombs exploded in three New Delhi markets killing as many as 26 people and injuring about 133. A group called Indian Mujahideen claimed responsibility.
Ten Pakistani gunmen killed 166 people and carried out a siege in India's financial center of Mumbai in November 2008, arriving unnoticed by boat before spreading out to attack the city's main railway station and two luxury hotels.
A bombing in the western city of Pune in February killed 15 people, the first major terrorist strike in India since the 2008 Mumbai attack.
The Jama Masjid, built by Mughal emperor Shah Jahan, is located in the crowded Muslim-dominated older part of the national capital and was the scene of twin blasts on April 14, 2006, in which at least seven people were injured.
Before it's here, it's on the Bloomberg Terminal.
LEARN MORE