Airbus Nears A320 Upgrade as Boeing Questions Gains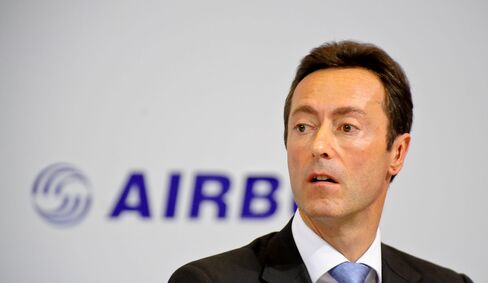 Airbus SAS is in final negotiations with suppliers about a reworked version of its bestselling A320 and is poised to unveil a more fuel-efficient version as early as next month, Chief Operating Officer Fabrice Bregier said.
New engines on the A320 would cost 1 billion euros ($1.3 billion) to 1.5 billion euros, a fraction of the $10 billion a brand new model could reach in development, Bregier said. Airbus has forged preliminary agreements with two engine makers and is talking to suppliers of nacelles that house the engines, landing gear, and other equipment that would need changing, he said.
"If we re-engine, we give the plane another 10 years to live," Bregier said in an interview in Toulouse, France, where Airbus is based. "We'd sell another 3,000, 4,000 more planes, so it's worthwhile for us to look seriously at how we can have equipment evolve or change."
Putting new engines on the A320-series planes would help Airbus satisfy airlines seeking greater fuel efficiency in the face of rising oil prices. The move would also put pressure on Boeing Co. to reconsider its 737 model, after indicating it may skip a reworked version because it would not meet the efficiency gains that airlines demand.
The final decision to approve the business case for new engines hasn't been signed off on, and the company is still "talking in the conditional tense," Bregier said. He and other members of the executive committee gathered in China last week for their monthly strategy meeting. Airbus said in July that it would decide on the engine options this month.
Engine Choices
The A320 family of aircraft offers the choice of two engines. One, the CFM56, is built by CFM International, a joint venture between General Electric Co. and Safran SA of France, and is also the only model available on the Boeing 737. The other, the V2500, is manufactured by International Aero Engines, a group that includes Pratt & Whitney and Rolls-Royce Group Plc.
New engines would involve a more fuel-efficient version of the CFM56 model with a new hot section, or core, and a new model from Pratt & Whitney, whose geared turbofan allows the outer fan to turn at different speeds, using less fuel. Pratt would be returning to the narrow-body market as a solo supplier for the first time since the 1980s.
Airbus estimates that the new engines would bring 15 percent greater fuel efficiency than existing models.
Shares of European, Aeronautic, Defence & Space Co., which owns Airbus, were 0.2 percent higher at 18.96 euros as of 12:18 p.m. in Paris. The stock has added 35 percent this year.
Lucrative Market
While the A320 and 737 are the smallest jetliners built by Airbus and Boeing, single-aisle planes are the most widely flown and the market is seen as a crucial one for manufacturers.
Airbus has handed over more than 4,000 A320s since the series was introduced in 1988, helping it to leapfrog Boeing as the No. 1 planemaker in 2003, while the 737 has achieved in excess of 6,500 deliveries since its debut in the 1960s. The companies also have more than 4,000 narrow-bodies on order.
Airbus sales chief John Leahy has said the company is unlikely to bring out an all-new plane before the middle of the next decade in order to reap the benefits of advanced materials and engines. Boeing Chief Financial Officer James Bell told investors at a conference last month that customers "haven't shown a real interest" in a re-engined aircraft.
Wing Hurdle
Complicating matters for Boeing may be the fact that the wing on its 737 plane is closer to the ground than on the A320, potentially making heavier engines with bigger fans more technically challenging to attach and the revamp more costly.
For Airbus, one pitfall may be stretched engineering resources. The company is already coping with development of the A350 long-range plane, featuring an unprecedented amount of composite materials for an Airbus jet, as well as the A400M military aircraft that's years behind schedule. Manufacturing the A380 superjumbo has also been slower than planned.
"The goal is to change as little as possible, but it's a possibility that we leave open to ourselves," Bregier said of a reworked A320 aircraft.
Before it's here, it's on the Bloomberg Terminal.
LEARN MORE