U.K. Arrests Six Terror Suspects During Pope's Visit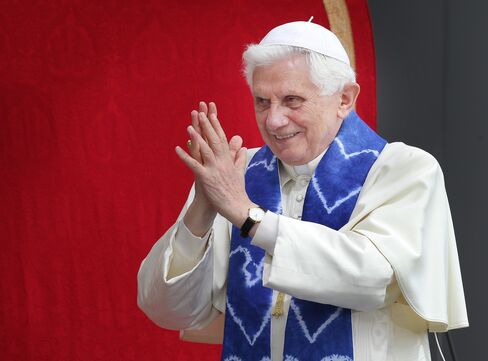 Six men, including five street cleaners, were being questioned in London on suspicion of plotting a terrorist attack as Pope Benedict XVI addressed lawmakers on the first papal visit to the U.K. in 28 years.
London's Metropolitan Police said it conducted a review of security following the arrests, "and we are satisfied that our current policing plan remains appropriate," according to an e-mailed statement. "The itinerary has not changed."
Five of the men were arrested early today on suspicion of commission, preparation or instigation of terrorist acts, the police said. The sixth was arrested this afternoon. Westminster City Council, whose district the pope visited, said five of the men worked for Veolia Environmental Services Plc, one of its contractors.
Benedict, 83, spoke at Westminster Hall, part of the Houses of Parliament, and the place where Thomas More was sentenced to death in 1535 for opposing King Henry VIII's break with the Roman Catholic Church. He met former premiers including Margaret Thatcher, Catholic convert Tony Blair and Gordon Brown, who invited him to Britain.
Father Federico Lombardi, a papal spokesman, told reporters in London that the pope's trip will continue "with courage and joy." The Vatican is confident in the work of Scotland Yard and has no plans to change the pontiff's schedule, he said.
No Weapons
Police said five men between the ages of 26 and 50 were questioned at a central London police station after their 5:45 a.m. arrest. Initial searches at a business in the city center yielded no weapons or explosives, the said. The sixth man was arrested at a residential property at 1:45 p.m. and a further eight homes in north and east London and two business premises in central London were being searched.
A spokesman for Veolia Environmental Services in London referred callers to Westminster City Council. A spokeswoman for Veolia Environnement SA in Paris, where the company is based, wasn't available for immediate comment.
"Veolia and Westminster City Council work closely with the relevant authorities to constantly ensure that all the people working on their behalf are subject to work checks as prescribed by the Home Office to assess their eligibility to work in the country," the Council said in a statement. "We are confident that these checks are robust and we will continue to work with the police and other authorities during this investigation."
'Vital Contributor'
Benedict told lawmakers that it was important for faith and reason to come together in government decision making. Religion should be "a vital contributor to the national conversation," he said.
"The inadequacy of pragmatic short-term solutions to complex social and ethical problems has been illustrated all too clearly with the recent global financial crisis," he said. "The lack of a solid ethical foundation for economic activity has contributed to the grave difficulties now being experienced by millions of people throughout the world."
Resources should be provided for international development with the same urgency as money was provided by governments to rescue financial institutions that were deemed as "too big to fail," he said.
Earlier, Benedict attended an assembly for 4,000 young people in southwest London, where he talked about the benefits of Catholic education. In a reference to the scandals over child abuse by priests that have rocked the church, he made special mention of teachers responsible for the welfare of children.
'Ethical Dimension'
He also called on students not to be too narrow in their study and to ensure they incorporate a religious sensibility into their chosen profession.
"The world needs good scientists, but the scientific outlook becomes dangerous and narrow if it ignores the religious or ethical dimension of life," he said. Religion also "becomes narrow if it rejects the legitimate contribution of science to our understanding of the world."
The pope prayed at Westminster Abbey with Archbishop of Canterbury Rowan Williams, the senior Anglican cleric, and the two men held talks at the archbishop's Lambeth Palace, a home to Catholic bishops before the 16th-century split with Rome.
The Church of England broke from Rome in 1534 after Pope Clement VII refused Henry VIII's request to annul his marriage to Catherine of Aragon so he could wed Anne Boleyn.
There are about 5 million Catholics in England today, according to the church's website. There are 25 million baptized Anglicans in England, about half the country's population, a Church of England spokesman said.
'Spiritual Nourishment'
Benedict also met with leaders of other religions to discuss faith in British society and told them of his concern at "living at a time when religious convictions are not always understood or appreciated."
The pontiff, in a speech before the talks with Williams, said that over the past 50 years in the U.K. "the surrounding culture has grown even more distant from its Christian roots despite a deep and widespread hunger for spiritual nourishment," reinforcing his comments yesterday about the growth of "aggressive forms of secularism" in Britain.
Tomorrow he will meet with Prime Minister David Cameron and acting opposition leader Harriet Harman prior to a prayer vigil in London's Hyde Park.
Before it's here, it's on the Bloomberg Terminal.
LEARN MORE