Exchanges Propose U.S. Ban on Stub Quotes Blamed for May Crash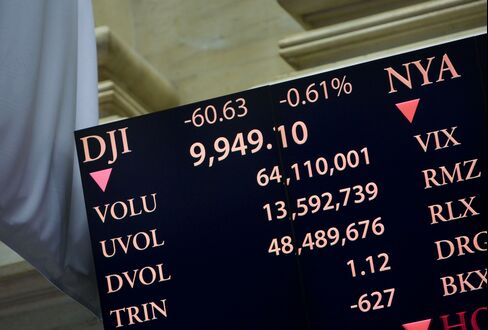 NYSE Euronext, Nasdaq OMX Group Inc. and Bats Global Markets sought permission from regulators yesterday to eliminate stub quotes, or bids and offers as low as pennies or as high as thousands of dollars provided by market makers that were blamed for worsening the May 6 crash.
The owners of the biggest U.S. equity markets asked the Securities and Exchange Commission to impose restrictions on how far from the national best bid or offer, or NBBO, market makers can submit quotes. The requirements are aimed at preventing circuit breakers that pause trading for Standard & Poor's 500 Index and Russell 1000 Index companies from being triggered.
Stub quotes are placeholders provided by market makers at prices as low as 1 cent to satisfy a regulatory obligation to submit both bids and offers. Transactions aren't meant to occur at those levels. On May 6, when $862 billion was erased from U.S. shares in less than 20 minutes, companies such as Accenture Plc tumbled to a penny as traders pulled out of the market, leaving fewer bids in order books.
"It's a good way to minimize the number of times the circuit breakers will be triggered," said Jamie Selway, managing director at Investment Technology Group Inc. in New York. Most of the circuit breakers that paused trading were triggered by errant transactions or executions that were later canceled. He added that the planned requirements are "minimalist obligations" for market makers.
S&P 500, ETFs
Circuit breakers, introduced in June for S&P 500 companies, have been expanded to stocks in the Russell 1000 and 344 exchange-traded funds. They halt trading for a security for five minutes once it rises or falls at least 10 percent within five minutes. NYSE, Nasdaq and Bats asked the SEC to mandate that market makers' bids and offers be within 8 percent of the NBBO.
The new rules, which must be approved by the SEC, apply when circuit breakers are in effect. Before 9:45 a.m. and after 3:35 p.m. New York time, when the volatility curbs don't operate, quotes will have to be no more than 20 percent away from the best nationally available price. For securities not subject to trading curbs, market makers must quote within 30 percent of the best price.
"This is a first step toward more consistent market-maker obligations across markets," said Ray Pellecchia, a spokesman at New York-based NYSE Euronext. He said his firm filed rules to eliminate stub quotes on all three of its markets: the New York Stock Exchange, NYSE Arca and NYSE Amex.
"Nasdaq OMX took a leadership stance with the proposal to eliminate stub quotes in June and has been working with the SEC since on market-maker obligations," said Silvia Davi, a company spokeswoman in New York. Her firm runs the Nasdaq Stock Market and Nasdaq OMX BX.
Bats also asked the SEC for permission to provide a service that automatically adjusts market makers' quotes as the NBBO moves during the day.
Before it's here, it's on the Bloomberg Terminal.
LEARN MORE