Edwards $30,000 Valve Can Double Revenue, Lure Bid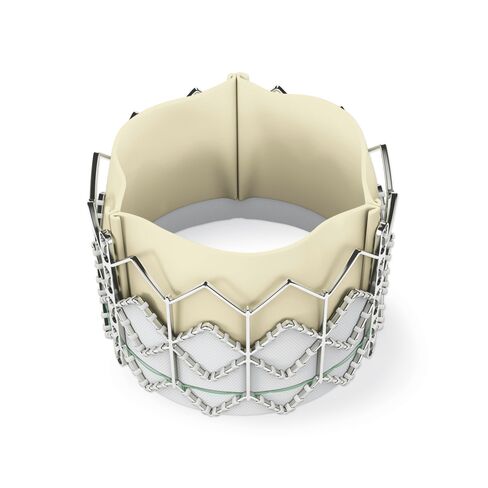 Sept. 17 (Bloomberg) -- Edwards Lifesciences Corp. may double annual revenue and become a buyout target with U.S. approval of a $30,000 cardiac valve that can be implanted without open heart surgery.
First, the device, called Sapien, must pass two tests.
Edwards, the world's biggest heart valve maker, will report data next week that will show whether the device helps frail, elderly people live longer, with fewer hospitalizations, compared with standard therapy. Results from the same study, to be released next year, will demonstrate if it works as well as older treatments in healthier patients.
The device maker's stock surged 73 percent to $58 in the past year, as investors anticipate positive trial outcomes. If Sapien doesn't show a survival benefit, one of the study's two main goals, the stock can tumble to $39, said Suraj Kalia, of Rodman & Renshaw in New York, who recommends selling shares.
"People are banking on a slam-dunk trial," Kalia said in a telephone interview. "If they don't show a mortality improvement, then it is going to be trouble for these guys."
Edwards, based in Irvine, California, fell $2.50, or 4.3 percent, to $55.81 at 4:01 p.m. in New York Stock Exchange composite trading, for the biggest decline in three months.
The valve, made partly from cow tissue, is inserted in the groin or chest, then threaded using a thin wire through an artery into the heart. It's designed to help patients who may be too frail to undergo surgery in which doctors cut open the chest, spread the ribs and temporarily stop the heart. It may also give a less invasive option with speedier recovery times to healthier patients.
2012 Approval
Sapien, cleared for sale in Europe in 2007, may win U.S. approval as early as 2012, Edwards has said. Once approved, the device may help Edwards more than double its revenue in five years to $2.8 billion, from $1.3 billion last year, analysts surveyed by Bloomberg estimated.
Approval may also spur bigger device makers to view the company as a buyout candidate, said Spencer Nam, managing director at Madison Williams & Co. in Boston.
"We believe Edwards could be an ideal candidate for a buyout once Sapien receives FDA approval," perhaps attracting an offer of $8 billion to $10 billion, Nam wrote in an Aug. 18 note to clients. Possible acquirers could include New Brunswick, New Jersey-based Johnson & Johnson, the world's largest maker of health-care products, or Fairfield, Connecticut-based General Electric Co., the world's biggest provider of medical imaging equipment.
Jeffrey Leebaw, a spokesman for J&J, Arvind Gopalratnam, with GE, and Edwards spokeswoman Sarah Huoh declined to comment.
Sept. 23 Results
Edwards will report results Sept. 23 from one group of 350 patients in the trial, called Partner, at the Transcatheter Cardiovascular Therapeutics meeting in Washington, D.C. These patients had an average age of 80 and were in poor health, making them ineligible for open heart surgery.
Next year, Edwards is set to release findings from a second group of 690 patients at the American College of Cardiology meeting in New Orleans, said Michael Weinstein, an analyst with JPMorgan in New York, in a Sept. 16 e-mail. This group included healthier patients who would be candidates for surgery.
Edwards originally designed the Partner trial to test whether the Sapien valve helped patients live longer than treatment with blood-pressure pills and an older surgery that snakes a tiny balloon through vessels to expand them and improve circulation.
Trial Changes Goals
In 2008, Edwards expanded the number of patients in the study to 1,040 from 600. Last year, the company added a second endpoint, or main goal, to the trial to measure how well Sapien prevented deaths, hospitalizations and repeat surgeries.
"Edwards became less confident in the original mortality endpoint as the trial progressed," said Duane Nash, an analyst with Wedbush Securities in San Francisco, in a Sept. 9 report. He recommends selling shares and projects the stock can crash to $30 on bad trial results. "Reducing death carries far more gravitas with physicians and payers alike than simply postponing the next hospitalization."
U.S. regulators agreed to change the trial design because both living longer and preventing hospital stays are critical for patients, Edwards' Huoh said in an e-mailed statement.
The Partner trial results will likely show the valve kept 70 percent to 75 percent of patients alive after a year, Wells Fargo Securities analyst Larry Biegelsen said in a Sept. 8 note to investors. He expects about 50 percent to 60 percent of those who didn't get the valve to survive that long.
Recommendations
Biegelsen is one of 24 analysts of 27 surveyed by Bloomberg who recommend owning Edwards shares. Nash and Kalia are among the three who say the stock should be sold.
"If this data is as good as people expect or slightly better, you will see continued acceleration in Edwards' market share and earnings and revenue growth," said Jon Fisher, a fund manager in the Minneapolis office of Fifth Third Asset Management, which manages $17.8 billion, including Edwards shares.
If the data is not as good as expected, shares could tumble 10 percent, Fisher said.
A European study reported in May found that the Edwards valve kept 81 percent of patients alive after a year when the device was inserted through the femoral artery in the groin. A Canadian study in 2009 found that 64 percent of patients were alive two years after implantation of the valve.
200,000 People
About 200,000 people in the U.S. need a new heart valve each year, though nearly half of them do not receive one, often because they are too sick or old, Edwards said.
Aortic stenosis, a narrowing of the aortic valve most commonly diagnosed in patients between 70 and 90 years old, is a life-threatening condition if left untreated. A study published in 2006 found that one in three patients with the illness died within a year if they didn't have traditional valve-replacement surgery.
"It's clear that aortic stenosis is a lethal condition," Chet Rihal, a cardiologist at the Mayo Clinic in Rochester, Minnesota and a Partner trial investigator, said in an interview. "For many older, sicker patients, surgery is too risky. We've been searching for years for better treatments for those patients."
To contact the reporter on this story: David Olmos in San Francisco at dolmos@bloomberg.net
To contact the editor responsible for this story: Reg Gale at Rgale5@bloomberg.net