Consumer Groups, Critics Wrestle as Warren Takes Helm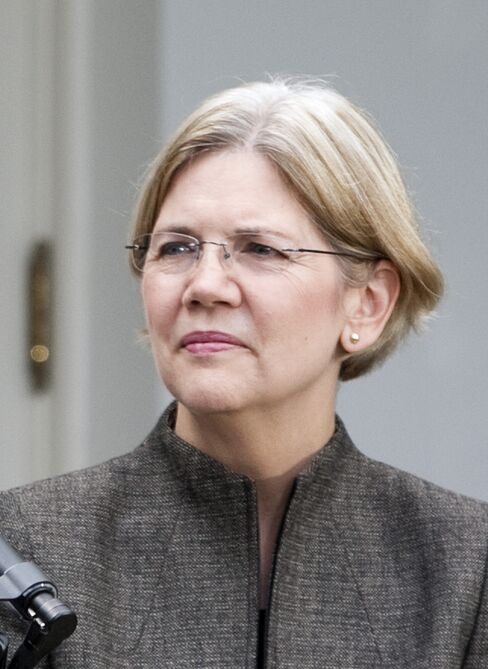 If mobile phones can be used to buy gas and pay bills in the U.S., should they be subject to the same consumer protections as bank accounts or credit cards?
Such questions may be answered one day by a new Consumer Financial Protection Bureau being built in Washington. The agency's $400 million budget and mandate to guard against exorbitant fees, confusing contracts and "unfair, deceptive or abusive" practices have corporations and their critics wrestling over its jurisdiction and agenda, even before it gets a director or office space.
In a Rose Garden ceremony today, President Barack Obama named Harvard University law professor Elizabeth Warren, 61, to lead a committee to establish the regulator.
Calling Warren "one of the country's fiercest advocates for the middle class," Obama said he is "grateful" for Warren's service. He was flanked by Treasury Secretary Timothy F. Geithner and Warren, who didn't speak at the event.
Uncertainty over the agency's scope and demands by consumer advocates for rules in a variety of industries has companies bracing for unexpected battles.
"The potential impact is tremendous. It could become almost overnight one of the most powerful federal agencies," said Kevin Petrasic, a lawyer at Paul, Hastings, Janofsky & Walker LLP in Washington and former counsel at the Office of Thrift Supervision. "It fills a void that many people perceive has been a problem, and as a result there's going to be a lot of pressure on it to justify its existence."
Dodd-Frank
The bureau, created under the Dodd-Frank financial-overhaul act signed by Obama in July, has the authority to police products including mortgages, credit cards and gift cards. It can write regulations, extract information from companies, levy fines and authorize states to enforce its rules.
Warren will be an assistant to the president and a special adviser to Geithner. Treasury is responsible for establishing the bureau, which is to become an independent entity housed at the Federal Reserve no later than July 21 of next year.
In a memo dated today and obtained by Bloomberg News, Geithner told the Fed and other federal agencies that Treasury is "working toward" the July transfer date.
In the meantime, he wrote in the memo, Treasury has taken preliminary steps to develop "a robust consumer complaint response system" and to collect information from state officials that will be used by the bureau to monitor non-depository financial institutions.
Exemptions
The bill contains exemptions for insurance companies, auto lenders, lawyers, accountants and retailers. Still, some of the language may leave room for interpretation and already has prompted debate between consumer advocates and industry representatives over the agency's purview. One example is cell phones, which consumers are beginning to use for retail purchases.
"A significant issue for the CFPB to deal with going forward is the impact of mobile banking, and developments and innovations in the delivery of financial services," Petrasic said. "If it's a consumer financial product, unless the specific entity is excluded, then it's within the wheelhouse of the CFPB."
The wireless industry says its members are exempt from the agency's oversight under a provision that excludes merchants.
"The carriers are not operating as a bank," said Michael Altschul, general counsel for CTIA-the Wireless Association, a Washington trade group.
Agency's Reach
Even with the exclusion, merchants expressed concern that the agency's reach could extend to gift cards and layaway plans.
"Retail is exempted except for those offering a consumer financial service. The definition of consumer financial service is essentially a layaway plan," said John Emling, chief lobbyist for the Retail Industry Leaders Association, a trade group in Arlington, Virginia. "It's a lack of clarity in their mission."
It might take years to define the agency's territory.
"We don't know where the edge of the bureau's authority ends," said Scott Talbott, chief lobbyist for the Financial Services Roundtable, which represents the nation's largest banks and insurance companies. "There will be many seeking to push the bureau's power as far and wide as possible. A lot of this is going to be up to the courts."
'Enormous Influence'
Iowa Attorney General Tom Miller said he views the agency as an opportunity to restore balance to consumer finance.
"More of the calls will be on the side of the consumer because the industry has had such enormous influence for so long," Miller said in an interview. "They're going to have to give some things up."
Warren's criticism of Wall Street firms such as Citigroup Inc. and American International Group Inc. won her celebrity status among consumer activists, prompting business lobbyists and Republican lawmakers to question whether she can be an unbiased leader. By making her an adviser, Obama avoids a Senate confirmation fight while allowing her to influence the agency.
Warren has said that the bureau must not overreach and harm competition, citing the need for small banks to compete against bigger financial players.
"It's not good enough to have a good heart, it's got to be grounded," Warren said in a July speech at Netroots Nation, a convention of politically active bloggers held in Las Vegas. Too many "bureaucratic obligations" could hurt community banks and hurt consumers, she said.
Payday Lenders
Consumer groups have been meeting in Washington for weeks to compile a wish list of priorities for the new enforcer. For now, they are coalescing around a list of familiar targets: Payday lenders, credit-card fees and bank-overdraft charges. Cell phones, layaway plans and other products on the financial industry's fringe aren't high on the agenda.
To build the agency's prowess quickly, consumer advocates want to establish and publicize the complaint hot line that Geithner discussed in his memo. A hot line may prompt investigations or shame companies into good behavior, said Ed Mierzwinski, consumer program director for the U.S. Public Interest Research Group.
"I want it to be like Ghostbusters: 'Who you gonna call?'" Mierzwinski said.