Batista's MMX Eyes 2 Billion Tons of Ore in Deals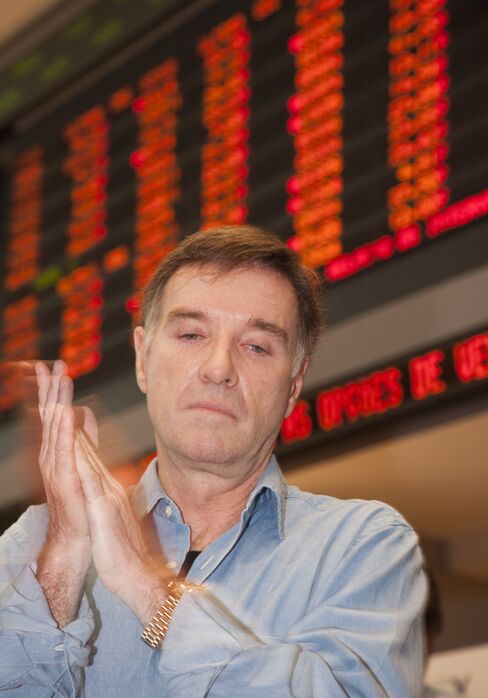 MMX Mineracao & Metalicos SA, the mining company controlled by Brazilian billionaire Eike Batista, is interested in buying iron-ore assets this year as it seeks to boost output, said the company's chief executive.
MMX is focusing on Brazil's Minas Gerais state, close to the company's Sudeste mines, Chief Executive Officer Roger Downey said yesterday in an interview at MMX's headquarters in Rio de Janeiro. Potential acquisitions include "big assets" with reserves of more than 2 billion metric tons, Downey said.
Batista, who plans to boost MMX's output capacity to 46 million tons a year of iron ore by 2015, from 10.8 million tons currently, is modeling the company on larger Brazilian competitor Vale SA by controlling mines and transport facilities that will ship the steelmaking raw material. The company is selling as much as $2.2 billion of stock to help finance deals.
"Our homework is done," said Downey, a former Credit Suisse metals analyst. "We know the assets we want and where they are. There are conversations in different phases."
MMX rose 3 centavos, or 0.2 percent, to 13.30 reais in Sao Paulo trading at 11:21 a.m. New York time. The stock has surged 74 percent in the past year, more than the 12 percent gain for Brazil's benchmark Bovespa index.
The company is likely to announce agreements with other companies and acquisitions of additional resources in coming months, UBS AG analysts Rene Kleyweg, who has a "buy" rating on the MMX, wrote in a note to clients today.
Vale Model
Batista, who bought his first gold mine at age 24 and more than tripled his wealth in the past year to $27 billion to be listed by Forbes as the eighth richest man, has said he plans to turn MMX into a "quasi-Vale."
"Quasi-Vale is the model, more than the size. It's an integrated and efficient model," Downey said. "If we have the logistics, we are halfway to reaching our targets."
MMX will sell as much as $2.2 billion of new shares this year as part of an agreement through which SK Networks Co., a Seoul-based trader, will take a $700 million stake in the company, Downey said. MMX will use the funds from the share sale to buy the Sudeste port project in southeastern Brazil from LLX Logistica SA, a logistics company also controlled by Batista, and to acquire new iron-ore reserves, MMX said Aug. 13.
Share Sales
MMX joins Petroleo Brasileiro SA and Repsol YPF SA in planning to sell shares this year. Petrobras, as Brazil's state-controlled oil producer is known, plans to offer $75 billion of stock later this month, while Repsol aims to sell about 40 percent of its Brazilian unit in an initial public offering. The Madrid-based company is seeking to raise about $4 billion from the stock sale, two people familiar with the plan said in July.
The supply of new shares in the Brazilian market in coming months is not a concern, Downey said.
"There are no worries about that," Downey said. "This is a good moment, in which the confidence in our industry remains very strong."
Batista's EBX Group Ltd. holding company aims to tap oil, iron ore and coal deposits in South America, generate electricity and create a port complex to facilitate exports to Asian markets, where demand from steelmakers has increased as countries such as China boost spending on construction.
EBX will own 35 percent of MMX after the deal, and SK will own 11 percent, Downey said on a Sept. 13 conference call.
LLX shareholders will be paid partly with bonds that will entitle holders to payments of $5 per metric ton of iron-ore shipped from the Sudeste port, Paulo Gouvea, head of corporate finance at EBX, said Sept. 13. Shareholders will be able to choose whether to receive the other part in stocks or cash.
Before it's here, it's on the Bloomberg Terminal.
LEARN MORE