Munger Says Costco Beats Charity as Buffett Signs Up Donors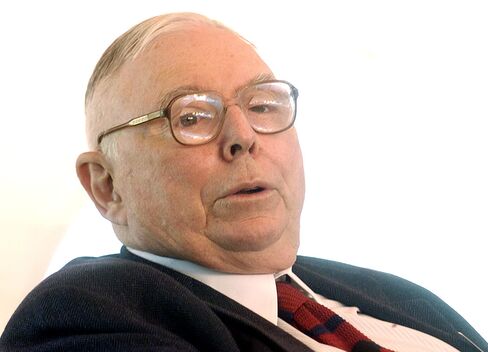 Charles Munger, the business partner of billionaire philanthropist Warren Buffett, said private investment may advance society more than charity.
"I believe Costco does more for civilization than the Rockefeller Foundation," Munger, 86, told students in a discussion at the University of Michigan on Sept. 14, according to a video posted on the Internet. "I think it's a better place. You get a bunch of very intelligent people sitting around trying to do good, I immediately get kind of suspicious and squirm in my seat."
Munger is a director at Costco Wholesale Corp., the largest U.S. warehouse-club chain, and has served as vice chairman of Buffett's Berkshire Hathaway Inc. for more than three decades. Munger's stake in Omaha, Nebraska-based Berkshire's Class A shares is valued at more than $1.6 billion.
Buffett, the world's third-richest person, has committed more than 99 percent of his wealth to charity and in June publicly challenged billionaires to give away half their fortunes. The Rockefeller Foundation, founded in 1913, supports agriculture in Africa, flood-protection in New Orleans and universal health initiatives, according to its website.
Charitable donations by Munger have aided California institutions including Stanford University, the Harvard-Westlake School and the Huntington Library. He is chairman of Good Samaritan Hospital of Los Angeles and gave $3 million to the University of Michigan's law school to improve lighting.
In the discussion at Michigan's Stephen M. Ross School of Business, Munger criticized the World Bank, the international lending institution that focuses on fighting poverty.
'Folly and Stupidity'
"I've seen so much folly and stupidity on the part of our major philanthropic groups, including the World Bank," Munger said. "I really have more confidence in building up the more capitalistic ventures like Costco." A spokesman for the World Bank declined to comment. Costco's Bob Nelson didn't immediately return a call.
Costco shoppers pay an annual fee for discounts on groceries and other basics, as well as on pricier goods such as designer handbags and home furnishings. The Issaquah, Washington-based company has reported three straight profit increases, including net income of $306 million in the fiscal third quarter. The company has more than 140,000 employees, including part-time staff, according to its annual report.
Munger has previously touted charitable giving. In "Poor Charlie's Almanack," a collection of Munger's speeches and remarks, the investor urges successful capitalists to make donations. Munger gave about $2.4 million in Berkshire stock to charities on Dec. 18.
'Duty to Give Back'
"Those of us who have been very fortunate have a duty to give back," Munger is quoted as saying in the almanac. "Whether one gives a lot as one goes along as I do, or a little and then a lot (when one dies) as Warren does, is a matter of personal preference."
Buffett, 80, is depleting his fortune, estimated by Forbes Magazine in March at $47 billion, through donations. He has pledged the bulk of his wealth to the Bill & Melinda Gates Foundation and makes annual gifts to charities seeking to ease hunger, boost education in the U.S. and promote access to abortions. He joined with Bill Gates, the Microsoft Corp. co-founder, to start the Giving Pledge initiative to elicit greater gifts from billionaires.
The Gates Foundation has worked with the Rockefeller Foundation to increase the productivity of small farms in Africa. A spokeswoman for the Rockefeller Foundation had no immediate comment.
Buffett didn't respond to a request for comment e-mailed to an assistant. Jason Maier, a spokesman for the Giving Pledge, didn't return a call. Munger, through an assistant, declined to be interviewed. A spokesman for the University of Michigan confirmed Munger's appearance this week.
Before it's here, it's on the Bloomberg Terminal.
LEARN MORE