U.S. Stocks Gain on Earnings Growth; Treasuries Rise, Oil Falls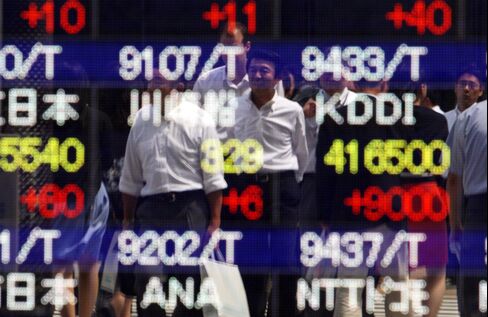 Sept. 17 (Bloomberg) -- U.S. stocks rose, capping a third straight weekly gain, as better-than-estimated results at technology companies overshadowed a drop in consumer confidence and concern Europe's debt crisis is worsening. Treasuries rose as Irish and Portuguese bonds slid. Oil fell for a fourth day.
The Standard & Poor's 500 Index climbed less than 0.1 percent to 1,125.59 at 4 p.m. in New York, its highest close in almost six weeks. Ten-year Treasury yields fell 2 basis point to 2.74 percent after sliding 7 basis points earlier. Costs to protect Irish debt from default and the yield premium investors demand to own the nation's 10-year bonds instead of benchmark German debt both reached records. Crude sank below $74 a barrel.
Technology shares in the S&P 500 gained for an eighth day, the longest rally since July, as improving prospects for earnings and dividends overshadowed reports depicting an economy struggling to maintain its recovery. Oracle Corp., the world's second-largest software maker, and Research In Motion Ltd., maker of the BlackBerry, helped lead gains today as sales forecasts topped analysts' estimates.
"It's encouraging to see technology companies showing positive results," said Jack Ablin, chief investment officer at Chicago-based Harris Private Bank, which oversees $55 billion. "They have a fair amount of cash and healthy balance sheets," he said. "The European debt situation is a protracted problem. It's going to take years to move past. Unfortunately, the market moves in minutes. It ends up being a frustrating match."
'Quadruple Witching'
About four stocks advanced for every three that fell on U.S. exchanges. Benchmark U.S. equity indexes swung between gains and losses for most of the day as the expiration of futures and options on stocks and equity indexes added to price swings The process known as quadruple witching occurs every three months.
A measure of software companies in the S&P 500 jumped 1.3 percent, led by Oracle's 8.4 percent surge. The larger S&P 500 Information Technology Index surged 4.4 percent this week, its biggest gain in more than two months, after a person familiar with the matter said on Sept. 13 that Microsoft Crop. may issue debt to pay for buybacks and dividends and Cisco Systems Inc. said the next day that it will start paying a dividend.
S&P 500 industrial companies climbed 0.9 percent as a group, with Deere & Co. surging 4 percent after Russian President Vladimir Putin said the world's largest maker of farm equipment will receive aid for projects that increase production of the machinery. Caterpillar Inc. rallied 1.6 percent after worldwide retail sales of machines was up 37 percent for the three months ending Aug. 10, according to a regulatory filing.
Confidence Slump
Treasuries extended gains after the Thomson Reuters/ University of Michigan preliminary index of consumer sentiment dropped to 66.6 from 68.9 in August. Economists forecast the measure would rise to 70, according to the median estimate in a Bloomberg News survey.
Speculation Ireland and Portugal will need outside assistance to fund deficits fueled concern that Europe's sovereign-debt crisis still has the potential to derail the global economic recovery.
"The signals are still mixed," said John Carey, Boston-based money-manager at Pioneer Investment Management, which oversees about $230 billion. "People and companies perhaps are not as confident as they should be. There are remaining issues in Europe. We're not in a double dip recession, but the recovery is fragile."
Bond Spreads
The yield on the 10-year Irish bond surged 26 basis points to 6.29 percent. The spread with German bunds widened to as much as 389 basis points, or 3.89 percentage points, the most on record, according to Bloomberg generic data.
Contracts insuring against default on Ireland rose 38 basis points to 428.3 basis points, according to data-provider CMA. A basis point on a credit-default swap protecting 10 million euros ($13 million) of debt from default for five years is equivalent to 1,000 euros a year.
Ireland isn't facing difficulty raising funds, Finance Minister Brian Lenihan said today, seeking to quell speculation that the country may require financial aid from outside sources. Barclays Plc said in a note to investors yesterday that Ireland may need to accept external assistance if there are additional losses among financial companies or the economy worsens.
The International Monetary Fund said Ireland has taken "assertive measures to deal with the banking crisis" and it doesn't envision the country will need financing, IMF spokeswoman Conny Lotze said today in an e-mailed statement.
Portugal Concern
Portugal's 10-year yield surged 13 basis points to 6.07 percent and its premium to bunds increased to 364 basis points. Portugal may have to seek IMF aid to address the problems of external financing, Diario de Noticias reported on its Web site, citing three former finance ministers Eduardo Catroga, Medina Carreira and Miguel Beleza.
The euro weakened against 12 of its 16 most-traded peers, falling 0.3 percent to 111.89 yen after appreciating to as strong as 112.98 yen. The common European currency slipped 0.3 percent to $1.3043.
China's yuan was set for its biggest weekly advance in 28 months on speculation a faster pace of appreciation will be tolerated after U.S. Treasury Secretary Timothy F. Geithner called for "significant" gains. The central bank set the reference rate at 6.7172 per dollar today, the strongest level since July 2005.
SouFun Surges in IPO
SouFun Holdings Ltd., the operator of China's biggest real-estate website, jumped 73 percent in New York after raising $125 million in this month's first U.S. initial public offering. It was the second-best debut for a U.S. IPO this year. The company that controls almost half of China's online real-estate advertising market was valued about 14.3 times earnings, or 14 percent less than the average of six Internet portals and property information providers, data compiled by Independent International Investment Research Plc and Bloomberg show.
European shares wiped out early gains, with the benchmark Stoxx Europe 600 Index falling 0.2 percent, erasing an earlier 1.1 percent rally and capping its first weekly decline this month. Allied Irish Banks Plc tumbled 11 percent and Bank of Ireland Plc fell 7.1 percent. Allied Irish shares will be removed from the Stoxx 600 today, according to Societe Generale SA index forecasting.
Crucell NV soared 56 percent after Johnson & Johnson said it planned to offer 1.75 billion euros to take full control of the vaccine maker. A total of $1.43 trillion of deals has been announced around the world so far this year, up from $1.25 trillion for the same period last year, according to data compiled by Bloomberg.
Gold Record
Gold climbed to a record for a third time this week on growing demand for a safe haven from financial-market turmoil. Gold futures for December delivery rose $3.70, or 0.3 percent, to close at $1,277.50 an ounce. Earlier, the metal reached a record $1,284.40. Copper rose to the highest price in almost five months, gaining 0.6 percent to $3.515 a pound in New York, as inventories contracted for the 30th straight week. October crude oil slipped 1.2 percent to $73.66 a barrel.
Cotton futures extended a rally to the highest price in more than 15 years as demand from textile mills expands amid declining global inventories. Cotton for December delivery rose 2.6 percent to 98.22 cents a pound in New York.
To contact the reporters on this story: Rita Nazareth in New York at rnazareth@bloomberg.net; Stephanie Borise at sborise1@bloomberg.net.
To contact the editor responsible for this story: Nick Baker at nbaker7@bloomberg.net.