WNBA Team Owners Create Historic Final as Profits Lag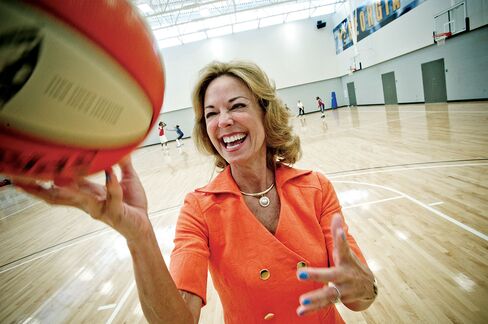 The Seattle Storm created an historic moment with their victory in the WNBA Finals that resonates beyond the top U.S. professional women's basketball league. It had nothing to do with the final score.
In the championship series, the Storm swept the Atlanta Dream in three games to become the first female-owned title holders in the league's 14-year history.
The second milestone, making a profit, might prove to be a bigger hurdle to overcome.
"The truth of the matter is, there are charity banquets that generate more dollars than a WNBA team," said Bob Hope, an Atlanta public-relations executive who helped broker the sale of the city's Dream last year to current owner Kathy Betty. "It's clearly a challenge."
Seattle captured the title with an 87-84 victory tonight in Atlanta after winning the first two games 79-77 and 87-84.
Betty, a former partner at accounting firm Ernst & Young LLP, says she didn't buy the team solely as a money-making investment. Following the 2007 death from cancer of her husband, former EarthLink Inc. Chief Executive Officer Garry Betty, she was in need of a new passion when Hope and other local business leaders approached her about buying the team.
"I laughed," she said in an interview from the Dream's practice facility, which they share with Georgia Tech's teams. "It's the worst economy in my lifetime, we're in a recession and he wants me to buy a sports team?"
Shaking Head
Even the Dream's Marynell Meadors, who earned 2009 WNBA Coach of the Year honors after guiding the franchise to an 18-16 record following a 4-30 mark in its inaugural season, shook her head at Betty's decision to buy the club in October.
"It made no sense," Meadors said. "But it's perfectly clear why she did it. She wanted to empower women, which she has most definitely done."
While that's one reason for buying the team from Ron Terwilliger, Betty also says she wants to be the first WNBA owner to turn a profit. Betty wouldn't disclose financial terms of her purchase. Other WNBA franchises have sold for about $10 million.
Dawn Trudeau, who bought the Storm in January 2008 as part of a four-woman group to prevent the club from leaving town with the NBA's SuperSonics, shares the same vision as Betty. Providing role models for young girls and building strong community ties is first on their list. Trying to make a profit isn't far behind, though.
'Get in the Black'
"We're still in the red," Trudeau said. "But we have a multiyear plan for how we are going to build the business and get in the black."
She declined to reveal specifics of the plan, but other WNBA teams, including the Dream, are wooing corporate sponsors as well as trying to turn dads and daughters and other groups into season-ticket holders.
Making it to the finals helped, Trudeau, 47, said.
"We don't budget for being in the playoffs," she said. "So we are overachieving on our budget, what the plan was, and on our overall march towards profitability."
Trudeau, who spent 14 years in various divisions at Microsoft Corp., wouldn't comment on when she expects to turn a profit. Leveraging their owner's Microsoft ties, the Storm's jerseys are sponsored by Bing, the software company's Internet search engine.
'Love for the Game'
"It isn't something you would enter into if you're trying to make a lot of money," Trudeau said. "It's something you're doing because you have a love for the game, your community and what this says to the world."
Seattle fans have been more supportive this season. Average attendance rose 5.7% to 8,332, fifth-highest in the 12-team league, according to Sports Business Daily figures. Trudeau declined to provide season-ticket figures.
The Dream lost $3 million in their first season, the Atlanta Journal-Constitution reported in December 2009. Attendance has declined every year. This season's average of 6,293 for 17 games marked an 11.4 percent drop from a year earlier, the second-biggest in the league behind the Washington Mystics (17.5 percent) and down 25.9 percent from the inaugural 2008 season.
In her first full year as owner, Betty said she has been "drinking through a firehose" and hasn't had time to actively pursue other investors to share her financial load. Asked if she has a gender bias regarding potential investors, Betty smiled and said, "I probably shouldn't comment on that because it could hurt me. But do I have a preference? Yes."
'True Leader'
The financial risk Betty, 54, took helped inspire her players throughout the season.
"She's like a true leader," said Dream center Yelena Leuchanka, an aspiring model. "For her to make a decision like that in a bad economy takes a lot of faith. Having an owner who has faith in us, it helps. Owning a team at this time is really risky. I admire her for that."
As a self-described "sports fanatic" who grew up playing basketball, baseball and football around her Decatur, Alabama, home, Betty has used the Dream to fuel her competitive needs.
Now that Betty reached the finals in her first year of ownership, Meadors wonders how high her boss's expectations will be in future seasons.
"She might get used to this," the Dream coach said. "It's not going to be this good every year."