Riksbank's Svensson Warns Against Interest-Rate Rises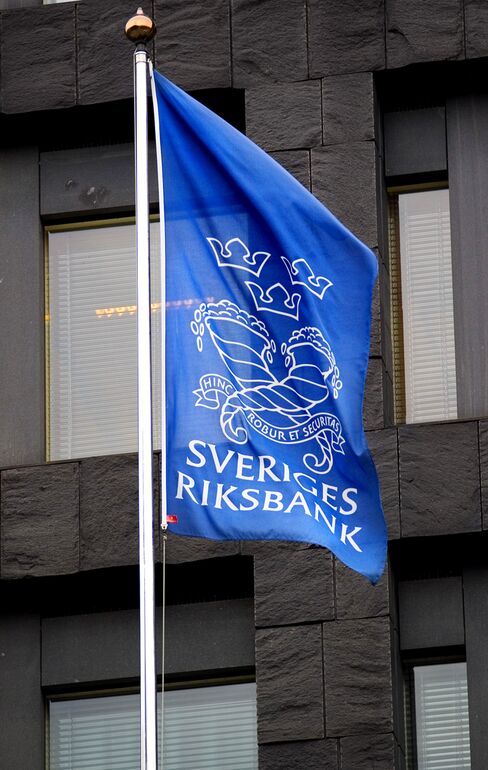 The Swedish Riksbank's most outspoken board member on the risks of deflation said central banks shouldn't raise rates to curb asset-price growth when inflation is low -- a path his own bank is pursuing.
"The policy rate is an ineffective instrument for influencing financial stability," Riksbank Deputy Governor Lars E. O. Svensson said in a speech delivered in Tokyo and published on the bank's website yesterday. "The use of the policy rate to prevent an unsustainable boom in house prices and credit growth poses major problems for the timely identification of such an unsustainable development."
Sweden's central bank on Sept. 2 raised its benchmark repo rate a second time in as many months in part, it said, to cool the housing market. Inflation, which has lagged behind the bank's 2 percent target since December 2008, slipped 0.2 point to 0.9 percent last month. Policy makers in Sweden, which emerged from an eight-month bout of deflation at the end of last year, may be underestimating the risk that price declines can return, some economists say.
"The Riksbank's Monetary Policy Committee, except for Svensson, is not taking deflation seriously," said Par Magnusson, chief Nordic economist at Royal Bank of Scotland Group Plc's Stockholm office. "But they should. Deflation is a far greater threat than inflation."
According to New York University Professor Nouriel Roubini, deflation is becoming a broader threat, with the U.S. also at risk of experiencing price declines as it faces the prospect of a sluggish recovery. Magnusson says deflation is tougher to tackle for central banks than inflation, especially when rates are already low.
'So Much Worse'
"The effects of deflation are so much worse than the effects of slightly too high inflation," he said. The Riksbank "really should rather be safe than sorry in their policy and not hike until they are dead sure" there's no deflation threat.
Svensson was the only Deputy Governor of the Riksbank's six board members to vote against the Sept. 2 quarter-point rate increase. "The market is right and the Riksbank is wrong about the level of the repo-rate path," Svensson said, according to the minutes of this month's meeting, published Sept. 15.
The Riksbank has signaled it will raise the main rate by another 0.5 percentage point over its next two meetings in October and December, bringing it to 1.25 percent by the end of the year. House prices rose for a 16th consecutive period in the three months through August, jumping an annual 6 percent, Statistics Sweden said yesterday.
'Incredibly Difficult'
Headline inflation will average 1.1 percent this year, 1.9 percent in 2011 and 2.5 percent in 2012, the Riksbank said on Sept. 2. Inflation adjusting for mortgage costs will slow to 1.3 percent next year from 2 percent this year, it estimates.
"I find it incredibly difficult to spot any inflationary pressure during the period the Riksbank says it may appear," said Roger Josefsson, chief economist at Danske Bank A/S in Stockholm, in an interview. "I agree with Lars E. O. Svensson because I find it difficult to understand this inflation fear. I don't know where it will be coming from."
The three-month forward-rate agreement due December 2011 fell as much as 4 basis points, the most since Aug. 24, to 2.06 percent. It was trading at 2.075 percent at 12:47 p.m. in Stockholm. The central bank this month predicted its main rate will average 2.1 percent by the third quarter of 2011, 3.1 percent a year later and 3.8 percent by the third quarter of 2013.
Since it started providing numerical rate forecasts in February 2007, the Riksbank revised its rate path 13 times out of 21. In December 2008, the bank said its main rate would average 2.5 percent in the fourth quarter this year, compared with the 0.75 percent policy makers raised it to this month. The krona lost 0.3 percent against the euro to trade at 9.2348.
Before it's here, it's on the Bloomberg Terminal.
LEARN MORE