Manufacturing in Philadelphia Area Shrank This Month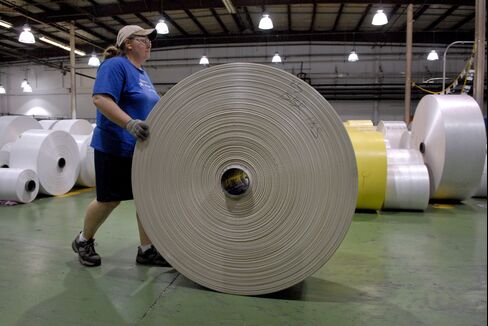 Sept. 16 (Bloomberg) -- Manufacturing in the Philadelphia region unexpectedly contracted in September for a second month as orders and sales declined.
The Federal Reserve Bank of Philadelphia's general economic index rose to minus 0.7 this month from minus 7.7 in August. Readings less than zero signal contraction in the area covering eastern Pennsylvania, southern New Jersey and Delaware. The median estimate of economists surveyed by Bloomberg News projected the gauge would turn positive.
Less inventory rebuilding and consumers constrained by unemployment hovering close to 10 percent may slow factories, which led the economy out of the worst recession in seven decades. At the same time, growing economies in Asia and Latin America may help keep U.S. assembly lines moving.
"Manufacturing is showing signs of fatigue," said Ryan Sweet, a senior economist at Moody's Analytics Inc. in West Chester, Pennsylvania. "All indications suggest manufacturing is limping into the fourth quarter."
Economists forecast the measure would rise to 0.3, according to the median of 57 projections in a Bloomberg News survey. Estimates ranged from minus 7.2 to 5.
Other reports today showed claims for jobless benefits unexpectedly dropped and producer prices rose.
Fewer Claims
The number of Americans filing unemployment insurance claims dropped to 450,000 last week, the lowest level in two months, data from the Labor Department showed. The agency also reported that wholesale costs climbed 0.4 percent, the second consecutive gain.
Stocks and Treasury securities were lower after the reports. The Standard & Poor's 500 Index fell 0.3 percent to 1,121.68 at 10:27 a.m. in New York. The yield on the benchmark 10-year note, which moves inversely to prices, climbed to 2.76 percent from 2.72 percent late yesterday.
The Philadelphia Fed bank's shipments gauge fell to minus 7.1 from minus 4.5 in August. The new orders measure decreased to minus 8.1, the third straight contraction and the lowest level since June 2009. The employment index climbed to 1.8 from minus 2.7.
Factory Employment
Factories nationally have added 145,000 workers to payrolls since the start of the year, according to Labor Department data. In August, they cut payrolls by 27,000, while the factory workweek increased to 41.2 hours from 41.1 hours a month earlier.
The Philadelphia Fed's index of prices paid fell to 9.8 from 11.8 while the gauge of prices received dropped to minus 13.9 from minus 12.5.
The overall Philadelphia Fed's index isn't composed of the individual measures, so some economists consider it a gauge of sentiment among manufacturers.
The Philadelphia Fed index corroborates the New York Federal Reserve Bank's general economic index yesterday that showed manufacturing in that region expanded this month at the slowest pace since July 2009.
Economists monitor the New York and Philadelphia Fed factory reports for clues about the Institute for Supply Management figures on U.S. manufacturing during the month. The September data will be released Oct. 1.
Diverging Measures
The national figure climbed to a three-month high in August, diverging from the Philadelphia index which fell.
"Manufacturing activity expanded further on balance, although the pace of growth appeared to be slower than earlier in the year," the Fed said last week in its latest survey of 12 districts covering economic activity from mid-July through the end of August. It cited "widespread signs of a deceleration compared with preceding periods."
Some manufacturers still are seeing growth. Dow Chemical Co., the largest U.S. chemical maker, last month posted second-quarter profit that trailed analysts' estimates even as sales rose 20 percent.
"Our U.S. macroeconomic view remains guardedly optimistic," Chief Executive Officer Andrew Liveris said in a statement. "We continue to have confidence that momentum is gradually building, and we have not changed our view of a sustained global recovery led by Asia, slowly helped by the U.S. recovery, but with Europe lagging."
Manufacturers make up 11 percent of the economy and had benefitted from expanding world trade, inventory restocking and stronger corporate spending for new equipment.
To contact the reporter on this story: Bob Willis in Washington at bwillis@bloomberg.net
To contact the editor responsible for this story: Christopher Wellisz at cwellisz@bloomberg.net