Natural Gas Erodes Coal's Share at Power Plants: Energy Markets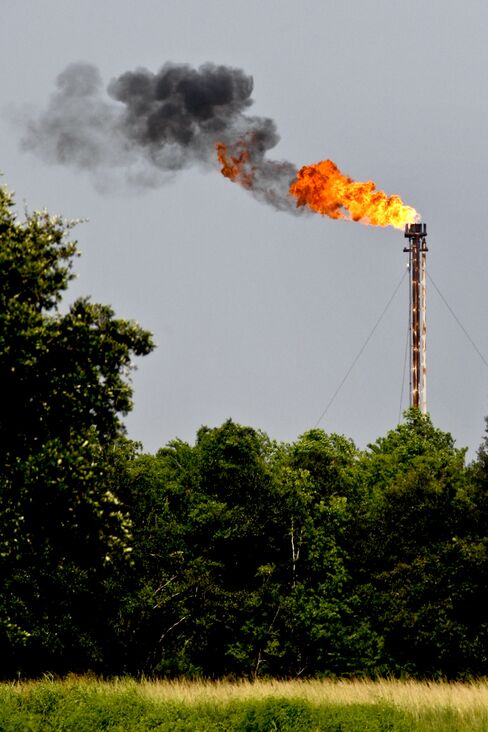 Natural gas's unprecedented share of U.S. power generation is likely to keep growing as the biggest price slide in a year and the prospect of stricter pollution rules erode the market for coal.
Gas-fired electricity will climb 31 percent in 2010 from five years ago, while coal use will fall 6.5 percent, Energy Department estimates show. The lowest gas prices in 11 months and the regulatory outlook may prompt companies to defer coal projects and build plants that burn the cleaner fuel, said James Rogers, chief executive officer of Duke Energy Corp., a Charlotte, North-Carolina-based utility owner.
"You will see more and more utilities in the U.S. build gas plants" assuming gas prices stay in range between $4 per million British thermal units and $7, Rogers said in an interview in the Chinese city of Tianjin on Sept. 13. "Gas-fired power plants will be built in lieu of coal plants because of uncertainty in the regulation of coal, on sulfur oxides and nitrogen oxides as well as carbon."
The Energy Department on Sept. 8 lowered its forecast for benchmark Henry Hub spot gas prices this year to $4.54 per million British thermal units from $4.69 a month earlier. Prices have dropped as U.S. production reached the highest level since 1974 and stockpiles stayed at above-average rates.
Gas for October delivery on the New York Mercantile Exchange rose 6.7 cents, or 1.7 percent, to settle at $4.062 per million Btu today. The futures have declined 27 percent this year. Gas fell to $3.651 on Aug. 27, the lowest level since Sept. 22 last year. Prices dropped 41 percent over the same period a year ago.
Switching to Gas
"The fuel switching we saw last year away from coal toward gas-fired power generation will likely perpetuate over the next few years," said Cameron Horwitz, an analyst in Houston at SunTrust Robinson Humphrey Inc., a unit of Georgia's biggest bank.
Coal is still the dominant fuel in power generation, accounting for an estimated 47 percent of electricity this year. That compares with 51 percent five years ago, Energy Department data show. The percentage of gas-fired electricity will increase to a record 23 percent in 2010 from 17 percent in 2005, according to the data.
"Coal-to-gas switching increases gas demand and creates a floor under gas prices," said Chris Kostas, a senior analyst at Energy Security Analysis Inc. in Wakefield, Massachusetts. The change is "a phenomenon that's unlikely to go away," he said.
Central Appalachian coal for October delivery fell $1.76, or 3 percent, to $57.87 per ton yesterday on the Nymex. Coal prices have gained 18 percent this year.
"Current prices of coal suggest probably around $4.75" per million Btu as a coal cost for power plants, Horwitz said.
Shale Gas
Gas from so-called shale formations rose 71 percent in 2008 from a year earlier to 2.02 trillion cubic feet, according to Energy Department data. Shale gas will account for 34 percent of total production in 2035, doubling from 18 percent in 2008, department estimates show.
Exxon Mobil Corp. bought XTO Energy Inc. for $25 billion in June in a bet that gas from shale formations and other unconventional resources will meet rising U.S. demand.
U.S. gas storage levels are also crimping prices. They were 6.2 percent above the five-year average in the week ended Sept. 10 even after a summer when heat waves kept inventory gains below average levels, according to department data.
Rising demand for gas from power plants may also narrow the premium European gas holds to U.S. supplies, which has restricted imports of liquefied natural gas.
U.K. gas futures traded at 42.39 pence a therm, or about $6.63 per million Btu, today on the Intercontinental Exchange.
Market Share
Electricity generated using natural gas will rise to 2.46 billion kilowatt-hours a day this year from 2005's 1.874 billion, according to the Energy Department. Coal-powered electricity will average 5.10 billion kilowatt-hours a day, down from 2005's 5.458 billion.
U.S. gas production was 1.84 trillion cubic feet in June, after rising to 1.92 trillion in March, the highest since January 1974, according to the Energy Department.
The U.S. Environmental Protection Agency will issue guidance soon that states and companies may use to implement the agency's new greenhouse-gas regulations, Administrator Lisa Jackson said on Sept. 14.
The Obama administration proposed in July cutting air pollution from power plants owned by companies including Duke in 31 states from Massachusetts to Texas. Duke owns utilities in the U.S. Southeast and Midwest.
Before it's here, it's on the Bloomberg Terminal.
LEARN MORE