Greek Crime Wave Spells Boom for Security Firms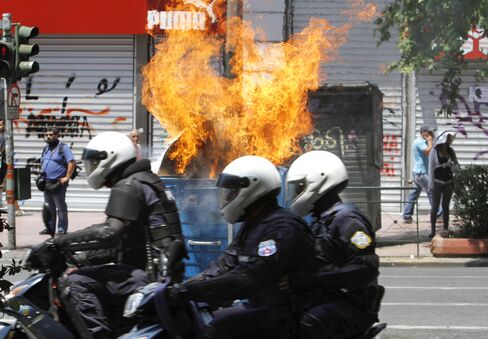 Greece's economic crisis is creating an unexpected boom for at least one industry.
Banks, stores and companies are hiring security guards, installing alarm systems and renting armored cars as rising hardship leads to an increase in crime. Britain's G4S Plc and Brink's Co. of the U.S., along with Pyrsos Security, Greece's largest domestic private security firm, are winning new clients.
"Here in Greece we never had this situation," said Sakis Tsaoussis, president of Athens-based Pyrsos, which counts Agricultural Bank SA, Coca-Cola Hellenic Bottling Co. and retailer Inditex SA among customers. "We could walk anywhere. You could sleep with the windows open. Now we are scared."
Robberies, ranging from street muggings to bank hold-ups and house burglaries, totaled about 80,000 in 2009, up from about 50,000 in 2005, data compiled by ICAP Group's Athens office show. The increase occurred as the unemployment rate rose to a 10-year high of 11.8 percent and the government and European Union estimate the Greek economy will contract 4 percent this year and 2.6 percent next year.
Pyrsos's armored cars were robbed five times in the past 12 months with the thieves getting away with 700,000 euros ($914,000), Tsaoussis said.
As well as an increase in crime, companies needing security are being affected by shrinking government budgets, according to David Lea, western European analyst at Control Risks, a London- based risk consultant group.
Going Private
"Now that budgets are becoming tighter on the part of the public sector, those people are employing private security guards instead," Lea said by telephone. "That much is pretty clear from walking around the streets of Athens."
Greece's Citizen's Protection Ministry said one of the government's priorities was public safety and that a series of initiatives, including deploying 3,640 officers throughout the country on rapid-response and motorbike patrols, had led to a significant drop in crime through the end of the June this year.
Initial data is "very encouraging," the Athens-based ministry said in an e-mailed statement.
G4S, based in southern England, is the largest security firm operating in Greece, with more than 90 million euros of revenue in 2009. Brink's Hellas, a subsidiary of Brink's Co., is the second biggest, with 50 million euros of sales.
Increased Outsourcing
G4S rose 12 percent in London trading during the past year, and 14 of 24 analysts who cover the company recommend clients buy the stock, according to data compiled by Bloomberg. G4S has expanded in Greece through acquisitions. The company now has almost 3,000 employees, providing security for airports, government facilities, stores and cash transfers.
"There will be an increase in demand of security services over the next year because of the government's efforts to move towards increased outsourcing of services," Alison Flynn, a spokeswoman for G4S, said in an e-mail.
Three bank workers died during riots in May in the capital to protest Prime Minister George Papandreou's austerity measures, and disturbances in cities, including Thessaloniki, damaged banks and stores.
"Clients felt worried after the riots in central Athens," Flynn said. From a business standpoint, "Greece has outperformed the rest of central and southern Europe," she said in the e-mail.
Banks Reliable
Pyrsos is focused on winning clients in the private sector, especially from banks, because they are more reliable at paying their bills, Tsaoussis said. The company invested 500,000 euros in the past year to cater to new clients, he said.
"Banks have money and they pay," Tsaoussis said. "Banks are the best customers we can have."
Pyrsos employs 600 security guards with another 400 subcontracted from smaller firms. Its business consists of private security guards, cash transfers and security systems. The company upgraded its armored car fleet to repel fire from AK-47s, an increasingly common weapon used in bank robberies in Greece, according to Tsaoussis.
Revenue increased 22 percent to 16 million euros in 2009 from a year earlier. Pyrsos expects sales to rise 25 percent this year to 20 million euros, Tsaoussis said. The firm provides services to the Athens Metro system and other government agencies, and has stopped taking on additional contracts due to outstanding bills from the Greek state.
With no end in sight for Greece's economic slump, the government's inability to control crime will keep demand high for Pyrsos's services, he said.
"The market has gone up considerably," Tsaoussis said in his Athens office. The company is investing "in spite of the fact that we have this economic crisis," he said.
Before it's here, it's on the Bloomberg Terminal.
LEARN MORE