Marchionne Sees Chrysler IPO in Second Half of 2011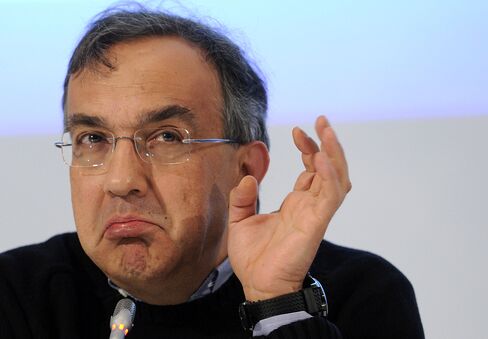 Chrysler Group LLC Chief Executive Officer Sergio Marchionne said the U.S. carmaker will probably sell shares publicly in the second half of 2011 after investors approved Fiat SpA's plan to spin off its industrial business.
"I don't think it's the first part; I think it's a second-half year event," Marchionne, who is CEO of both companies, told reporters in Turin, Italy, today when asked when in 2011 a Chrysler share sale could take place.
The remarks came as General Motors Co., which also received a taxpayer bailout related its bankruptcy last year, is seeking to raise as much as $16 billion in an initial public offering. Marchionne, 58, said today that Fiat, which acquired a 20 percent stake in Chrysler in June last year, will raise the holding to 25 percent as soon as December.
"People aren't focusing on Chrysler as the company that needs an IPO to pay back the government money," said Rebecca Lindland, an analyst at IHS Automotive in Lexington, Massachusetts. Marchionne's "public discussion of an IPO at Chrysler could backfire because it will remind people that Chrysler did take government money."
Chrysler, based in Auburn Hills, Michigan, is majority-owned by a United Auto Workers union retiree health-care trust and 20 percent owned by Turin-based Fiat after exiting court protection June 10, 2010. Marchionne aims to increase Fiat's holding to 35 percent by the end of 2011.
'Picking Up'
The CEO said today there are signs that demand is picking up in the U.S. after "two crappy weeks" at the beginning of September.
Sales are "significantly improving as we go forward," he said. "I think it's a market that's looking for a direction."
The CEO has been working to reduce Chrysler's reliance on big discounts to get American consumers to buy their vehicles. Through August, Chrysler has cut its customer incentives by 18 percent to $3,635, according to researcher Autodata Corp., based in Woodcliff Lake, New Jersey. Incentives were trimmed industrywide by 1.6 percent to $2,776, it said.
"I saw a large positive mood in the dealer body," said Marchionne, who met with Chrysler dealers this week and returned to Italy this morning from Florida. "I think there's a commitment to continue to back the house."
Fiat won shareholders' support today to separate CNH Global NV, Iveco and some industrial and marine operations into a new company called Fiat Industrial SpA. The separation, which will leave Fiat Auto and luxury brands Ferrari and Maserati in a new Fiat SpA, would allow Marchionne to focus on carmaking and give Fiat an entity to facilitate future alliances.
More Alliances?
The spinoff, the most sweeping corporate reorganization in Fiat's 111-year history, will resolve an issue that's been a "thorn in the side" for Italy's largest carmaker, Marchionne told shareholders.
"Finally we're going to be able to allow these businesses to find their way in the market place and to go marry, if anybody, get engaged, to do things with other people that wouldn't have been allowed to do otherwise," he said.
Fiat Industrial, which will start trading in Milan next January, may be valued at 8.38 euros a share, according to the average projection of five analysts surveyed by Bloomberg News. That's 49 percent more than the 5.64 euro value estimated by the analysts for the new Fiat SpA.
Shares Fall
"Fiat Industrial is undervalued by investors and will benefit from a recovery of the capital goods market," said Banca Akros SpA's Gabriele Gambarova, who is ranked No. 1 among Fiat analysts tracked by Bloomberg and based on relative returns of the stocks they covered in the past year. "Investors will be more cautious on Fiat auto, which will have to invest to complete its commercial offer."
Fiat fell 23 cents, or 2.2 percent, to 10.21 euros at the 5:30 p.m. close of trading in Milan. Before today, the stock had risen 34 percent since the Chrysler deal and was down 1.6 percent since the spinoff announcement on April 21. It's the second-worst performer in the Bloomberg EMEA Auto Manufacturers Index in 2010.
Fiat Industrial will probably increase trading profit, measured by earnings before interest, taxes and one-time gains or costs, by 133 percent to 1.4 billion euros in 2011, while Fiat auto may double its trading profit to 1.2 billion euros, according to the business plan presented in April. The forecasts do not include contribution from Chrysler.
Debt Split
European auto sales fell for a fifth consecutive month in August, led by Fiat, Ford Motor Co. and Toyota Motor Corp. Fiat recorded the biggest decline among the major manufacturers, with sales falling 24 percent, according to figures released by the European Automobile Manufacturers' Association today.
"The success of Marchionne's strategy with Chrysler is vital for the long-term perspective of the auto unit," said Milan-based Gambarova, who has a "buy" recommendation on Fiat with a target estimate of 15.50 euros. He values Fiat Industrial at 8 euros and the new Fiat SpA at 7.50 euros.
Fiat shareholders will get one share in the new unit, which will be listed on the Milan stock exchange on the first trading session of 2011, for every Fiat share they own.
Fiat plans to split its debt in half, with Fiat Industrial starting with a net industrial debt of 2.5 billion euros, according to the slides from a speech distributed to reporters. Fiat plans to transfer 1 billion euros of bilateral credit lines to Fiat Industrial before the spinoff.
Cash Vs. Debt
The new Fiat SpA will get 10 billion euros of cash while 3 billion euros will go to Fiat Industrial, the CEO said. Fiat SpA will have outstanding bonds for 9 billion euros, while Fiat Industrial will have 2 billion euros in bonds.
"Cash flows and profitability will help Fiat Industrial to control its debt better than the Auto unit," said Emanuele Vizzini, who helps manage about $1 billion at Investitori SGR in Milan, including Fiat shares.
Dozens of workers demonstrated in front of Fiat's headquarters in Turin against Marchionne's strategy and his salary. Protesters played Bob Dylan's "Hurricane" on loud speakers while policemen kept them in order.
Marchionne received 41 percent more compensation last year as his total pay rose to 4.8 million euros, according to Fiat's annual report.
My salary is justified by "market reason," said Marchionne as he entered the building with Chairman John Elkann.