Chile May Raise Rate to 2.5% on Higher GDP Forecast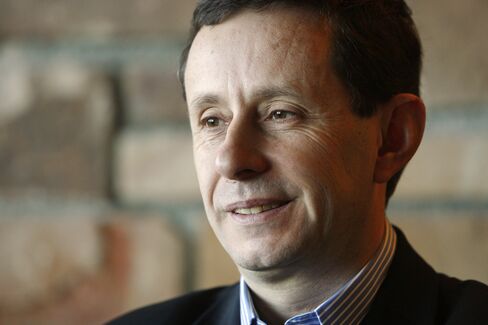 Sept. 16 (Bloomberg) -- Chile's central bank will probably raise its benchmark interest rate for a fourth straight month after policy makers last week forecast that the economy will expand at the fastest pace in five years in 2010.
All 17 economists surveyed by Bloomberg expect bank President Jose De Gregorio to raise the overnight rate by a half-point to 2.5 percent. After the bank's Aug. 12 meeting, policy makers said they would continue to raise at a pace determined by economic conditions.
The central bank last week raised its 2010 growth forecast for South America's fifth-biggest economy to a range of 5 percent to 5.5 percent, which would be the biggest increase in gross domestic product since it expanded 5.6 percent in 2005. At the same time, the bank raised its year-end inflation forecast to 3.9 percent, near the top of its target range.
"Strong economic activity growth, and particularly domestic demand, are very much present," Alejandro Puente, an economist at Banco Bilbao Vizcaya Argentaria SA, said in a telephone interview from Santiago. Policy makers will probably maintain the pace of increases to prevent growth from exacerbating pressures on consumer prices, Puente said.
Economic activity increased a faster-than-expected 7.1 percent in July, led by the retail, transport, communications and energy industries, the central bank said Sept. 6, higher than the 6.5 percent median forecast of economists surveyed by Bloomberg.
Since policy makers met last month, the bank also reported that GDP expanded 6.5 percent in the second quarter from a year earlier, the biggest jump since the second quarter of 2005.
Room to Raise
Chile's boom is "totally contrary to what's going on in industrial countries," De Gregorio said during a Sept. 12 interview in Basel, Switzerland.
Advanced economies may see their economic growth rate slow in coming years, which could push down the lending rate at which monetary policy will neither stimulate nor constrict growth in those countries, De Gregorio said.
Central bank models consider 5 percent to 6 percent to be a neutral interest rate for Chile, he said. Such a rate would keep growth at sustainable levels while preventing inflation from exceeding the bank's target of 3 percent plus or minus a percentage point.
While policy makers in their quarterly monetary policy report released last week raised their year-end inflation forecast to 3.9 percent from 3.8 percent, economists surveyed by the central bank this month lowered their 2010 estimate to 3.3 percent from a forecast of 3.6 percent a month earlier.
'Very Balanced'
Consumer prices unexpectedly fell 0.1 percent in August from July as duties on financial transactions fell, Chile's statistics institute said in a Sept. 8 report. Consumer prices rose 2.6 percent in August from a year earlier.
"Although inflation was a bit lower than expected, the reason behind the decrease was totally transitory," BBVA's Puente said. "If we eliminate that, inflation would have been relatively high for August."
Accelerating growth is causing Chile's output gap to close faster than was expected earlier this year, De Gregorio said in the interview.
The output gap is the difference between actual and potential production in the country. Inflationary pressures increase as the gap narrows.
The $164 billion economy shrank for the first time in more than a decade last year, contracting 1.5 percent, while consumer prices fell 1.4 percent.
Amid a rebound in demand that had begun to fuel an economic recovery, Chile was struck by an 8.8-magnitude earthquake in February that did as much as $30 billion in damage.
"Growth has been very balanced between consumption, investment and some transitory effects," De Gregorio said in an interview in Basel, Switzerland when asked about the revised forecast.
Chile's Ipsa stock index has gained 35 percent this year to record levels, outperforming other benchmark indexes in Latin America. Chile's peso has strengthened 2 percent in the same period to 497.73 per U.S. dollar at 12:42 p.m. New York time.
To contact the reporter on this story: Randy Woods in Santiago at rwoods13@bloomberg.net
To contact the editor responsible for this story: Joshua Goodman at jgoodman19@bloomberg.net