BMW Plans New Models, Leasing to Boost Chinese Sales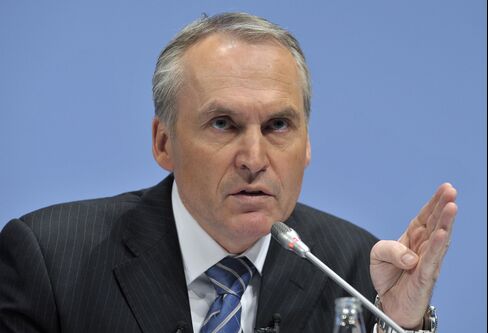 Bayerische Motoren Werke AG, the world's largest maker of luxury cars, plans to add models and start a vehicle-leasing business in China to help boost its presence in the world's biggest auto market.
"We have a clear target: We want to become the strongest premium brand in China," Chief Financial Officer Friedrich Eichiner said today in a speech to analysts in Beijing. Volkswagen AG's Audi brand, which has the goal of unseating BMW as the global luxury leader, is currently the biggest high-end carmaker in China.
Sales of luxury cars in China may increase at almost double the industry pace of 20 percent to reach 530,000 vehicles this year and 1.1 million by 2015, according to researcher J.D Power & Associates. BMW estimates that the country's luxury-car sector will probably expand 4.5 percent annually through 2022, outstripping growth prospects in all other markets.
"China will remain the most interesting market for the next five to 10 years," and BMW needs to make sure it's prepared for that growth, said Juergen Pieper, an analyst with Bankhaus Metzler in Frankfurt.
Beating Forecasts
Worldwide sales at Munich-based BMW exceeded forecasts in July and August, boosted by demand for the X1 sport-utility vehicle and new 5-Series sedan, Eichiner said. If trends continue through September, the seasonal slowdown in the third quarter may be less than anticipated, he said.
"The chances are relatively high that BMW again raises its guidance," said Pieper, who recommends buying the stock.
BMW added 10 cents, or 0.2 percent, to 47.35 euros at the 5:30 p.m. close of trading in Frankfurt. The stock has gained 49 percent this year, valuing the company at 30.1 billion euros ($39.4 billion).
The carmaker plans to tap potential in China by designing more vehicles specifically for customers in the country, adding to the extended wheel-base version of the 5-Series presented earlier this year, Eichiner said.
BMW will add smaller models at its Chinese factories, which will have capacity to build as many as 300,000 vehicles annually by 2013, more than triple the company's sales in the country last year. The electric-powered Megacity Vehicle will be introduced in China in 2014, a year after its debut.
Supplier Base
To aid its manufacturing expansion, which will include local assembly of the new 3-Series sedan starting in June 2012, BMW plans to increase its network of Chinese suppliers to more than 160 from about 100 now, Eichiner said.
The leasing business will start in 2012, a year after BMW boosts efforts to win contracts from fleet operators in China, Eichiner said. The finance unit, which will be supported by an investment of 500 million Chinese yuan ($74 million), is expected to start operations before the end of this year, Kirk Cordill, the division's chief executive officer, said today.
"Based on our experience in other markets, we see great potential for development" in car leasing in China, even with the limited demand at the moment, Eichiner said.
BMW said on Sept. 14 that it won approval from the China Banking Regulatory Commission to set up an automotive-finance company. BMW Automotive Finance China Co. is 58 percent-owned by the European carmaker and 42 percent by BMW Brilliance Automotive Holdings Ltd., the German company's Chinese joint venture, Wu Xiaoan, the partnership's chairman, said today.
New Dealerships
BMW expects the new car-finance arm to account for less than 10 percent of its sales in China next year, similar to the ratio currently achieved through an agreement with Shenzhen Development Bank Co., Cordill said. Over time, the proportion will rise as financing may appeal to younger customers, he said.
Speaking at a separate conference in Chengdu, Sichuan province, Ivan Koh, president of BMW's Chinese operations, said the dealer network in the nation will expand by 21 percent to 200 locations by the end of this year.
The German automaker's sales in China reached 106,000 in the eight months through August, surpassing its full-year deliveries there in 2009, BMW said this month.