Mortgage Applications Index in U.S. Declines for a Second Week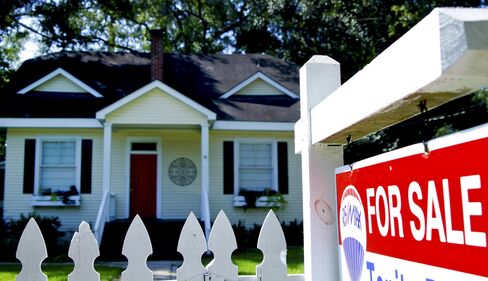 Applications for mortgages fell for a second week, led by a drop in requests to refinance loans.
The Mortgage Bankers Association's index fell 8.9 percent in the week ended Sept. 10, the Washington-based group said today. Refinancing declined by 11 percent, while applications for purchases dropped 0.4 percent.
Demand for homes is being hampered by unemployment near a 26-year high. At the same time, lending rates near record lows may support refinance applications among homeowners who still have equity in their homes and can qualify for loans.
"Housing remains in the doldrums, and recovery there will be slower than for the rest of the economy," Chris Rupkey, chief financial economist at Bank of Tokyo-Mitsubishi UFJ Ltd. in New York, said before the report. "Refinancing has come off a little after an initial spurt."
The average rate on a 30-year fixed mortgage decreased to 4.47 percent from 4.50 percent the prior week, the group said. The rate touched a record low of 4.43 percent the last week of August. At the current rate, monthly payments for each $100,000 of a loan would be about $504.90, or $37 less than a year earlier, when the rate was 5.08 percent.
The average rate on a 15-year fixed loan fell to 3.96 percent from 4 percent. The rate on a one-year adjustable decreased to 6.89 percent from 7 percent.
The share of applications seeking to refinance a loan fell to 80.5 percent from 81.9 percent.
Home Sales
Home sales fell to record lows in July after the expiration of a homebuyers' tax credit that had helped boost demand late last year and early this year.
Existing home sales plunged 27 percent in July, and new home sales fell 12 percent to the weakest level since record-keeping began in 1963. Pending sales of existing homes unexpectedly rose 5.2 percent in July following back-to-back declines that included a record 30 percent drop in May, the National Association of Realtors said Sept. 2.
Mounting foreclosures and short sales -- or sales of homes for a price that's lower than the mortgage -- are another reason the housing market is restraining the economic recovery. Home seizures increased almost 4 percent in July from the previous month, with 325,229 properties getting a notice of default, auction or bank repossession, RealtyTrac Inc. said Aug. 12.
Hovnanian Enterprises Inc., the largest homebuilder in New Jersey, reported a third-quarter loss that was bigger than analysts forecast as sales fell following the end of the homebuyer tax credit.
"Job creation is the key to a housing recovery, which makes it difficult to predict how improvements in the economy and housing market play out over the short term," Chief Executive Officer Ara Hovnanian said in a statement Sept. 2.
Before it's here, it's on the Bloomberg Terminal.
LEARN MORE