Terex Seeking Buyouts Shows Companies Loosening Grip on Cash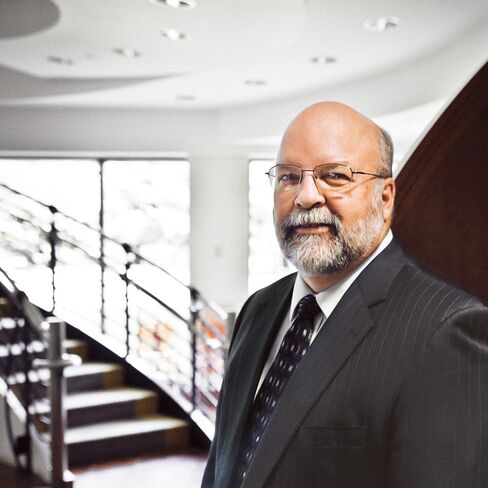 When Phillip Widman joined Terex Corp. in 2002 as chief financial officer, one of his biggest challenges was managing the construction equipment company's expansion.
Terex, a maker of cranes, excavators and other heavy machinery, was on an acquisition tear, completing 11 purchases during Widman's first five years on the job. In that time, sales tripled and operating profit climbed more than 12-fold. That all changed in late 2008, when the global recession sent Terex into a skid. New orders almost evaporated. Sales for some of its product lines plunged as much as 80 percent.
"We hit the wall," Widman, 56, said in a July 29 interview at Terex's headquarters in Westport, Connecticut.
By early 2009, Terex was losing money. Widman, like many corporate finance officers around the world, found himself facing a new reality. Cutting costs and conserving cash to ride out the slump became the focus of his job, Bloomberg Markets magazine reports in its October issue.
"You take all the actions you need to do to stop the bleeding," Widman says.
At Terex, that meant closing or consolidating manufacturing facilities, shortening factory workweeks and putting off some spending. "You're down to cutting at the bone sometimes," Widman says. "You've just got to be very careful about going too far." The company slashed head count by 30 percent to about 18,000 employees and cut salaries as much as 10 percent for those who remained, management included.
Loan 'Escape Valves'
With Terex's poor performance putting it in danger of violating bank loan covenants, Widman obtained amendments from lenders in mid-2009 that freed the company from meeting certain debt coverage requirements for a time. "We needed some escape valves," he says.
Widman and Terex Chief Executive Officer Ron DeFeo also tapped recovering financial markets in mid-2009 by selling $600 million of stock, high-yield bonds and convertible debt. They used proceeds to pay off bank debt and bolster the company's cash position.
"You do it when you can, as opposed to when it's too late and you can't get the money," Widman says.
Terex raised an additional $1.3 billion by selling its mining-equipment business to South Milwaukee, Wisconsin-based Bucyrus International Inc. in a deal that closed in February. The sale price included $1 billion in cash, with the rest in Bucyrus stock.
Stock Hedge
As part of the transaction, Terex agreed to hold the 5.8 million Bucyrus shares it received for at least a year. So, to offset the risk of a drop in Bucyrus's stock, Terex bought derivatives tied to a basket of shares of companies similar to the mining-equipment maker, Widman says.
"Their volatility is very high, so we had to look at how we could potentially hedge that risk," he says.
Terex also uses derivatives to help offset its foreign- exchange risk for revenue generated outside the U.S., Widman says. Based on currency forecasts, the company hedges some of its expected transactions going out four quarters, he says. "We're trying to maintain a buffer or a smoothing," he says. "I'm not going to take a position that's really dramatic."
Terex had $1.5 billion in cash on hand as of mid-2010, with an additional $500 million available under a revolving credit facility -- money that could be used for acquisitions, Widman says.
"We're an acquisitive company, and if somebody else can't survive, we could potentially take advantage of that," he says. "We don't necessarily want to buy very troubled businesses, but good businesses in troubled situations."
Still Looking
So far, the right target hasn't come along. For one thing, the asking prices of potential sellers are too high, given the still-recovering business environment, Widman says. For another, banks are being more lenient with companies that are in troubled situations, giving them breathing room, he says.
"There are a lot of natural combinations that should occur, but the industry hasn't consolidated very much," Widman says.
Even without acquisitions, business is improving. As of mid-year, Terex's orders were rising, factories had returned to more-normal schedules and salary cuts had been reinstated.
"We're producing at a lot higher levels than last year," Widman says.
To feed production, the company was buying almost $200 million of materials each month as of late July, he says. By comparison, the company bought about $100 million a month in mid-2009. Back around August 2008, before the downturn hit, its purchases ran more than $300 million a month, he says.
Profit Projections
Terex aims to post a profit on a per-share basis in the fourth quarter, Widman says. The company will end the year with annual sales of $4.5 billion to $4.6 billion, Terex estimated in late July. Longer term, Terex expects to double revenue by 2013 with net income of $6 a share, with or without acquisitions.
"We think we can taste it, but it's not going to be as easy as it might have been two or three years ago," he says.
For one thing, sales growth for Terex won't come from the same places it used to, Widman says. While revenue now is split about evenly between North America, Europe and the rest of the world, that mix will shift in the years ahead. Developing markets such as China, India and Brazil will take a greater share of the pie.
"The developed parts of the world are not going to grow as much," he says. "In terms of where we see spending, certainly China's at the top of the list for the next decade or two."
New Risks
Terex is expanding operations in China, India and Brazil. Working in these markets, though, brings a new set of risks related to everything from intellectual property to local business practices, to product design, Widman says. "We've made some mistakes," he says.
The company sold a German-designed excavator in China, for example. In Germany, the machine was used 40 hours a week; in China, it ran 24 hours a day, seven days a week. "So you need a different ruggedness," he says.
Widman, who was born in Detroit, graduated from the University of Michigan in Ann Arbor and went on to earn a Master in Business Administration from Eastern Michigan University. His first job was at computer maker Unisys Corp., then called Burroughs Corp., where he worked for 12 years in various finance and management positions. Widman then moved to power- transmission-equipment maker ABB Asea Brown Boveri Ltd., where he eventually became CFO of the Zurich-based company's U.S. operations.
Philip Services
Next, Widman joined industrial and metal services company Philip Services Corp. in 1998 as CFO. He helped to lead the company through a debt restructuring and bankruptcy in Canadian and U.S. courts.
"I liked it from an experience standpoint; it was hell going through," he says.
Widman moved to Terex as CFO in September 2002, taking charge of finances at a time when the company was a patchwork of businesses acquired through various deals, Widman says, and there were no strong internal controls in place for consolidating results.
"I had to build the whole finance organization," he says. "We didn't have information technology; it was whatever the guys at the local businesses had."
In his first months on the job, Widman led a review of Terex's books, finding errors in the way the company had reconciled results among units. The discovery eventually led Terex to announce it was restating results for 2000 through 2004 and prompted an investigation by the U.S. Securities and Exchange Commission.
Tightening Controls
Terex under Widman and DeFeo announced steps to address the errors by revamping the company's financial reporting system, tightening internal controls and increasing oversight.
In 2009, without admitting or denying wrongdoing, Terex paid $8 million to settle the accounting probe. The settlement also covered a separate investigation of sale-leaseback deals that the company had done with United Rentals Inc. in 2000 and 2001. Widman, who wasn't named in either SEC probe, says compliance remains a priority.
"We went through a restatement during my watch," he says. "I don't want to go back to that."
Today, Widman is focused again on growth. Terex is using some of its cash to help provide financing for customers.
"Institutions are still tight on loaning to our customer base, so we're filling that gap by using our cash to originate leases to start to stimulate more demand for us," Widman says. "You can't just wait for the phone to ring and a customer to give an order."
Before it's here, it's on the Bloomberg Terminal.
LEARN MORE