Sovereign Swaps Trades Rise on EU Rules Compromise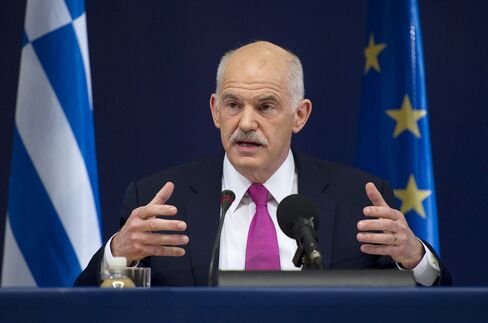 Credit-default swap investors are building positions on sovereign debt as European Union regulators resist calls by lawmakers to ban some trades.
The amount of swaps bought and sold on 15 nations from Greece to Germany rose to $134.5 billion Sept. 10, according to the Depository Trust & Clearing Corp., from $124.6 billion on June 4. Outstanding contracts dipped in May after German Chancellor Angela Merkel barred so-called naked swaps, in which buyers of default insurance don't own the underlying bonds, blaming speculators for worsening the region's fiscal crisis.
New rules will require traders to prove they can access the underlying security to settle a naked trade and to notify EU regulators about "significant net short positions," according to a statement on the European Commission's website today. Lawmakers may also be given emergency powers to ban some practices in "exceptional situations."
"It's a good compromise," said Michael Hampden-Turner, a credit strategist at Citigroup Inc. in London. "It takes the sting out of the accusation that CDS can be used in a predatory fashion, and yet allows investors to take a view or hedge so that the asset class is restricted without damping the liquidity required for legitimate activity."
Swaps a 'Scourge'
The amount of outstanding contracts on Germany has climbed 14 percent since May to $15.3 billion, while contracts on Italy have jumped 11 percent to $26 billion, DTCC data show. The $134.5 billion of protection bought on the 15 nations includes contracts on the Markit iTraxx SovX Western Europe Index.
Credit-default swaps pay the buyer face value in exchange for the underlying securities or the cash equivalent should a borrower -- a company or a country -- fail to adhere to its debt agreements.
Greek Prime Minister George Papandreou in March pressed U.S. President Barack Obama to help Europe combat "unprincipled speculators," who he said threatened a new global financial crisis. Default swaps are a "scourge" that "haunts Greece and all of us," Papandreou said.
The cost of credit-default swaps insuring $10 million of Greek government debt for five years surged more than four-fold from the start of the year to a June 24 peak of $1.126 million annually, according to data provider CMA. The contracts cost $885,400 a year, according to data provider CMA at 10 a.m. in London.
Investors bought or sold swaps contracts covering a net $7.04 billion of Greek sovereign debt as of Sept. 10, according to DTCC, which runs a central registry that captures most trades. That figure, which is the maximum amount on the line if Greece defaults, compares with at least $321 billion of the country's outstanding debt, Bloomberg data show.
'No Evidence'
Merkel and French President Nicolas Sarkozy also pressed the EU to curb financial speculation, saying some bets against stocks and government bonds should be banned. They argued that speculators were exacerbating Europe's debt crisis even as German financial regulator BaFin said in March it found "no evidence" that credit-default swaps were being used excessively to speculate against Greek bonds.
Germany's unilateral ban failed to achieve the government's aim of keeping asset prices from falling and "market efficiency and quality in fact deteriorated substantially," the International Monetary Fund said in a report last month.
Europe's new laws would give regulators "clear powers in exceptional situations to temporarily restrict or ban short selling in any financial instrument," according to the Commission. Regulators will have the power to restrict trading "if the price of a financial instrument falls by a significant amount in a day," the Commission said.
'Therapeutic Effect'
"These proposals will have a very therapeutic effect," said Michael Greenberger, a professor at the University of Maryland School of Law. "The problems speculators pose in markets far outweigh concerns about liquidity and financial costs. We have had too many systems without costs that have had a calamitous effect on our financial system."
In the U.S., regulators and Congress rejected a proposed ban on naked swaps last year, with House Financial Services Committee Chairman Barney Frank saying "there was concern that a broad grant to ban abusive swaps would be unsettling," and U.S. Treasury Secretary Timothy F. Geithner saying he doesn't think such a measure would have merit.
New rules under the Dodd-Frank Act, which became law in July, require most credit-default swap trades to be backed by clearinghouses in an effort to stem systemic risk. A separate EU initiative announced in Brussels today will require more swaps to be traded through central clearinghouses.
Swaps 'Essential'
The U.S. Treasury Borrowing Advisory Committee, made up of dealers including JPMorgan Chase & Co. and Goldman Sachs Group Inc. and money managers including BlackRock Inc. and AllianceBernstein LP has said sovereign credit-default swaps are "essential" for banks to protect themselves against potential losses on swaps contracts.
Fitch Ratings said a survey of credit market participants showed 96 percent of respondents favored central clearing of credit-default swaps. Nearly 90 percent of those surveyed expect an increase in trading of sovereign default swaps, according to Fitch's annual global credit derivatives survey.
The EU rules are in the form of a regulation, which would become law once lawmakers sign off on it, rather than a directive, which gives national governments room to interpret the bill.
"It's a warning shot across the bows of any fund thinking of predatory activity," Hampden-Turner said. "I think it's not necessary because I thought that case overstated. But, if it makes investors more relaxed about CDS markets then it is a market positive and we could see something similar in the U.S."