Shell, BP May Reap Profits Using CO2 to Extract Oil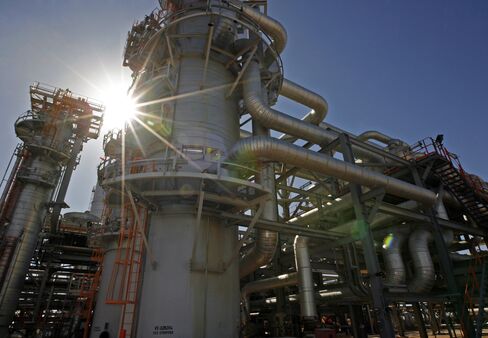 Royal Dutch Shell Plc and BP Plc are among oil companies that stand to make "serious profit" by pumping carbon dioxide from power plants into oil fields, according to Petroleum and Renewable Energy Co.
Putting carbon dioxide into old wells may yield profits of as much as $40 a metric ton of captured CO2 in the next decade, Stewart Whiteley, managing director at the consultant known as Petrenel, said yesterday at a seminar at London's Geological Society. This assumes a source of CO2 is available, he said.
"You can start making serious profits out of this," Whiteley said. Energy companies should look to extract extra oil out of multiple fields, rather than work on individual fields in the North Sea, he said. "Given the high costs in the North Sea, fiscal incentives will be needed," he said. "It's also a matter of whoever gets there first."
Enhanced oil recovery involves pumping carbon dioxide or other gases into underground reservoirs to extract more crude than would be obtained through natural pressure. The process has the advantage of extending the lifespan of an oil field, while permanently burying the gas. Carbon capture and storage has been touted as a way of slashing emissions of CO2, a greenhouse gas blamed for climate change.
BP shelved a plan to use its Miller field in the North Sea for CO2 storage in 2007 after the U.K. didn't provide the company with tax incentives for the project. The company is "focused on demonstrating CCS at a major scale," Toby Odone, a spokesman for BP, said by e-mail today.
"BP continues to review appropriate CCS opportunities where the regulatory framework is in place, where the policy mechanisms make projects viable, and where there is a strategic fit with our core business," Odone said. BP along with Statoil AS operates a CCS test plant in Algeria. The oil company has plans to test CCS in Abu Dhabi and California.
High Capital Costs
"There are high capital costs to capture, transport CO2 and convert oil fields" to make them suitable for storing the greenhouse gas, Whiteley said. Using CO2 for enhanced oil recovery has the potential to make CCS a profitable business, he said.
Kinder Morgan Energy Partners Ltd. and Denbury Resources Inc., two pipeline operators in the U.S., are already profiting on transporting and storing CO2, Whiteley said.
Outside the North Sea, Petrenel estimates it would cost a polluter $7 to $20 to dispose of a metric ton of CO2 underground for storage in an aquifer or depleted gas field, without the prospect of extra oil revenue.
Petrenel's figures don't account for costs of capturing the CO2 from the source, such as power stations, just transporting and storing the gas.
Pumping carbon-dioxide into wells to get additional oil "will not be a complete CCS solution, given the finite quantities of CO2 required," Whiteley said. "It could be an important component in a mix of sequestration options."
Before it's here, it's on the Bloomberg Terminal.
LEARN MORE