Sanofi Says Genzyme Holders Want 'Reasonable Price'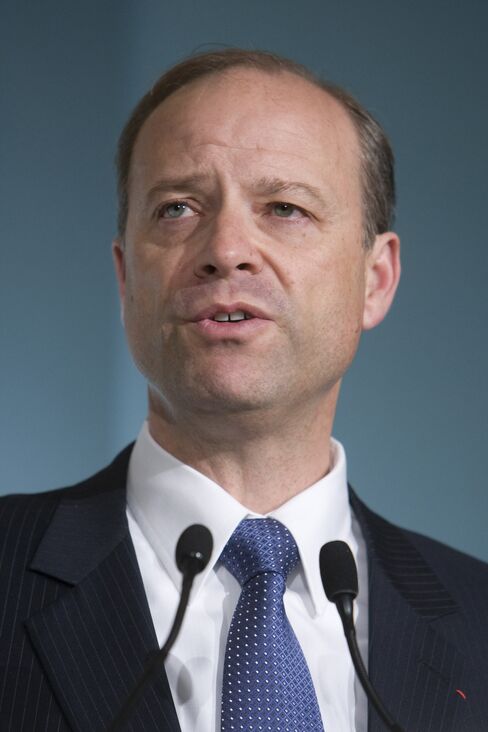 Sanofi-Aventis SA Chief Executive Officer Chris Viehbacher, seeking support for his $18.5 billion bid for Genzyme Corp., said he met with investors who own more than 50 percent of the U.S. company and found they are willing to sell their shares at a reasonable price.
Viehbacher is lobbying shareholders after Genzyme's board rejected the $69-a-share offer from Paris-based Sanofi as too low. He said today he doesn't expect other bidders to emerge for the Cambridge, Massachusetts-based company, which is the world's largest maker of drugs to treat rare genetic diseases.
"We believe that the Genzyme shareholders are willing to sell at a reasonable price, and that's what we'd like to see," Viehbacher told investors at the Bank of America Merrill Lynch Global Healthcare Conference in London. "Now we just need to be able to sit down with management and kind of work things out."
The 50-year-old chief executive has told analysts and investors he isn't getting feedback from Genzyme management. Viehbacher on Aug. 30 indicated he was willing to raise the bid if his counterpart at Genzyme, Henri Termeer, came to the negotiating table. There is a "reasonable chance" to clinch a deal, Viehbacher said today.
"It may take a while, but I think that ultimately the company will do the right thing for shareholders," Viehbacher said in a brief interview as he left the conference.
Investor Meetings
Viehbacher, who met with Genzyme shareholders in New York on Sept. 7, also sat down with groups of investors after his presentation today. He reiterated that Sanofi will remain disciplined in its bidding, said Connie Schuemann of Vienna- based Raiffeisen Capital Management, which owns Genzyme stock. "I would be really surprised" if the price went up a lot, said Schuemann.
Bo Piela, a spokesman for Genzyme, declined to comment on Viehbacher's remarks.
Genzyme rose 15 cents to $70.39 at 4 p.m. New York time in Nasdaq Stock Market composite trading. The stock has closed above the value of Sanofi's offer every day since the bid was made public Aug. 29. Sanofi, France's biggest drugmaker, rose 23 euro cents, or 0.5 percent, to 49.44 euros at the 5:30 p.m. close of Paris trading.
"This isn't about speed," Viehbacher said in his presentation today. "I'm not going to push faster just because the press is getting bored with this and wants to see a deal done."
'Flirting'
Genzyme investors had been seeking at least $80 a share, based on potential revenue growth after production deficiencies responsible for drug shortages get resolved, shareholder Lionel Melka, the chief investment officer for Bernheim Dreyfus & Co., said this month.
"They are flirting with each other," said Tom Helme, a fund manager at Victoria Capital who attended the London conference. "The deal will get done. Sanofi desperately needs to bolster its late-stage pipeline."
Sanofi is bidding for Genzyme as products generating about 20 percent of the French company's revenue face generic rivals by 2013. Genzyme's products are less likely to face generic competitors because they're made from living cells and are harder to copy than traditional pills made from chemical compounds.
"It was easier to see Genzyme shareholders than Genzyme management," Viehbacher said today. "That will hopefully change shortly."
Before it's here, it's on the Bloomberg Terminal.
LEARN MORE