Rolling Stones Revive Drug-Driven Rock in Concert Movie: Review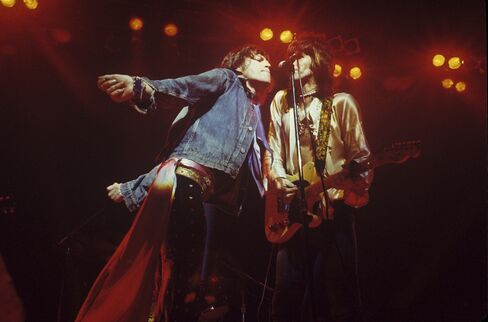 Mick Jagger takes another swig of bourbon and dances like a demon. Keith Richards looms from the wings in a drugged-out haze, trading solos with slide guitarist Mick Taylor in the shadows. This is 1972 and the Rolling Stones are at their prime.
"Ladies and Gentlemen -- The Rolling Stones" hasn't been seen in cinemas for more than three decades. The movie, which had a complex quadraphonic soundtrack, had a short release in 1974 near the end of Richard Nixon's presidency. It now shows in more than 530 U.S. theaters today for a one-night stand. It's a flashback to the tour that promoted the double LP "Exile on Main Street," regarded by critics as among the band's best.
The film release, by a division of National CineMedia Inc., Eagle Rock Entertainment and Omniverse Vision, portends more concert-like events in theaters. Digital projection is prompting performers to dig into the archives to reinvigorate interest, and to beam live events to people who can't make it to the real thing, Omniverse co-founder Austin Shaw said.
"There's a whole generation who never saw Jimi Hendrix on stage or who never saw Pink Floyd perform," said Shaw, who helped form the London-based company this year after producing film and television for Andrew Lloyd Webber. Omniverse will broadcast a "Les Miserables" concert next month to more than 1,000 screens and air a Bon Jovi gig in November. The Stones film will also be shown in Europe and Australia this month before its DVD release next month.
"There's always a new audience for great music," Shaw said. "We're hoping this film will capture the imagination."
Playful Jagger
"Ladies and Gentlemen" captures the band performing at four shows in Texas. It comes with a playful, self-deprecating interview by Jagger recorded this year, shown at the premiere last week in London and also intended for the DVD release.
The frontman, uncharacteristically warming to nostalgia, describes raiding Western Costume Co. in Hollywood for exotic clothes. He says that the group was sometimes sloppy on the tour, which is legendary for its trail of drug use.
Still, the Stones were in high form when filmmakers Steve Gebhardt and Bob Freeze did their work.
"Everyone's very together and on," Jagger said.
The film, shot simply and artfully in 16 millimeter, was done without enough light, according to Jagger. The dark adds a menacing tone that fits the violence of "Midnight Rambler" and gives a small-club feel on slower numbers.
The screen goes eerily black as players move in and out of the frame, mimicking a live viewer's perspective. There are no audience-rousing pans of the crowd, no "life on the road" interviews on buses, no boorish paeans to roadies and no exit runs for the limos.
'Sweet Virginia'
"Ladies and Gentlemen" is just the singers and the songs. The Stones rip though some of their best Exile work, from "All Down the Line" to "Sweet Virginia," slowing down to an oozy, bluesy crawl on "Love in Vain" from 1969's "Let it Bleed."
"You Can't Always Get What You Want" and "Tumbling Dice" are stripped of backup singers and smooth edges. "Dead Flowers," with its "needle and a spoon" line, is a reminder of the drug infusion. Jagger's gyrations and clinging trousers might presumably risk a ban in several U.S. states.
Drummer Charlie Watts and former bassist Bill Wyman do an excellent job in keeping rhythm, while the Jagger-Richards interplay is all the more obvious on the small stage.
The film follows the reissue of the "Exile" recordings, part of the financial juggernaut that is the "world's greatest rock 'n' roll band."
Polished it ain't, and Martin Scorsese it's not. The director's recent "Shine a Light" film is a slick coronation. This one is rawer, and all the better for that.
Rating: ***.
What the Stars Mean:
****       Excellent
***        Good
**         Average
*          Poor
(No stars) Worthless
(David Risser is a Bloomberg News editor. The opinions expressed are his own.)