Obama Said Ready to Put Warren at Treasury for Consumer Bureau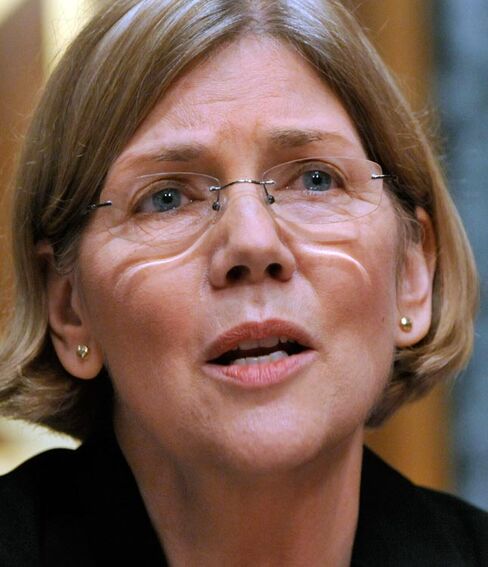 President Barack Obama will put Harvard law professor Elizabeth Warren at the Treasury Department as an adviser, to play a leading role in creating the new Consumer Financial Protection Bureau, a person with direct knowledge of the matter said.
Warren, 61, would report to Treasury Secretary Timothy F. Geithner and the president, and the appointment likely will be announced tomorrow, the person said. Three other people -- a congressional aide and two people outside government -- said Obama administration officials had briefed them on the plan.
Under the Dodd-Frank financial regulatory law, Geithner is responsible for setting up the bureau before it becomes an independent agency housed at the Federal Reserve. Warren's job would be to help establish the agency, the people said.
The position would let Warren avoid a Senate confirmation battle and immediately influence the agency she's credited with proposing several years ago.
Some banking industry representatives have said Warren's consumer advocacy might impair her ability to lead the new bureau. Having her work at Treasury could alleviate concerns by the financial industry about how she might use the agency's wide authority.
"This could be a wise move," said Wayne Abernathy, an executive vice president at the American Bankers Association who handles regulatory affairs. The agency "would start off with accountability and oversight."
'Ill-Advised' Step
Richard Hunt, president of the Consumer Bankers Association in Arlington, Virginia, said any consumer protection head, "interim or otherwise," should be confirmed by the Senate.
"This agency must begin its mission with full credibility and confidence from our domestic and international markets and consumers," Hunt said in an e-mail statement. "Circumventing this process is an ill-advised first step."
Warren is chairwoman of the congressional panel overseeing the Troubled Asset Relief Program and would need to resign that post if she joined the Treasury. Her criticism of firms such as Citigroup Inc. and American International Group Inc. has won her celebrity status among consumer activists, prompting business lobbyists and Republican lawmakers to question whether she could be an unbiased leader of the bureau.
Obama, at a news conference last week, called Warren "a dear friend of mine" who he credited with coming up with the idea for the agency.
The consumer bureau is one of the biggest regulatory consequences of a Wall Street overhaul Obama signed into law in July. Its budget could be as much as $400 million and it would have the power to impose federal rules on mortgages, credit cards, layaway plans and other consumer credit products.
The consumer bureau will be funded with 10 percent of the central bank's operating budget in its first year, rising to 12 percent by 2013, and could ultimately employ thousands of people.
Before it's here, it's on the Bloomberg Terminal.
LEARN MORE