U.S. Import Prices Rose More Than Forecast in August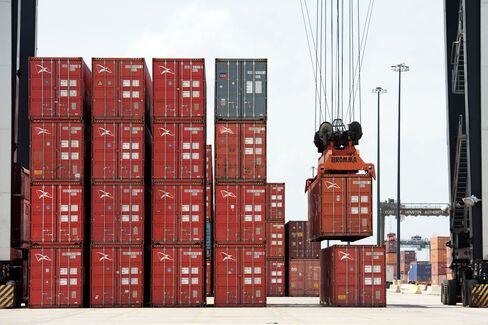 Prices of goods imported into the U.S. rose more than forecast in August as crude oil and food costs jumped, masking contained inflation elsewhere.
The 0.6 percent increase in the import-price index followed a revised 0.1 percent rise in July, Labor Department figures showed today in Washington. The August gain was twice the median estimate in a Bloomberg News survey. Prices excluding petroleum rose 0.2 percent, the first increase since May.
Mounting unemployment is restraining consumer spending, discouraging companies from raising prices in the world's largest economy even as some commodity costs get a boost from demand in developing markets including China. Subdued inflation is one reason economists project the Federal Reserve will keep the benchmark interest rate close to zero until 2011.
"This weakens the case for deflation, and at the same time inflation isn't a concern," said Hugh Johnson, chairman of Albany, New York-based Hugh Johnson Advisors, who accurately forecast the gain in import prices. "The Fed doesn't need to be in a hurry to move."
Another report showed manufacturing in the New York region expanded at a slower pace than forecast in September, signaling that factory managers remain concerned about a slowdown in U.S. economic growth.
Manufacturing Index
The Federal Reserve Bank of New York's general economic index fell to 4.1 this month, the lowest reading since July 2009, from 7.1 in August. Readings greater than zero signal expansion in the so-called Empire State Index that covers New York, northern New Jersey and southern Connecticut. Measures of orders, sales and employment all improved, showing the drop in the index was mainly a reflection of a loss of confidence.
Stock-index futures extended losses after the report. Futures on the Standard & Poor's 500 Index expiring in December dropped 0.4 percent to 1,111 at 8:46 a.m. in New York.
Import costs were projected to climb 0.3 percent after a previously reported 0.2 percent gain in July, according to the median forecast in a Bloomberg survey of 51 economists. Projections ranged from a drop of 0.6 percent to a 0.9 percent increase.
Compared with a year earlier, import prices rose 4.1 percent. They were forecast to rise 3.8 percent, according to the survey median. Year-over-year gains in import costs have cooled after staying above 11 percent each month from January to April.
Oil Imports
The cost of imported petroleum increased 2.1 percent in August from the prior month, the biggest gain since April, while prices were up 8.5 percent from a year earlier. Excluding oil, import prices increased 3.1 percent from August 2009.
Excluding all fuels, import prices rose 0.3 percent last month after a 0.2 percent drop in July. Those expenses were up 2.9 percent from a year earlier.
The import-price index is the first of three monthly price gauges from the Labor Department. Figures on producer prices are due tomorrow and the consumer-price index on Sept. 17. The Bloomberg survey medians indicate both measures will stay tame, indicating U.S. central bankers can allow interest rates to stay near zero and give the economy time to improve.
Economists surveyed by Bloomberg from Sept. 1 to Sept. 9 pushed back the timing of the Fed's first rate increase to the fourth quarter of 2011 from the prior three months as predicted in August.
Higher Food Costs
Prices of imported food increased 2.2 percent last month, the biggest gain since March 2008, and were up 8.6 percent from a year earlier.
Costs of imported automobiles, parts and engines rose 0.3 percent for a second month. They increased 1.7 percent over the past 12 months.
Prices of consumer goods other than autos increased 0.2 percent, the most since March. Capital goods costs climbed 0.2 percent, the biggest gain since July 2008.
The cost of goods from China were unchanged, while those from Japan were rose 0.2 percent, today's report showed. Goods from Latin America rose 1 percent and those from the European Union increased 0.3 percent. Prices of Canadian imports gained 0.7 percent, while goods from Mexico also rose 0.7 percent.
Foreign producers are under pressure. Rio Tinto Group, the world's second-biggest iron ore supplier, said contract prices for the steelmaking commodity will probably fall 13 percent, the first drop in three quarters. Sumitomo Metal Industries Ltd. and Kobe Steel Ltd., Japan's third- and fourth-largest steelmakers, said they'd settled on the price cut from Rio for the iron ore.
"We are going to see ups and downs along the way and some of that clearly relates to economic circumstances and some relates to supply coming on," Sam Walsh, the head of London-based Rio's iron ore business, told reporters on Sept. 2 in western Australia.
U.S. export prices increased 0.8 percent, the biggest gain since April, after falling 0.2 percent in July, today's figures showed. Prices of farm exports rose 4.2 percent, the most since June 2009, while those of non-farm goods increased 0.5 percent.