Greenspan Says Spending Less Effective Than Expected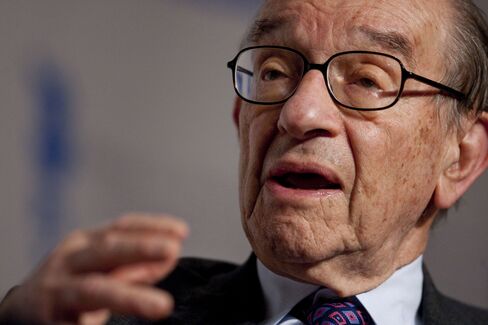 Former Federal Reserve Chairman Alan Greenspan said deficit spending by the federal government hasn't been as effective at stimulating the economy as expected.
"I'm not saying the stimulus is not working, I'm saying it's working far less than anyone anticipated," Greenspan said today at the Council on Foreign Relations in New York.
Greenspan said the "most effective" stimulus would be an increase in stock prices rather than more government spending. He also said he favors raising taxes to curb the federal budget deficit, joining the debate in Congress over whether to extend reductions enacted under President George W. Bush.
"We have to find a way to settle down the extent of activism that is currently going on and allow this economy to heal," Greenspan said. "We would be far better off to allow the normal market forces to operate."
Taxes and spending are dominating the congressional agenda less than two months before elections that will determine control of the House and Senate. President Barack Obama is defending his economic policies against criticism from Republicans, who argue they haven't been effective and have widened a budget deficit that reached a record $1.42 trillion in 2009.
Obama last week proposed a package of $180 billion in business tax breaks and infrastructure spending to boost the economy. That would come on top of the $814 billion stimulus measure enacted last year.
Extending Tax Cuts
Obama also wants to extend Bush-era tax cuts for individuals who make less than $200,000 a year and couples earning less than $250,000 while repealing them for those who earn more. Republicans want to extend cuts for all taxpayers.
Greenspan said raising taxes in a weak economy isn't an ideal option.
"There are risks, but our choice is not between good and bad, it's between terrible and worse," he said. "Unless we come to grips with the deficit quickly we're fooling ourselves as to how much time we have."
A relapse into a recession is unlikely, said Greenspan, 84, who was chairman of the central bank from 1987 to 2006 and didn't comment on monetary policy in today's remarks.
"What we have going for us is that the tinder for a double dip is not readily available," he said. Still, he repeated his warning that if housing prices drop, "all bets are off."
Unemployment Rate
The economy grew at a 1.6 percent annual rate in the second quarter, hampered by an unemployment rate that has stayed above 9 percent all year. The unemployment rate rose to 9.6 percent in August from 9.5 percent in July.
Greenspan cited the level of excess reserves in the banking system as evidence of the uncertainty that's restraining recovery. As of Sept. 9, U.S. banks have $1.01 trillion in excess reserves.
"There is a heavy weight of uncertainty on the system such that we are not getting the impact of a trillion dollars already on the books into the marketplace," he said, describing the situation as a "liquidity trap."
"Our financial institutions are still partially disabled and will continue to be disabled until we restore a level of capital in the system that enables the average lender to a depository institution to feel secure," he said.
Capital requirements proposed by the Basel Committee on Banking Supervision earlier this week are a move in the right direction, he said.
"The nature of the regulations that were promulgated by the Basel committee made sense to me," he said.
As Fed chairman in 2001, Greenspan supported the first round of tax cuts under Bush. At the time, the federal government operated with a surplus, and Greenspan told Congress he didn't think the cuts would lead to a deficit.
Cordell Eddings in New York at ceddings@bloomberg.net
Before it's here, it's on the Bloomberg Terminal.
LEARN MORE