Goldman Sachs Sued Over Alleged Gender Discrimination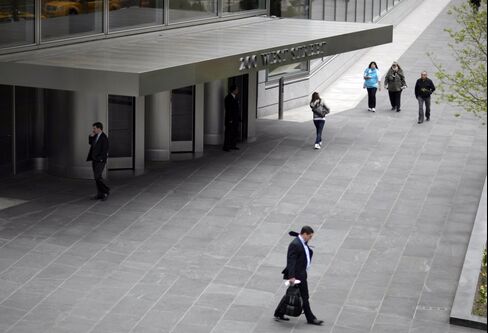 Goldman Sachs Group Inc. was sued by three former female employees who claim they faced discrimination in pay and fewer opportunities for promotion than men at the firm.
"The violations of its female employees' rights are systemic, are based upon companywide policies and practices, and are the result of unchecked gender bias that pervades Goldman Sachs's corporate culture," the women said today in a complaint in federal court in Manhattan.
The plaintiffs, H. Cristina Chen-Oster, 39, a former vice president; Lisa Parisi, 48, a former managing director; and Shanna Orlich, 30, a former associate, seek class-action status to represent all female Goldman Sachs employees with those job titles.
The women seek unspecified damages and a court order requiring Goldman Sachs to remedy the "systemic sex discrimination" at the firm, according to the complaint.
"We believe this suit is without merit," said Lucas van Praag, a Goldman spokesman. "People are critical to our business, and we make extraordinary efforts to recruit, develop and retain outstanding women professionals."
Chen-Oster is currently a managing director in sales at Deutsche Bank AG in New York, where she's worked since 2006. A spokeswoman for Deutsche Bank declined to comment.
Fewer Women
According to the complaint, the proportion of women among Goldman Sachs managers decreases as their job level increases. The women claim that, according to figures published by Goldman Sachs in 2009, women constituted 29 percent of vice presidents and 17 percent of managing directors.
According to 2008 figures, women represented 14 percent of partners, the plaintiffs claimed. Four members of the 30-person management committee are women, and just one of nine executive officers, according to the complaint.
While Goldman Sachs ceased to be a partnership when the firm became a public company in 1999, it has retained the term "partner" to denote the prestige of its highest-ranking managing directors. Partners also receive part of a pool of compensation that's specially designated for them, frequently in the form of restricted stock awards.
The plaintiffs claim that Goldman Sachs gives its managers, most of whom are men, "unchecked discretion" over assigning responsibilities to their subordinates.
Biased System
The complaint also says that Goldman Sachs's system for evaluating employee performance is biased against women.
"Men at Goldman Sachs are viewed more favorably, receive more compensation, and are more likely to be promoted," the ex-Goldman Sachs employees claimed.
The former employees are seeking to represent an unspecified number of female associates, vice presidents and managing directors who worked for Goldman Sachs at any time from Sept. 10, 2004, through the resolution of their federal discrimination claims and from July 7, 2002, for claims under New York state law.
Chen-Oster claimed she told her supervisor in 1999 about an incident that took place in 1997 at a firm-sponsored dinner for a male employee who had been promoted to managing director. After the outing, which included a stop at a Manhattan topless bar, a male colleague pinned Chen-Oster against a wall outside her apartment, kissing and groping her.
Chen-Oster claimed that, after reporting the incident, she was subjected to increased hostility and found herself marginalized at the firm.
Golf Outing
"While Chen-Oster's career growth stagnated, the male colleague involved in the 1997 incident was promoted to managing director and finally partner," according to the complaint. "Over the same period, he saw his compensation increase by more than 400 percent."
Orlich claimed she was treated differently from male employees and denied the opportunity to work as a trader. She claims she and other women were shut out of work-related social events.
Orlich said she learned of a golf outing attended by 80 Goldman Sachs employees, only one of whom was a woman. Orlich, who said she has played golf since childhood and competed on her high school varsity golf team, wasn't invited while several less senior male analysts attended.
Orlich also claimed she was assigned clerical and administrative work that male associates didn't have to do. A senior male analyst "often gave her demeaning and menial assignments, such as setting up his blackberry, making photocopies, and answering calls from his wife," according to the complaint.
Chen-Oster filed a complaint with the U.S. Equal Employment Opportunity Commission and received a notice of right to sue. The other two plaintiffs have also asked for right-to-sue notices from the EEOC, according to the complaint.
Other Wall Street firms, including Morgan Stanley and Citigroup Inc.'s Smith Barney brokerage unit, have settled sex-discrimination lawsuits in recent years.
In 2004 Morgan Stanley agreed to pay $54 million to settle a suit brought by former bond saleswoman, Allison Schieffelin, and the U.S. Equal Employment Opportunity Commission. Schieffelin was represented by Outten & Golden LLP, one of the firms representing the plaintiff in the case against Goldman Sachs.
Goldman Sachs in March was sued for bias by a former vice president who said she was pushed onto the "mommy-track" and eventually fired after she chose to work part-time following her pregnancy. That lawsuit, which alleged violations of the U.S. Family Medical Leave Act, gender and pregnancy discrimination, was filed in Manhattan federal court and is pending.
The case is Chen-Oster v. Goldman Sachs & Co., 10-cv-6950, U.S. District Court, Southern District of New York (Manhattan).
*T *T