Calpers in Talks With Schwarzenegger on $2 Billion Budget Loan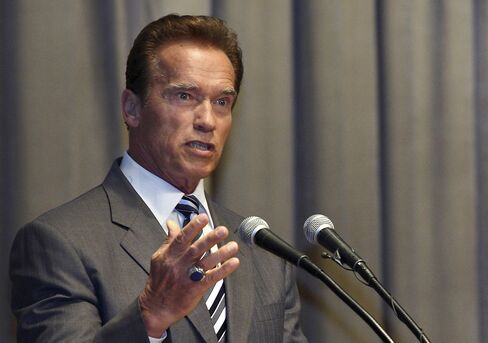 The California Public Employees' Retirement System said it is in talks with Governor Arnold Schwarzenegger's administration on a proposal to borrow $2 billion from the fund to help the state balance its budget.
Anne Stausboll, the fund's chief executive officer, said her staff has been holding informal discussions with Schwarzenegger's department of finance on a proposal that office has floated to credit the state with $2 billion this year as an advance on the roughly $74 billion the governor estimates the state would save during the next 30 years from his proposals to roll back pension benefits for government workers.
California has been without a spending plan since the July 1 start of its fiscal year as Schwarzenegger and Democrats who lead the Legislature remain deadlocked over how to fill a $19 billion deficit. The Republican governor has vowed not to sign any final budget unless it's accompanied by legislation to permanently cut the state's cost to finance workers' retirement benefits.
"We are in informal discussions about this," Stausboll told the fund's governing board today. "We received sufficient detail that we've been able to do some analysis. We have serious concerns about actuarial soundness, vested rights issues and IRS issues that could impact the tax-qualified status of this fund."
The state must pay $3.9 billion this fiscal year to the pension fund, known as Calpers, to finance retiree costs, up from $145 million a decade earlier. In 1999, lawmakers and then-Governor Gray Davis approved benefit increases that Schwarzenegger says the state can't afford, and he wants them rolled back for new hires. He has supported proposals to require employees to work longer to qualify for pensions and to pay more toward benefits.
Calpers, the largest public pension fund in the U.S., has $208 billion of assets under management.