Pope Faces Protests on Abuse, Converts in U.K. Visit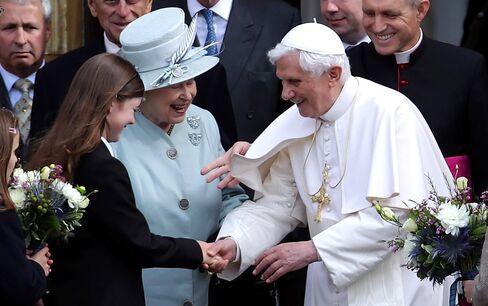 Sept. 16 (Bloomberg) -- Almost five centuries since King Henry VIII split from the Catholic Church, the pope arrived in Britain today for a first state visit, with protesters waiting along with Queen Elizabeth II to greet him.
On the four-day trip, Pope Benedict XVI will be met by demonstrations against child-abuse scandals as well as his stance on homosexuality and birth control, according to the London-based National Secular Society. The blessing of an Anglican convert to Catholicism also has drawn complaints.
Archbishop of Canterbury Rowan Williams, the Anglican leader, "should be careful the pope doesn't take measurements for new curtains when he visits him," said Terry Sanderson, president of the society, which is organizing protests.
The first papal visit of any kind since John Paul II's arrival in 1982 comes as fewer Britons attend church. The Anglican flock, first convened during Tudor times in the 16th century, has shrunk the past five years.
Benedict's trip is a state visit because he was invited as a head of state by the U.K. government. John Paul came on a purely pastoral, or religious, visit. Benedict stepped off his Alitalia plane in Edinburgh at about 10:35 a.m. local time.
En route, he made comments criticizing the Catholic Church hierarchy for not being sufficiently vigilant and acting quickly enough to deal with priests accused of sexually abusing children, The Associated Press reported today.
'Secularism'
The Queen, 84, welcomed Benedict, 83, at Holyrood Palace in Edinburgh on his first stop today. Benedict spoke of the challenges of a "multi-cultural society" in the U.K. and "aggressive forms of secularism" before setting off in his specially designed car through the center of the city with bagpipers and crowds waving Scottish flags and papal tartan.
The pope's main business in the U.K. will be to announce the beatification of Cardinal John Henry Newman, a 19th-century Anglican, or Church of England, convert to Catholicism.
The Vatican last October announced an initiative to integrate Anglicans upset over their church's ordination of female and homosexual bishops and same-sex unions.
"At a time when there are divisions within the church, it's not helpful for another church to come along and say, 'We'll create a place for you,'" Canon David Richardson, the Archbishop of Canterbury's representative to the Holy See, said in a telephone interview.
Cardinal Cancels
German Cardinal Walter Kasper, a papal aide, should apologize for comparing Britain to a "third-world country," Cardinal Keith O'Brien, leader of Scotland's Catholic Church, told BBC Radio Scotland in an interview today.
Kasper, who had been scheduled to travel with the pope to the U.K., pulled out of the trip after telling German magazine Focus that someone landing at Heathrow Airport could mistake Britain for a third-world country, given the variety of people there. Kasper didn't travel with the pope due to health reasons, Father Federico Lombardi, the Vatican spokesman, told reporters in Rome late yesterday.
The ceremony on Sept. 19 in a park in Birmingham will declare Newman "blessed," an intermediate step to Catholic sainthood. It's another point of controversy for a German-born pope who angered Muslims in 2006 by suggesting that Islam is violent and said last year, while traveling to Africa, that condoms hurt the fight against AIDS.
Worldwide Abuse
The pontiff may also meet with U.K. victims of clerical sexual abuse, although "these meetings are never confirmed so as not to give them excessive publicity and ensure that they are serene and spiritual," Lombardi told reporters on Sept. 10.
Sexual abuse cases by priests have been reported in countries including the U.S., Australia, Brazil, Ireland, Italy, Germany, Belgium, Spain, Mexico, Chile, Switzerland, the U.K., Austria, and the Netherlands.
The pope has repeatedly apologized for abuse, asking for forgiveness on June 11 and vowing to do "everything possible to ensure such abuse can never happen again." In July, the Vatican doubled the time limit for prosecuting priests to 20 years.
The Church of England broke from Rome in 1534 after Pope Clement VII refused Henry VIII's request to annul his marriage to Catherine of Aragon so he could wed Anne Boleyn.
There are about 5 million Catholics in England, according to the church's website. There are some 25 million baptized Anglicans in England, about half the country's population, a Church of England spokesman said.
Glasgow Mass
After Edinburgh, Benedict will travel to Glasgow to hold Mass in the park where predecessor John Paul II worshiped 28 years ago. U.K. Catholic officials said the crowds for Benedict are unlikely to match the turnout for John Paul.
Benedict will give a speech tomorrow at London's Westminster Hall, where Catholic St. Thomas More was tried and sentenced in 1535 for denying that King Henry VIII was supreme head of the Church of England. There, he will also greet former U.K. premiers including Margaret Thatcher, Catholic convert Tony Blair and Gordon Brown, who first invited him to Britain.
The next day, he will meet with Prime Minister David Cameron and acting opposition leader Harriet Harman prior to a prayer vigil in London's Hyde Park.
"Not everyone will agree with everything the pope says," Cameron said this week. "But that should not prevent us from acknowledging that the Pope's broader message can help challenge us to ask searching questions about our society and about how we treat ourselves and each other."
The National Secular Society, founded in 1866, also objects to the estimated 12 million-pound ($18.5 million) cost of the papal visit as the country struggles to emerge from its worst recession since World War II. The Vatican will foot the bill for the religious part of the visit, Lombardi said.
As for any other expenses, "if I invite someone, I assume the costs of hosting him," Lombardi said.
From a religious perspective, the trip is likely to be a success even amid the protests, Canon Richardson said.
"The pope's mission is the re-evangelization of Europe," he said. "I think you can encourage the faithful while at the same being beaten up by the unfaithful."
To contact the reporter on this story: Jeffrey Donovan in Rome at jdonovan26@bloomberg.net
To contact the editor responsible for this story: James Hertling at jhertling@bloomberg.net