Australia Greens Want Mining Tax to Include Uranium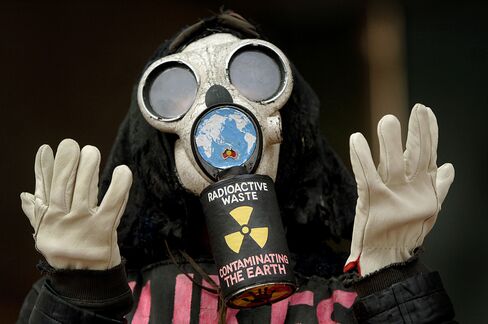 The Australian Greens Party wants Prime Minister Julia Gillard to increase a proposed levy on coal and iron ore profits and expand it to include uranium, underscoring the pressure on her two-day old minority government.
"We will be talking with the Treasurer about the setting of that tax," Bob Brown said in a phone interview from Hobart. "We'll continue to bring forward legislation that is going to challenge both the big parties."
The Greens Party won a record 12 percent of the national vote at last month's national elections, giving them nine seats in the upper house Senate and one in the lower house. Gillard's Labor Party must placate the Greens to pass legislation and do so without alienating three independent lawmakers who also helped her secure a parliamentary majority.
"They'll have to approach this as carefully as they possibly can because of the different agendas," Nick Economou, a political scientist at Melbourne-based Monash University, said by phone. "Everybody dresses up their interest as the national interest -- it's a devil of a thing to try to work through, but that's the reality for the government."
The Labor Party lost its majority at the Aug. 21 election and was forced to woo independents to prevent rival Tony Abbott and his Liberal-National coalition from taking office. To win the support of the Greens Party's sole member in the lower house, Adam Bandt, Gillard pledged to hold weekly meetings on the Greens agenda.
Delay Legislation
The Greens will also have power to block or delay legislation in the upper house from July when the new Senate takes effect.
Gillard watered down a proposed 40 percent tax on mining profits put forward by her predecessor, Kevin Rudd, after she replaced him in June. Rudd's tax plans sparked a confrontation with mining companies including BHP Billiton Ltd., Rio Tinto Group and Xstrata Plc. that helped drive his approval rating down to an election-losing level.
Gillard's solution was to pledge a 30 percent levy that only applies to iron ore and coal. The Greens Party wants the 40 percent figure restored and expanded to include uranium, part of its campaign against extracting the mineral that may include proposed legislation to ban the production of uranium oxide, Brown said.
"Up to A$20 billion ($19 billion) per annum is money that is not available for infrastructure, schools, health or nation- building projects like high-speed rail, under the reformulated tax," Brown said in the interview yesterday.
Uranium Deposits
BHP's Olympic Dam mine in South Australia state contains the world's largest deposit of uranium, while the state of Queensland produces half the nation's coal.
Independent lawmaker Andrew Wilkie has called the mining tax "unsatisfactory" in its current form. Fellow independent Robert Oakeshott wants the levy reviewed as part of a tax summit that Gillard pledged to hold by mid-2011 as part of their deal.
The Greens Party will also push for swift action to combat climate change, Brown said. The Greens called for an interim tax on carbon emissions after Gillard delayed a trading plan until after 2012 and want a price of A$23 a ton.
"We were the one party that ran hard on climate change during the election and we intend to get action on it," Brown said.
The government will "take the time it needs" to develop a way to put a price on carbon, Gillard told reporters in Canberra today. While not ruling out a carbon tax, the Labor Party has a preference for a market-based mechanism, said Gillard, while welcoming comments by BHP Chief Executive Marius Kloppers.
Australia must look beyond coal as its main source of power, Kloppers told an industry lunch in Sydney yesterday. BHP is "committed to working with governments on the design of effective policies to help reduce greenhouse gas concentrations in the atmosphere," he said.
Before it's here, it's on the Bloomberg Terminal.
LEARN MORE