Japan's Intervention Odds Rise Even as Kan Stays, JPMorgan Says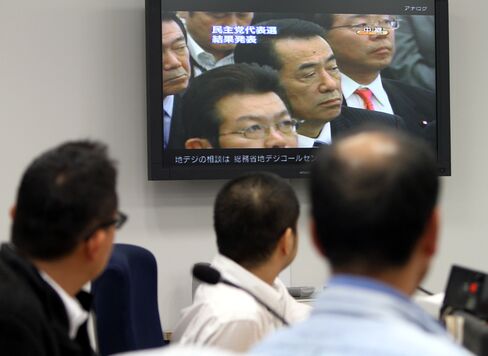 The odds that Japan will intervene in the currency market have doubled even after the election loss of a prime minister candidate calling for such action to weaken the yen, JPMorgan Chase & Co. says.
Prime Minister Naoto Kan yesterday defeated a leadership challenge from party rival Ichiro Ozawa, who pledged intervention for the first time in six years to support exporters. Kan hasn't called specifically for yen sales, instead saying last week that he is ready to act as needed to curb the currency's 11 percent surge against the dollar since mid-May.
"Politically, it's more stable than before the party election and that may make it easier" to conduct intervention, said Tohru Sasaki, head of Japan rates and foreign-exchange research in Tokyo at JPMorgan. Sasaki, who is a former head currency trader at Japan's central bank, figures the odds of intervention have doubled to 30 percent after the Democratic Party of Japan election.
The Japanese currency appreciated yesterday to a 15-year high against the dollar, threatening an economic recovery powered mostly by growing exports. The government yesterday revised its July industrial output figures to show that output fell rather than increased from a month earlier, as corporate leaders express concerns about the outlook for overseas sales.
The yen gained for a second day yesterday in Tokyo on speculation that Kan's election had diminished the odds of intervention, trading at 83.30 as of 6:44 p.m. in Tokyo. Japan's benchmark Nikkei 225 Stock Average slipped 0.2 percent to 9,299.31.
Little Choice
While Kan had refrained from Ozawa's specific endorsement of yen sales, there may be little choice, said Masafumi Yamamoto, chief currency strategist at Barclays Bank Plc in Tokyo.
"The likelihood for intervention is rising," Yamamoto, who also used to work at the Bank of Japan, wrote in a report two days ago. "I don't see any other measure to address deflation and a slowing economy."
Japanese Finance Minister Yoshihiko Noda said last week that the government has about 32 trillion yen ($384 billion) in unrealized losses in its foreign-exchange account, used to fund intervention. Japan last sold yen in March 2004, when it was around 109 per dollar.
Yamamoto calculated that Japan has about 35 trillion available for intervention during the year through March, about equivalent to the amount it used between January 2003 and March 2004 to weaken the yen.
Companies Complain
Top business executives have been calling for government action to stem the yen's rise.
"We want verbal or actual intervention if the yen appreciates more than the current level," Hiromasa Yonekura, head of Japan's Keidanren business lobby, said at a Sept. 13 press conference. "Rapid change should be managed," Hiroaki Nakanishi, president of Hitachi Ltd., said this week in Tokyo.
Some analysts have said that official action by Japan might not weaken the yen for long unless it's conducted together with overseas authorities.
Kan said last week in a debate with Ozawa that getting international cooperation to halt the yen's rise is "difficult."
"I see little chance of Japan conducting intervention," said Hiromichi Shirakawa, chief Japan economist at Credit Suisse Group AG in Tokyo. "Intervention will increase Japan's debt and could cause conflicts with the U.S., while having little impact on the market."
Geithner Comments
U.S. Treasury Secretary Timothy F. Geithner declined to comment about the prospects for currency intervention in an interview last week, instead saying that Japanese officials should do what they can to help their economy grow.
"They're working through some difficult problems," Geithner said on Bloomberg Television. "My view is they should be focusing like we are on how to make sure they're reinforcing recovery in Japan and doing things that are going to help."
In Switzerland, which has also seen a rising currency spark concern about exports, the central bank in June halted a 15-month policy of countering what it called "excessive" gains in the franc. The franc sales were "of no use" and largely served to accommodate speculators, the bank's former chief economist, Ulrich Kohli, was quoted as saying by the Sonntag newspaper.
Bank of Japan Governor Masaaki Shirakawa told Cabinet ministers last week that the effect of the yen's gains is large and international discussion on currencies is important.
"If there is no intervention in the next two weeks, my odd will drop to 15 percent again," JPMorgan's Sasaki said. "If you step back, you will realize that it's almost impossible to control massive currency markets."
Before it's here, it's on the Bloomberg Terminal.
LEARN MORE