Swedish Sex Equality Won't Help Sahlin's Election Bid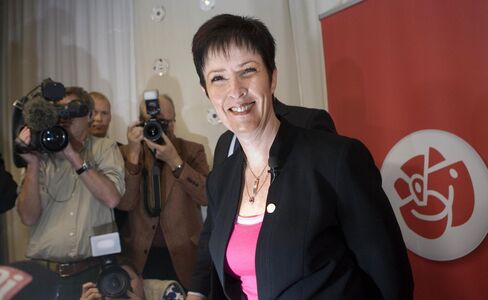 Sweden led the world on gender equality as recently as two years ago. That isn't helping Social Democratic leader Mona Sahlin in her bid to become the country's first female prime minister.
Polls show Sahlin, 53, may lead her party to its worst-ever showing in the Sept. 19 election. The Social Democrats, who ruled Sweden for 61 of the last 74 years, have failed to differentiate themselves from the government and convince voters they are the only guardians of the welfare state. The opposition bloc they lead has trailed Prime Minister Fredrik Reinfeldt's four-party coalition in almost every poll conducted since May.
Sahlin's problems have more to do with voters' perceptions of her and her party's shortcomings than resistance to female leadership, analysts said. Swedes are well acquainted with women in government, as females account for almost half the 349 lawmakers, 10 of 21 Cabinet ministers and three of seven party leaders. Former Foreign Minister Anna Lindh, who was murdered in 2003, had been groomed by the Social Democrat's last prime minister, Goeran Persson, to follow in his footsteps.
"It's partly a coincidence that we haven't had a female prime minister," said Lena Waengnerud, a political science professor at Gothenburg University focusing on female political participation and gender equality. "There's a dissatisfaction with the Social Democratic party in general and this is being projected on to the leader."
Step Down
Backing for the Social Democrats fell 1.9 points to 27.6 percent in a poll by Stockholm-based Skop published yesterday, putting the opposition bloc 9.3 points behind the government coalition. As recently as 2006, the Social Democrats had 35 percent support in national polls.
Sahlin should step down if her party loses, 30 leading Social Democrats said in interviews, the Expressen newspaper reported on Sept. 2. That would make it unlikely Sweden will get a female leader any time soon, Waengnerud said.
"It's pretty paradoxical that we haven't had a female prime minister like they've had in many other countries," Waengnerud said. In neighboring Norway, Gro Harlem Brundtland governed for a decade during the 1980s and 1990s.
Sweden lost the top spot as the world's most gender equal country to Norway in 2008, according to the World Economic Forum's Global Gender Gap Report, which measures equality based on differences in wages, education, careers and health. Sahlin wants to introduce quotas in an effort to raise female representation on company boards, she said in an interview today.
'Embarrassingly Slow'
Even though the Gender Gap survey said all Nordic countries, except Denmark, have closed more than 80 percent of the gender gap, progress toward full equality is still "embarrassingly slow" said Gudrun Schyman, Sweden's longest serving female party head. She led the Left Party between 1993 and 2003 and founded Feminist Initiative, which is now running for parliament.
"There is a preconception that having men in powerful positions is natural while with women it's still an exception," Schyman said. "What's an advantage for a man, to be experienced, knowledgeable and to have been around for a long time, is a disadvantage for women."
Helle Thorning-Schmidt, the head of Denmark's Social Democrats, was leading in polls and poised to become that country's first female prime minister until she confirmed reports that her husband, Stephen Kinnock, avoided paying Danish taxes. Kinnock is the son of former U.K. Labour Party leader Neil Kinnock.
Toblerone
Finland has had two female premiers. Anneli Jaeaetteenmaeki won an election and took office in 2003 before being replaced after less than three months by Matti Vanhanen following a scandal over a breach of secrecy laws.
Mari Kiviniemi became the nation's second woman prime minister three months ago after Vanhanen stepped down.
Sahlin will probably fall victim to her own controversial past rather than to any male chauvinism, analysts said. Many voters remember the so-called "Toblerone affair," which forced Sahlin to resign as deputy leader of the party in 1995 after using a parliament-issued credit card to buy chocolate and rent cars.
This has affected Sahlin's credibility and confidence, said Jenny Madestam, a political science lecturer at Stockholm University. "Sahlin is perceived by many people as unclear and insecure."
Makeover
Only 18 percent of voters think Sahlin would be the best premier, compared with 63 percent support for Reinfeldt, according to a poll published by Stockholm-based Sifo on Aug. 25.
Reinfeldt "has a style and charisma that Swedes appreciate in a politician," said Madestam. "He appears knowledgeable, competent and serious."
The Social Democrats have suffered a two-decade trend of declining support after helping establish the Scandinavian welfare model in 1945. The state offers generous benefits and extended parental leave paid for with the world's second-highest tax burden after Denmark, at 46.9 percent of gross domestic product, according to 2008 data compiled by the Confederation of Swedish Enterprise.
Over the past four years, Reinfeldt has increased his popularity by handing out 70 billion kroner ($9.9 billion) in income-tax cuts without chipping away at the welfare state.
"The party is in a crisis that started already under Olof Palme," who ruled for more than a decade before his assassination in 1986, said Lotta Groening, a columnist at Swedish newspaper Expressen. "It's clear that the party needs a makeover and Sahlin hasn't managed to do that. She simply gets the blame for the party's long-running crisis."