Obama May Name Warren as Interim Consumer Agency Head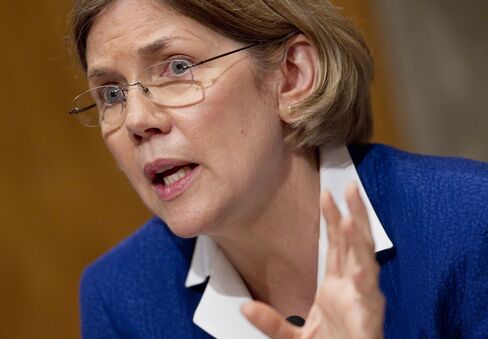 President Barack Obama may appoint Elizabeth Warren, the Harvard law professor who scolded U.S. banks while overseeing their bailout, as the interim head of the new Consumer Financial Protection Bureau as early as this week, according to a person familiar with the matter.
An interim appointment could allow Obama to bypass a confirmation battle over Warren in the Senate, where Republicans have raised objections to her possible nomination.
Today, Senate Banking Committee Chairman Christopher Dodd said he was "not enthusiastic" about an interim appointment because it could jeopardize the future of the bureau by inviting retaliation by Congress that could cut off funding for the office.
"You could gut this before it even gets off ground," Dodd, a Connecticut Democrat, told reporters. "None of us know what the outcome is going to be politically" in the congressional elections, said Dodd, whose committee would take the lead on confirmation of a permanent appointee.
An interim appointment "will be met with a lot of opposition," Dodd said. "It's a big job, an important job. You've got to build the support for that institutionally" with Congress. He has questioned whether Warren could win the votes for confirmation.
'In the Mix'
The White House hasn't publicly acknowledged the choice. White House spokesman Bill Burton said Warren is "obviously in the mix." An interim appointment is "an option," Burton said.
Obama's choice could be made tomorrow or the following day, said the person, who requested anonymity. The final decision on temporarily installing Warren hasn't been made, said another person familiar with the matter.
"I am concerned about all Senate nominations these days," Obama said at a White House news conference on Sept. 10 when asked about a possible Warren nomination. "It's very hard when you've got a determined minority in the Senate that insists on a 60-vote filibuster on every single person that we're trying to confirm."
The consumer bureau is one of the biggest regulatory consequences of a Wall Street overhaul Obama signed into law in July. It will have a $400 million budget and the power to impose federal rules on mortgages, credit cards, layaway plans and other consumer credit products.
Warren's possible interim appointment was reported yesterday by the American Banker.
Consumer Activists
Warren is chairman of the congressional panel overseeing the Troubled Asset Relief Program. Her criticism of Wall Street firms such as Citigroup Inc. and American International Group Inc. won her celebrity status among consumer activists, prompting business lobbyists and Republican lawmakers to question whether she can be an unbiased leader of an agency with such broad authority over the financial industry.
Obama said at last week's news conference that he would soon name a leader for the consumer protection agency and said that he had spoken with Warren about the post. The president declined to say whether he was leaning toward naming Warren, whom he called "a dear friend of mine."
White House spokeswoman Amy Brundage said last night that Warren "has been a stalwart voice for American consumers and families and she was the architect of the idea that became the Consumer Financial Protection Bureau." Obama "will have more to say about the agency and its mission soon," she said.
A spokesman for Warren, Dan Geldon, declined to comment today.
Republican Critic
Alabama Senator Richard Shelby, the senior Republican on the banking committee, said the leader of the agency should go through the confirmation process.
"Someone that's appointed to that job should be vetted, examined, investigated and have his or her qualifications for that job weighed by the Senate," Shelby told reporters yesterday when asked about the possibility of an interim appointment.
Shelby said he "would like to see a more objective person in that job. Elizabeth Warren, obviously, is not an objective person when it comes to the consumer issues."
"It would be a mistake for the president to try and circumvent the Senate confirmation process," said Maine Senator Susan Collins, a Republican whose support could be important.
Agency Proposal
Obama proposed the new consumer bureau after lawmakers including Dodd and Representative Barney Frank, a Massachusetts Democrat, said existing regulators failed to protect borrowers against risky lending faulted for fueling the worst economic crisis since the Great Depression. The agency, created under the financial regulation law named for Dodd and Frank, will oversee banks, mortgage brokers, retailers, credit-card companies, debt collectors and credit-scoring firms.
The consumer bureau will be housed at the Federal Reserve and funded with 10 percent of the central bank's operating budget in its first year, rising to 12 percent by 2013, and could ultimately employ thousands of people. The Fed, which won't have any direct authority over the bureau, has an existing consumer-affairs division with about 114 employees and a $26 million budget.
Obama, who met with Warren last week at the White House, said at his news conference that the idea for the agency was hers.
Warren's Supporters
Within the administration Warren has a powerful ally in Valerie Jarrett, who serves as the White House liaison to the business and banking community, according to a person familiar with the matter.
Warren also has the backing of unions including the AFL- CIO, political advocacy groups such as MoveOn.org and more than 60 House Democrats, including Frank.
While Dodd has expressed skepticism about Warren's chances of getting confirmed, the Obama administration and Warren's backers have expressed confidence that she can win approval.
"She's very confirmable for this job," White House press secretary Robert Gibbs said in July.
Warren has been credited with planting the seeds for the consumer bureau in a 2007 essay for the journal Democracy, where she wrote that U.S. mortgages and credit cards should be at least as well-regulated as kitchen appliances.
"It is impossible to buy a toaster that has a one-in-five chance of bursting into flames and burning down your house," Warren wrote. "But it is possible to refinance an existing home with a mortgage that has the same one-in-five chance of putting the family out on the street."
Risks of Deregulation
In public appearances, Warren describes an awakening to the risks of financial deregulation, a narrative that begins with her grandmother driving a wagon during the land rush that settled Oklahoma. Her grandparents were wiped out financially in an economic panic in 1907, entering "a world of boom and bust" that was calmed by financial regulation.
"Shortly after my grandmother died, we started unraveling that regulatory framework," Warren said in a July speech at Netroots Nation, a gathering of politically active bloggers. She called the new consumer bureau "the strongest" piece of the biggest financial-rules overhaul since the 1930s.
Before it's here, it's on the Bloomberg Terminal.
LEARN MORE