Northrop Drone's Costs Are Rising 'Unacceptably,' Pentagon Says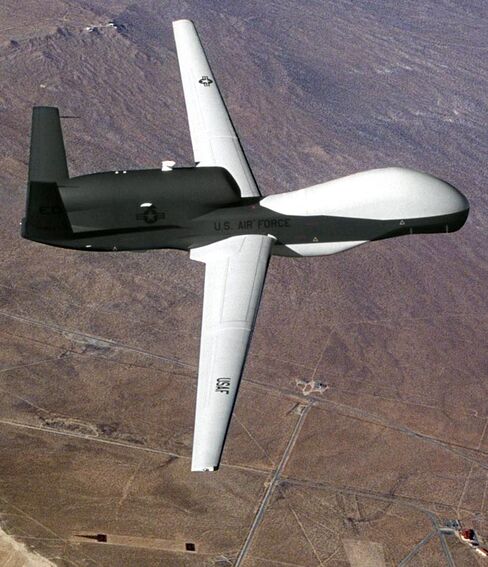 The price of Northrop Grumman Corp.'s Global Hawk unmanned reconnaissance plane is rising too quickly and must be reined in, the Pentagon's top weapons buyer said.
"Its costs have been growing unacceptably and have to be gotten under control -- and will be," Undersecretary for Acquisition Ashton Carter said in an interview with Bloomberg Television. "We are not happy with the productivity we are getting. We are very much discussing that program and going through its management in detail."
A Defense Department and Air Force review of the $11.1 billion program to buy 77 planes is almost done, the service said in a statement. The per-aircraft procurement cost has increased 11 percent to $100.8 million since the project started in 2000, according to the Air Force.
Global Hawk is one of several unmanned planes being used to meet Defense Secretary Robert Gates' goal of expanding 24-hour drone patrols to 65 a day by 2013 from about 39 now. Gates has said he plans to save as much as $100 billion through 2015 by wringing out inefficiencies and overhead in the defense industry and the Pentagon itself.
The objective of the "very intensive" review is to avoid cost increases that would trigger the 1982 Nunn-McCurdy law requiring the Pentagon to certify to Congress the program's importance to national security and show why it shouldn't be canceled, Carter said. The measure takes effect when a program's expense exceeds its initial cost estimate by 15 percent.
'Aggressively Managing'
"Why is there an increase year upon year?" Carter said at the Pentagon. "We look at every element of what we are paying for and ask 'how can we get that cost down?' We are aggressively managing that, with some good effect."
Northrop Grumman, based in Los Angeles, has orders for 38 of the 77 aircraft, according to the Air Force.
"Working closely with the Air Force, Northrop Grumman is addressing, and making steady progress on, cost and affordability issues that will help ensure that Global Hawk systems can be fielded in sufficient numbers" to meet Air Force reconnaissance requirements, Randy Belote, a company spokesman, said in an e-mail.
Northrop fell 47 cents to $58.34 yesterday in New York Stock Exchange composite trading. The shares have risen 4.5 percent this year.
Iraq, Afghanistan
Early versions of the Global Hawk are flying missions in Iraq and Afghanistan. The aircraft will be deployed at permanent U.S. bases for the first time this month, said Jim Stratford, a Northrop spokesman.
The first three planes of the "Block 30" version will go to Andersen Air Force base in Guam on Sept. 20. Another three aircraft will go to U.S. Naval Air Station Sigonella in Sicily, Italy, later this year, he said.
The Global Hawk will become increasingly significant should Northrop Grumman go through with a plan to divest most of its shipbuilding business, said Philip Finnegan, an aircraft analyst with the Teal Group in Fairfax, Virginia. The drones account for almost $1 billion in annual sales, he said.
"The importance goes well beyond simply dollars and cents," Finnegan said in an e-mail. "Global Hawk is a symbol of Northrop Grumman's leadership in unmanned aerial vehicles. Ensuring the program will be successful is a key management objective."
Additional Sales?
The Global Hawk on Sept. 21 will enter a six-week phase of combat testing that could trigger sales of another 26 drones for almost $2.54 billion once current glitches are addressed, according to the Air Force.
Northrop Grumman's management has committed to an "affordability initiative" that will reflect production lessons learned from prior contracts, the Air Force said.
Four Global Hawk versions, with increasing capabilities and costs, have been ordered or are in development. They can fly as high as 70,000 feet, surveying areas as large as 40,000 nautical square miles with cameras, infrared sensors or cloud-penetrating radar that can track moving targets.
The third version, or Block 30, also can detect and intercept ground communications. The Air Force said it wants to buy 42 of these, and is deciding whether to proceed with acquiring 22 of the most advanced version, called the Block 40.
Before it's here, it's on the Bloomberg Terminal.
LEARN MORE