New York's First Electronic Voting a 'Royal Screw-up'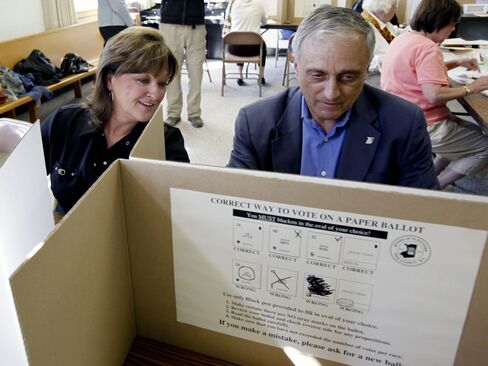 Residents of New York, the last state to introduce electronic voting, cast primary election ballots today amid complaints of delays, confusing machines and inadequate privacy.
New York City Mayor Michael Bloomberg called the situation "a royal screw-up," and said some polls opened as much as four hours late.
"It means that some voters waited for hours and some voters may not have a chance to cast their ballots at all," he told reporters at City Hall. "We've also got reports of broken and missing scanners, emergency ballots and poor customer service."
"New Yorkers deserve better than this," said Bloomberg, who is founder and majority owner of Bloomberg News parent Bloomberg LP.
The new machines, mandated by Congress after the disputed 2000 presidential election, require voters to fill in an oval next to their candidate's name on a paper ballot, which is fed through a scanner. The machines create a permanent record that can be used in a recount.
Tiny Type
Several voters at Manhattan polls said their first encounter with the new system was unpleasant.
Dahlia Remler, a 44-year-old professor who voted at Public School 165 in Morningside Heights, said the type on the ballots was too small. Remler said she had to take off her glasses and hold the paper close to her face.
Lorrie Mayer, 73, a retired writer who went to the 92nd Street Y polling place on the upper East Side, said she wasn't sure she had managed to vote.
"Nothing came up on the screen," she said. "I would have liked a receipt, like at the bank."
Jennifer Fleischner, 54, another professor who voted in Morningside Heights, complained about a lack of privacy "because you have to travel around with your paper."
The city was unprepared, said Neal Rosenstein, government reform coordinator for the New York Public Interest Research Group, in a statement. Voting was "marred by late openings, poorly trained and recruited polling clerks" and other problems that "contributed to needless voter confusion and stress -- in some cases disenfranchisement," he said.
Learning From Mistakes
New York's City Council will hold a hearing to examine today's problems and consider improvements to ensure November's elections go more smoothly, Speaker Christine Quinn and Gale A. Brewer, chairwoman of the Committee on Governmental Operations, said in a statement today.
New York City's Board of Elections is aware of problems, Valerie Vazquez, a spokeswoman, said in an e-mailed statement.
"The Board's top priority today is resolving these issues as quickly as possible," she said. "It's important to note a majority of the poll sites are working properly and many voters are having a positive experience."
Both New York City and Nassau County on Long Island use machines manufactured by Electronic Systems & Software of Lincoln, Nebraska.
Not everyone groused about the new machines. Bob DiChiara, a 65-year-old retiree who voted in Morningside Heights, called the system "intuitive."
Priscilla McCrorey, who coordinated the 92nd Street Y poll for the Board of Elections, said they caused no major delays. She said she stationed a worker by the ballot scanner to forestall problems.
Ellin Liebmann, a retiree who declined to give her age, said that after voting there, she needed help running her ballot through the scanner.
It took three tries to make her vote count, she said.
Before it's here, it's on the Bloomberg Terminal.
LEARN MORE