Microsoft Pins Hopes on 'Halo: Reach' Video Game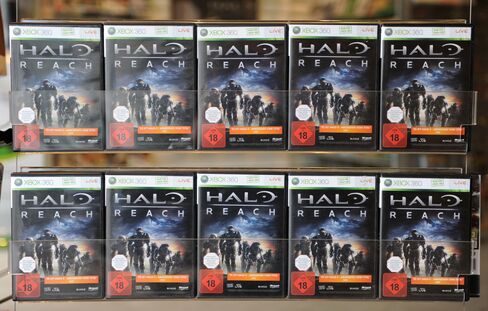 At midnight, a line formed outside the GameStop store in New York's Herald Square. Shoppers were eager to get their hands on "Halo: Reach," the first update of Microsoft Corp.'s alien-shooting game in three years.
Microsoft is predicting the fourth iteration of its $2 billion franchise will generate more revenue than the series' biggest seller, 2007's "Halo 3," which rang up $600 million in sales.
Microsoft said it's planning to back "Halo: Reach" with the largest marketing budget it has spent on a game, though it won't disclose how much. Online ads started Aug. 23, featuring a dramatization of life on the planet Reach the day before alien attacks. TV spots started Aug. 29 on ESPN and Fox.
"This month's top title will most certainly be 'Halo: Reach,' and we expect record sales for the game, given Microsoft's intention to provide a strong marketing push," Michael Pachter, an analyst at Los Angeles-based Wedbush Securities Inc., wrote in a note to investors.
After buying 120 to 200 copies, the crowd at the Herald Square GameStop subsided, Sean Rappaport, assistant manager at the location, said in a telephone interview. At 9 a.m. there were fewer shoppers and more than 600 games still available.
"Who knows, by rush hour at 5 or 6 o'clock, we may or may not run out," Mayari Reyes, another employee at the store, said in a telephone interview.
Microsoft, based in Redmond, Washington, fell 8 cents to $25.03 at 4 p.m. New York time in Nasdaq Stock Market trading. The shares have dropped 18 percent this year.
Hardware Sales
The game will boost sales for Microsoft's Xbox 360 console months before the company's introduction of a motion-sensing peripheral for casual gamers called Kinect, said Anita Frazier, an analyst for product-tracking researcher NPD Group Inc. Microsoft is selling a limited edition version of its Xbox 360 console with "Halo: Reach" for $399.
"If hardware sales react in a similar fashion to what was experienced when Halo 3 was launched in September 2007, September could be a huge sales month for Xbox 360 hardware," Frazier said in a Sept. 10 statement, before the game's release.
Halo, Kinect and Sony Corp.'s planned Move motion-control peripheral for the PlayStation 3 may help the video-game industry in what has been a sluggish year. U.S. software sales in the first nine months of the year have dropped almost 10 percent from the same period a year earlier, NPD reported Sept. 9.
Before it's here, it's on the Bloomberg Terminal.
LEARN MORE