King Faces Bonus, Tax Challenge From 'Stony' Unions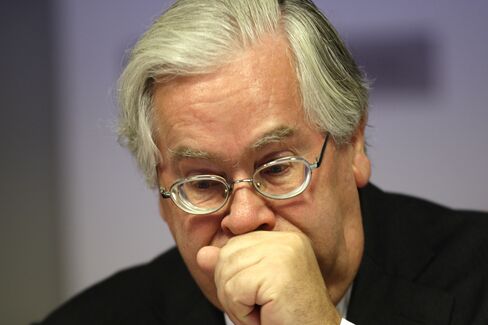 Bank of England Governor Mervyn King will face questions on bonuses and tax policy from a "stony" audience at the Trades Union Congress today, according to the leader of Britain's fifth-biggest labor union.
"We will ask him about the things he doesn't get asked anywhere else: the obscenity of bankers' bonuses, the tax gap," Mark Serwotka, general secretary of the Public and Commercial Services Union, told reporters at the union umbrella group's annual convention in Manchester, England yesterday.
King's speech, the first to the TUC by a Bank of England governor since 1998, has already prompted train-drivers' union leader Bob Crow to pledge a boycott. King has publicly supported Prime Minister David Cameron's plans to curb the record budget deficit, which will require spending cuts that prompted unions to discuss coordinated strike action and protests.
"My own view is that people should sit politely and listen," Serwotka said. "He will get a stony reaction. He's not the person I would have invited."
The PCSU has more than 300,000 members and is the nation's biggest civil-service trade union, according to its website. Crow, general secretary of the National Union of Rail, Maritime and Transport Workers, which has 80,000 members across the transport and haulage industries, said on Sept. 12 that King "shouldn't be here."
'Lot of Interest'
In comments published in the program for the TUC convention, King said inflation "is not the problem it was" and that his job is to "protect the public from the banks."
"The role of the Bank of England changed" when it gained independence in 1997, said King, who is due to speak at 11:30 a.m. "It was an apologist for the City. I now see it as serving the nation as a whole."
Data today showed U.K. jobless claims unexpectedly increased in August for the first time in seven months. Claims for unemployment benefits rose by 2,300 to 1.47 million. The median forecast in a Bloomberg News survey of 24 economists was for a drop of 3,000.
TUC General Secretary Brendan Barber, who sits on the Bank of England's executive board, said in a Sept. 13 interview on Bloomberg Television that King's visit was attracting "a lot of interest." The TUC has more than six million members.
Coordinated Strikes
Barber came under attack from Serwotka yesterday for not being prepared to organize coordinated strike action. Serwotka said he has agreed a deal on joint action with the one-million strong health and local government union Unison.
"If we wait for Brendan, we may well be waiting until 2015," Serwotka told a meeting of union activists.
Crow told the same meeting he supported the idea of multiple unions taking action on the same day, raising the prospect of a general strike in protest at budget cuts. He proposed a pensioners' sit-in across the M25 motorway that rings London if welfare cuts are announced.
"There shouldn't be a single job cut, there shouldn't be a single penny off public spending," Serwotka said at the meeting, to applause. "We've got to build an alternative economic strategy, but we've got to back it up with industrial action. It has to be about resistance."