Japan Ruling Party Decides on New Leader as Yen Rises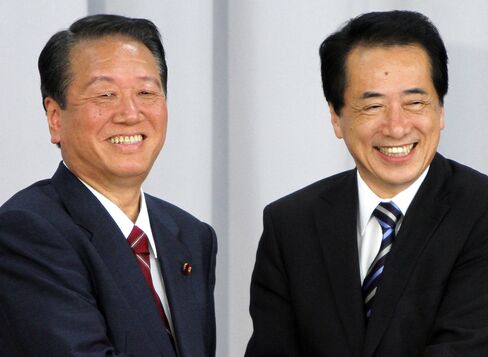 Japan's ruling party will determine today whether Prime Minister Naoto Kan stays in office or is replaced by Ichiro Ozawa, whose call to boost spending to spur economic growth has roiled the bond market.
Each candidate has the support of about 190 of the 411 Democratic Party of Japan legislators voting today, with between 20 and 30 undecided, the Nikkei newspaper said, citing internal estimates. Kan is believed to be leading in the write-in ballots from regional DPJ politicians and members, the paper said.
"Chances are higher that Mr. Kan will win given the media projection reports," said Airo Hino, a political science professor at Waseda University in Tokyo.
The possibility of an Ozawa victory drove bond yields higher this month after he pledged to more than double Kan's 915 billion yen ($11 billion) stimulus package, even at the cost of increasing the world's largest debt. Kan's three-month-old administration is struggling to bolster a fragile economic recovery hampered by deflation and a strengthening yen.
DPJ lawmakers will meet at 2 p.m. today and the results should be announced after 3 p.m. Their votes carry double the weight of the write-in ballots that were submitted last weekend. The winner needs 612 points and is ensured of being prime minister because of the party's majority in the lower house of parliament.
15-Year High
The yen rose to a 15-year high against the dollar on speculation Ozawa, who advocates intervening in the foreign exchange market to weaken the currency, will lose. The yen was trading at 83.34 per dollar at 10:15 a.m. in Tokyo, from 83.71 late yesterday in New York. It earlier rose as high as 83.25, the strongest since May 1995.
Yields on Japan's benchmark 10-year bond rose half a basis point to 1.150 percent, having surged to an 11-week high of 1.195 percent last week after Ozawa proposed a 2 trillion yen stimulus package. Japan's debt burden is already approaching 200 percent of gross domestic product.
Ozawa, 68, heads the party's largest faction and engineered the 2009 landslide that almost tripled its seats in parliament. He remains under investigation for a campaign-funding scandal that led to the indictment of three of his aides. Ozawa has denied any wrongdoing and Kan has called on him to explain his role in the affair.
U.S. Base Accord
Ozawa has pledged to renegotiate an accord with the U.S. to keep a Marine base in Okinawa in the face of local opposition, which would reopen a dispute that damaged ties with the Obama administration. Former Prime Minister Yukio Hatoyama cited his failure to relocate the base off the island when he resigned as the DPJ's first prime minister in June, elevating the 63-year-old Kan.
Whoever wins will have to work to mend party divisions. Ozawa has said he would want Kan to serve in his Cabinet, an offer Kan hasn't reciprocated. Both men have rejected any idea that the DPJ will split after the election.
"No matter who becomes prime minister, the winner must establish a unified party system in personnel appointments because it's a barometer of democracy," DPJ legislator Masaharu Nakagawa, a Kan supporter, said in a Sept. 6 interview.