Citigroup Tumbles in European Rankings as Dealmakers Depart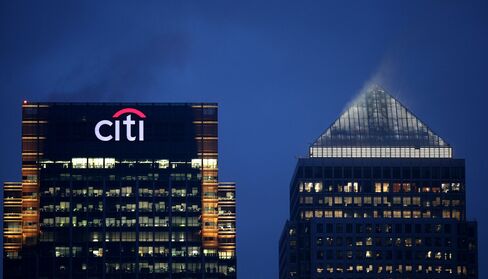 Citigroup Inc. is losing market share in European investment banking as the last partially U.S. government-owned securities firm slides down the rankings for merger advice, stock sales and bond offerings.
At least 12 European managing directors have left this year to competitors including Bank of America Corp. and Barclays Plc's investment banking unit. The bank fell to eighth from first in providing merger advice on European transactions this year valued at $61 billion compared with about $140 billion in the same period last year, data compiled by Bloomberg show.
"Citigroup's primary objective right now is to rebuild its balance sheet and prove to the market that it is functioning properly," said Richard Bove, an analyst at Rochdale Securities in Lutz, Florida with a "buy" rating on the stock. "Until it can do that, everything else is secondary."
Citigroup hasn't led a single initial public offering in Europe, the Middle East and Africa this year after underwriting only one in 2009. It was one of the region's top 10 arrangers from 2006 to 2008 when it was involved with 43 IPOs, according to data compiled by Bloomberg. There have been 85 IPOs in the region this year, according to the data.
The bank ranks ninth in the U.S. on M&A advice this year, down from fifth last year, the data show. In Asia-Pacific, it dropped to 17th place from fourth, the data show. Globally, the firm is the eighth-ranked adviser for mergers this year after advising on about $157 billion of takeovers, down from third last year. Goldman Sachs Group Inc., the top-ranked adviser, worked on $305 billion of deals in 2010.
'Departures Were Mutual'
Former Citigroup bankers in London, who declined to be identified because they have moved to new firms, cited slowing deal-flow, the firm's focus on investment banking outside of Western Europe and the prospect of shrinking bonuses for the moves.
"Several of the departures were mutual, and in some cases welcome," Citigroup said in an e-mailed statement. "We have also made a number of important new senior hires, and plan to announce more over the next few weeks. Our banking franchise in Europe, Middle East and Africa is vibrant and expanding."
Citigroup's revenue globally from advisory, debt and equity underwriting fell 42 percent to $674 million in the second quarter of 2010. JPMorgan Chase & Co. posted a 37 percent drop in those businesses to $1.41 billion for the same period. That compares with a 21 percent decline in investment banking revenue at Morgan Stanley.
Revenue Declines
The New York-based firm, which has been BHP Billiton Ltd.'s British corporate broker for more than two years, missed out on advising on the miner's $40 billion bid for Potash Corp. of Saskatchewan Inc. in August. Two Citigroup bankers in London who declined to be identified because the talks were private said the firm had expected to win an advisory or financing role given its broking relationship. The bank also advised BHP in its attempted takeover of Rio Tinto Group in 2008, according to Bloomberg data.
Citigroup is one of two corporate brokers in the U.K. to BHP Billiton, according to data company Hemscott Plc. It became the company's broker in 2008, Hemscott said. Corporate brokers, unique to the U.K., help companies liaise with investors and comply with London Stock Exchange rules. Brokers also often manage stock and bond offerings and their roles often lead to advisory work. Illtud Harri, a London-based BHP spokesman, declined to comment.
Bankers Exit
"The bank that is hemorrhaging senior relationship managers shouldn't be surprised that the relationships will travel with them," said Scott Moeller, a professor at Cass Business School in London and a former investment banker at Deutsche Bank AG and Morgan Stanley.
The departures started in 2009 when Barclays Capital hired Citigroup executives, including Thomas King, head of banking for Europe, Middle East and Africa, and M&A bankers Matthew Ponsonby and Jim Peterkin.
Automotives banker Reid Marsh, financial institutions banker Thomas Demeure and global banking co-chief operating officer Richard Blackburn left Citigroup in London this year for Barclays Capital. Telecommunications adviser Bill Kennish, 44, left for Macquarie Group Ltd. in May, and Julian Mylchreest, former co-head of the energy banking team, moved to Bank of America in July.
The bankers were unavailable or declined to comment through their press offices. Citigroup declined to make available for interview Raymond J. McGuire, 53, global head of investment banking, and Manuel Falco and James Bardrick, joint chiefs of banking in Europe, the Middle East and Africa.
Citigroup Deals
The firm has still been involved in some of the world's largest transactions, according to data compiled by Bloomberg. The firm advised America Movil SAB on its $17.5 billion purchase of Carso Global Telecom SAB in Mexico, the largest transaction in the region this year. The firm also counseled Oslo-based Norsk Hydro ASA on the purchase of mine assets from Rio de Janeiro-based Vale SA in May in a $4.9 billion transaction.
The lender is also adding senior bankers in Europe, hiring seven managing directors this year. Gilles Graham joined from Nomura Holdings Inc. to advise clients in the financial services industry and former Morgan Stanley banker Pawel Graniewski joined as head of Polish banking.
The firm "has a new strategy in place" that focuses increasingly on emerging markets, said Richard Staite, analyst at Atlantic Equities Partners LLP in London, who has an "overweight" recommendation on the stock. "As part of this new strategy, some of Citigroup's investment banking activities in London and New York will be given less emphasis than they were prior to the crisis."
China Expansion
The bank plans to almost triple its workforce in China to as many as 12,000 people in the next three years, Stephen Bird, Citigroup's co-chief executive officer of the Asia-Pacific region, said in an interview on Aug. 31.
The firm agreed in March to pay $519 million for an additional stake in the company that controls Banco de Chile, the country's second-biggest lender. At a forum in Davos, Switzerland, this year, CEO Vikram Pandit said consumers in those regions are set to spend more and that returns on emerging-market investments are likely to be "robust."
Pandit, 53, announced a plan to exit more than two dozen businesses after the bank received a $45 billion bailout in late 2008. Citigroup, which repaid $20 billion of the bailout money in December, is still 18 percent owned by the U.S. Treasury Department. The U.S. plans to sell its remaining shares by the end of 2010.
Before it's here, it's on the Bloomberg Terminal.
LEARN MORE