Wen Says China in 'Good Shape,' Signaling Confidence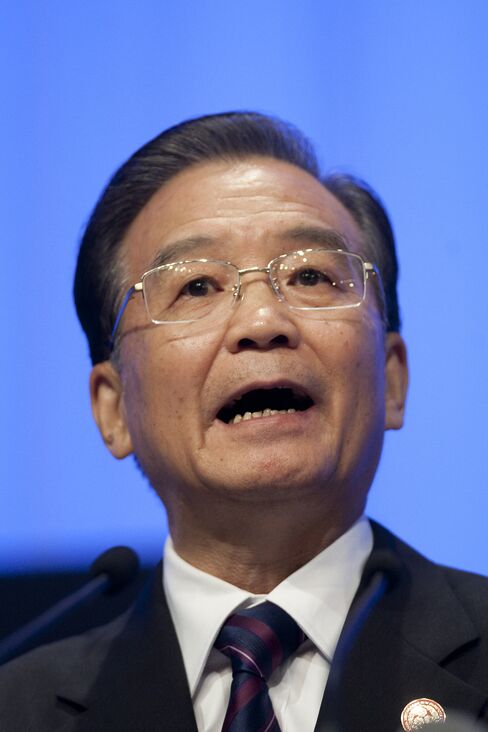 China's Premier Wen Jiabao said the world's fastest-growing economy is in "good shape," while cautioning that rising property prices threaten to stoke unrest.
"China's economy is now in good shape, featuring fast growth, gradual structural improvement, rising employment and basic price stability," Wen said yesterday at the World Economic Forum's Summer Davos meeting in China's northern port city of Tianjin.
Rising retail sales and industrial production are stoking demand for imports and boosting global growth, Wen said. At the same time, he said the government will continue to seek to cool the property market because unaffordable housing could affect "social stability" in the world's most-populous nation and second-biggest economy.
China's benchmark stock index yesterday rose the most in a week and the yuan advanced to the highest since a peg against the dollar was scrapped in July 2005 as better-than-expected economic data for August eased concern that the government may overshoot in tempering an economy that grew 11.9 percent in the first quarter.
"Economic activity indeed was stronger than expected," said Wang Tao, an economist for UBS AG, who estimates China will allow the yuan to appreciate a further 2 percent to 3 percent by year-end to ward off pressure from the U.S. and other countries.
If property prices start to rise "in a very obvious way" that may cause the government to implement cooling measures "more quickly," Wang said.
Rising Production
Industrial production rose 13.9 percent in August from a year before, the most in three months, and retail sales and lending figures exceeded economists' estimates, statistics bureau and central bank data released Sept. 11 in Beijing showed. Imports also accelerated, another sign Chinese growth is picking up after a second-quarter moderation that came as the country took measures to damp the property market.
Inflation in China is 1.25 percentage points higher than the benchmark one-year deposit rate, the latest data showed. So-called negative real interest rates often encourage savers to shift money into assets such as real-estate, sparking the risk of bubbles.
"The issue of housing is both an economic issue and more importantly, a major issue affecting people's livelihood and social stability," Wen said. "To stabilize housing prices and ensure housing availability is an important responsibility of governments at all levels."
Government Procurement
Wen's speech addressed the complaints of foreign business groups, including the Beijing-based American Chamber of Commerce in China, over new rules on domestic innovation. International companies have expressed concern these may be used to shut them out of the 700 billion yuan ($103 billion) government procurement market and create national champions at the expense of multinationals such as General Electric Co.
"We will uphold all policies conducive to opening up," Wen said. "China is committed to creating an open and fair environment for foreign-invested enterprise."
In government procurement "China gives equal treatment" to foreign and domestic companies, he said.
China's economy has grown more than 90-fold since the late leader Deng Xiaoping initiated economic reforms more than 30 years ago, inviting in foreign companies such as Volkswagen AG and American International Group Inc. to help modernize the country. China's gross-domestic product surpassed Japan's in the second quarter and was second only to the United States.
Economic Appraisal
Wen's appraisal yesterday comes after he said June 30 that China's economy was headed in the right direction. Growth in the second quarter slowed to 10.3 percent from 11.9 percent in the first three months of the year after the government increased requirements for mortgages and halted loans for third homes to rein in gains in home prices.
China will also push forward its energy-saving and environmental protection efforts and accelerate reform of income distribution in the nation, he said.
Before it's here, it's on the Bloomberg Terminal.
LEARN MORE