Trichet Confident U.S. Will Implement Basel Rules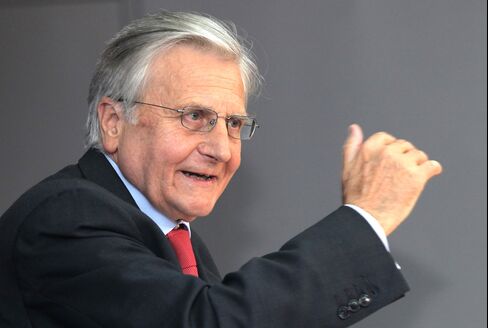 European Central Bank President Jean-Claude Trichet, speaking on behalf of the world's central bankers, said he's confident U.S. authorities will implement the new Basel rules on banking regulation.
"I have full confidence in the U.S. authorities concerned, and all the authorities concerned, that were here yesterday and today, to implement the standards," Trichet said at a press conference at the Bank for International Settlements in Basel, Switzerland, after chairing the so-called Global Economy Meeting today. "It's up to the supervisors to control with the maximum amount of energy the respect of the standards which we decided on the global level."
The Basel Committee on Banking Supervision said yesterday it will require lenders to have common equity equal to at least 7 percent of assets, up from 2 percent currently, including a 2.5 percent buffer to withstand future shocks. Under the so-called Basel III rules, banks that fail to meet the buffer would be unable to pay dividends, though not forced to raise cash.
"What has been decided is what's necessary for all banks at a global level," Trichet said. "We're in a global economy, which is a pertinent entity economically and financially, and we have to get a level playing field."
Slow U.S.
The U.S. has been slow to implement the previous round of global banking reforms known as Basel II. The largest U.S. banks are on schedule to complete the process by the first quarter of 2011, four years after many European countries put the rules into effect.
Under Basel III, the definitions of what counts as capital and how risk is assessed have also been tightened. Some banks, such as Bank of America Corp. and Citigroup Inc., will be restricted in how much cash they can return to shareholders and pay their employees in years to come. Others, like Deutsche Bank AG, have already announced plans to raise additional capital. Banks have as long as eight years to comply fully with the requirements.
Trichet said the new rules will enhance the resilience of the banking system and will foster, not hinder, the global economic recovery.
"We've foreseen a transition period without threatening the global recovery, which we're observing at the global level," he said. "It's good for the global economy, good for growth."
Also speaking in Basel today, Financial Stability Board Chairman Mario Draghi, while welcoming the new rules, said further work must be done on the issue of institutions that have become too big to fail.
"Yesterday's agreement certainly reduces the risk of failure," he said. "It will have a beneficial effect in this field but doesn't address the moral hazard problem."
Systemically important institutions will need enhanced supervision that is "broader, more effective and in a sense more intrusive, because the stakes are way higher than in small-or medium-sized banks," Draghi said.