Three Flights in July Exceeded U.S. Delay Limits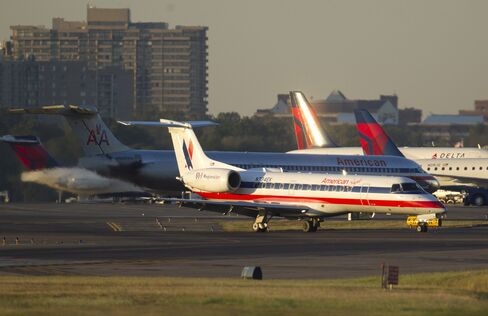 Sept. 13 (Bloomberg) -- AMR Corp.'s Eagle unit was the only U.S. carrier to report tarmac delays exceeding federal limits in July, with three flights, Transportation Department data showed.
The number is down from 161 flights delayed more than three hours in July 2009, according to a statement today. Such delays have fallen 98 percent in the three months since a rule took effect imposing fines on carriers that exceed the target.
"This rulemaking seems to point to a significant drop in long tarmac delays," Shane Downey, director of public policy for the National Business Travel Association, said in an interview. "It's very good for the business traveler."
U.S. airlines must offer passengers a chance to get off stuck planes or face fines as high as $27,500 per customer, under a rule by Transportation Secretary Ray LaHood that went into effect on April 29. Three-hour-plus delays have fallen to a total of seven for May, June and July from 463 in the same months a year ago, data shows.
The reductions weren't accompanied by "a large spike" in cancellations, said Downey, whose Alexandria, Virginia-based group represents 5,000 corporate travel managers. Cancellations are up 16 percent in May, June and July to 23,165, from 19,912 in the same period a year ago, according to federal data.
U.S. airline representatives said in April the rule would force them to cancel more flights.
'Nasty Thunderstorms'
The three Eagle delays were on flights departing July 23 from Chicago O'Hare International Airport. "A very nasty line of thunderstorms came through O'Hare that day," Andrea Huguely, an Eagle spokeswoman, said in an e-mail.
The commuter airline, based in Fort Worth, Texas, couldn't park some aircraft at the gate because the ramp was closed, Huguely said. "As a matter of fact, it was open and closed many times that day."
The Transportation Department examines all tarmac delays exceeding three hours to determine if fines are warranted, spokesman Bill Mosley said. The agency hasn't proposed any levies, he said.
Carriers' on-time rate overall in July was 76.7 percent, down from the 77.6 percent a year earlier, the department reported. Flights are counted as on time if they arrive within 15 minutes of the published schedule.
Hawaiian Holdings Inc.'s Hawaiian Airlines had the best on-time rate in July at 94.7 percent followed by Alaska Air Group Inc.'s Alaska Airlines at 88.7 percent. UAL Corp.'s United Airlines finished third at 83 percent.
ExpressJet, Comair
ExpressJet Holdings Inc. finished last of 18 airlines that report data to the government, with 68.6 percent of flights arriving on time. Delta Air Lines Inc.'s Comair regional carrier reported 69.1 percent of flights were on-time, while Delta had a 69.9 percent on-time rate, the agency said.
Two New York-area airports had the worst on-time performance for the month, with 69.3 percent of flights arriving on time at Newark, New Jersey's Liberty airport and 69.4 percent arriving on time at New York's LaGuardia airport.
Salt Lake City's airport had the best on-time performance in July, at 85.1 percent, followed by Chicago's Midway and O'Hare airports, at 83.5 percent and 83 percent, respectively.
To contact the reporter on this story: John Hughes in Washington at jhughes5@bloomberg.net.
To contact the editor responsible for this story: Larry Liebert at or lliebert@bloomberg.net.